Living It Up
Vista celebrates 25 years of hot air adventures
Story by Valerie Rogers | Photography by Bryan Rupp
Like delicate dandelion seedlings quietly and peacefully floating across the Willamette Valley, hot air balloons holding baskets of excited patrons ride silently above the ground during sunrise hours. Aside from the sporadic sound of the burners, which give power to 10 tons of air mass inside the "envelope," also known as the balloon, the 125-foot tall aircraft glides silently in the direction and with the movement of the wind.
Ballooning, the world's oldest successful human-carrying flight technology, first began in 1783 when the Montgolfier brothers launched their balloon in Paris for an untethered 20-minute ride performed by Jean-François Pilâtre de Rozier and François Laurent d'Arlandes.
Twenty-five years ago, Roger and Catherine Anderson established Vista Balloon Adventures in Willamette Valley wine country, creating a staple addition for tourism based in Newberg. Today, it is the largest of its kind in the Pacific Northwest. Over the last quarter-century, Vista has hosted an average of 200 people a season, amounting to 50,000 guests thus far, floating over farmland, streams and neighborhoods during the early morning coffee hour. In addition, more than 1,000 volunteers over the last 25 years have assisted in making bucket list dreams come true for guests, officially referred to as flyers.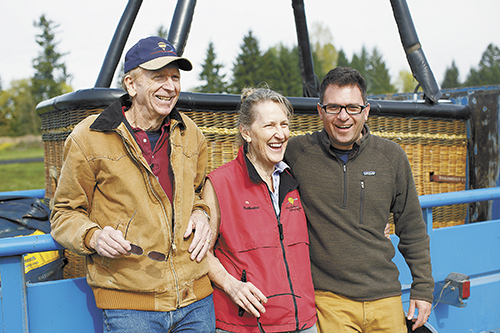 The Andersons often considered their role not as business owners, but more as recreation directors. Reflecting on their career, "There are very few things we get to do in life when every day you go to work you can see people have a good time," Roger said. "It's been a very fun job to have."
This summer, the Andersons are turning over their business to new owner Pierre Jourda; he has purchased Vista after leaving a banking career of 15 years. His career change has been fueled by a desire for a more "adventurous, outdoor, active, travel-related lifestyle."
"It's not every day you find an established hot air balloon business for sale," Jourda said.
"It's not every day you find someone looking to buy your hot air balloon business," Catherine replied.
Jourda will continue the Andersons' legacy, further developing the business — he's already added another balloon — in an effort to maintain and build relationships within the Willamette Valley tourism community. The familiar presence of Roger and Catherine will still be there, as Roger will continue piloting flights and Catherine will still make the fully catered brunch enjoyed after each flight.
Of the crew, many have been committed to Vista for years, some for most of Vista's history. Each balloon needs a crew of four volunteers — sometimes totaling 32 crew members if it's a full day. The crew assists in preparing the envelope, basket and guests for launch. The crew then "chases" the balloon, following in a van via radio conversation with the pilot. Workers meet the balloon at the landing location, helping to properly put the basket and envelope away for the next flight.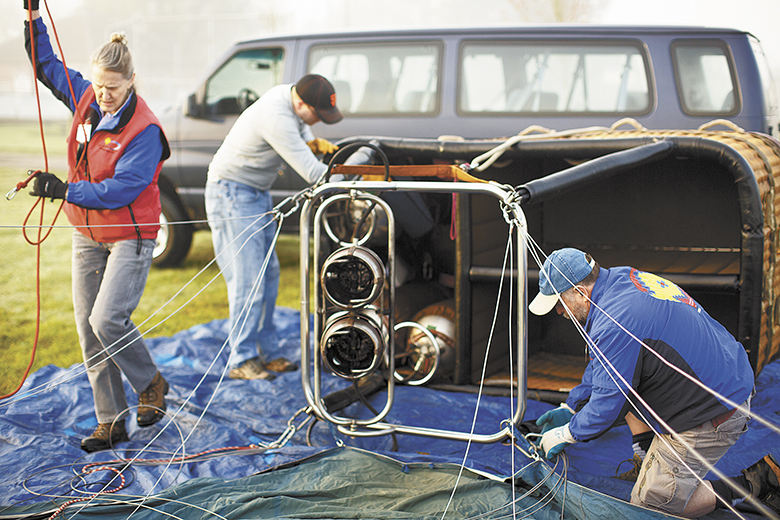 Guests are returned to the launch site for a full breakfast and a sparkling toast, which simply adds to the experience. With Champagne glasses raised, a toast is given. Often called the balloonist blessing or prayer, "Soft Winds and Gentle Landings" celebrate the landing and signal the beginning of brunch.
The winds have welcomed you with softness.
The sun has blessed you with its warm hands.
You have flown so high and so well
That God has joined you in your laughter
and set you gently back into the loving arms of Mother Earth.
Volunteering for Vista requires commitment, heart and a love of the early morning hours. While serious strength is important at times, heart and experience can go a long way. Crew members Chito and Myrtle Flores have been helping launch and land for as long as the Andersons can remember — they have also been married for nearly 60 years. Chito, 83, is Vista's most senior chaser; and both, a source of laughter and highlight for the guests who meet them.
Of the eight balloons, and potentially 32 crew members per day, it's easy to understand why volunteers return. In her fifth year, Andrea McVoy, explains, "[It's] the challenge, the camaraderie, the exercise and the food! Personally, I love the early mornings and the creative problem-solving. The people are fantastic, and you can't be in a bad mood after spending a morning around hot air."
Besides the volunteers, Vista Balloon Adventures uses FFA-certified pilots. As in general aviation, female pilots are still quite rare, yet Vista is honored to feature two. Ballooning is a well-regulated industry, and each pilot must carry a license like any other aircraft operator. Of the eight pilots, the majority have flown with Vista for 15 to 20 years. One is even a second-generation balloon pilot, having started at the age of 17; all of them have full-time jobs outside of flying with Vista.
If a fear of heights has kept you from considering a flight, don't let it. The gentleness of the basket floating is at the same speed as the air is moving, so you won't feel anything. The basket is level, and you are floating up and away before you realize you have left the ground. Tree tops and views of wine country are what you will enjoy, all while looking at mountain peaks, and counting patches of vineyards and watching the sun open the day.
Vista can accommodate 50 guests per day, which makes this a great option for corporate events, plus they enjoy hosting large groups on the same day. Weddings take place in the balloons, as well as engagements and celebrations of all kinds — birthdays, anniversaries, bucket lists and surprises. This is what Vista Balloon Adventures is all about.
The hot air balloon season runs from April to October, flying guests on Friday, Saturday, Sunday and Monday, plus Wednesdays in August.
Let this summer be the time Vista checks off the hot air balloon off your bucket list.
For more information, visit www.vistaballoon.com.
Valerie Rogers is a burgeoning travel writer who lives in McMinnville with her husband; together they own the Oregon Wine Cottage. Originally from Colorado, Bryan Rupp is a professional photographer who lives in Dundee with his wife and two kids.