With Heart & Soil
Worden Hill growers grounded in community
Story by Kerry McDaniel Boenisch
"For some, the discovery carries an aura of gold rush fever that once grasped the imaginations of early day prospectors. The less optimistic consider it nothing more than a real estate promotions scheme. Between these two extremes are a handful of dedicated viticulturists (wine grapegrowers) risking their capital and futures on the promise that Oregon is capable of producing and establishing a competitive market for wine grapes. Joining the viticulturists, and perhaps outnumbering them, are part-time growers going into the grape business as a sideline to full-time jobs or professions in other areas," excerpted from "Wine Industry Grows in Oregon," Oregon State Press, 1972.
David Lett, founder of The Eyrie Vineyards, appeared on the doorstep of Jim McDaniel's McMinnville granary in 1970. He asked McDaniel if he could buy a building from him near the current site of the Granary District to make wine. McDaniel obliged and sold him a small outbuilding on Alpine Avenue.
Helping Lett make his first vintage in 1970 inspired McDaniel to purchase a 15-acre vineyard in the Worden Hill Road neighborhood in the Dundee Red Hills in 1972, where he built a family home and established McDaniel Vineyards, now Torii Mor Winery.
When Rollin Soles, founder of Argyle and ROCO Winery, arrived in Oregon in 1985, he was introduced to McDaniel by Allen Holstein, then working as the vineyard manager at Knudsen-Erath. He was also managing McDaniel's vineyard. Soles lived in the McDaniel's house that fall and made wine in the basement. It didn't seem unusual to McDaniel at the time; he valued the help from the young men who would eventually become luminaries in the Oregon wine industry.
Throughout the two decades, more bought land and planted vineyards in the three-mile radius of Worden Hill and Fairview roads. By 1980, there were 10 operating vineyards in the neighborhood. The early winemaking community in nearby Yamhill, Washington and Polk county hillsides also included Adelsheim, Amity Vineyards, Bethel Heights, Honeywood, Sokol-Blosser, Ponzi, Coury/Hillcrest, Shafer, Elk Cove, Tualatin Estate, Oak Knoll, among others. These wineries' stories are often shared, unlike those of the distinct group of winegrowers in and around Worden Hill Road.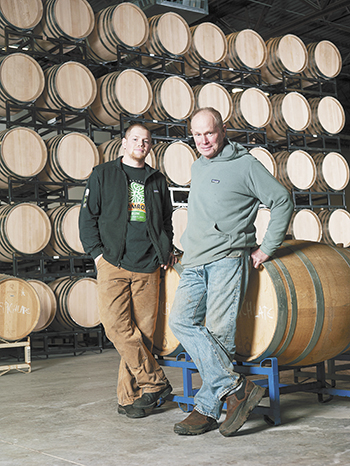 Vine Came Before the Wine
The story begins with a man on a tractor farming his prune, cherry and hazelnut orchards.
Jim Maresh and his wife, Loie, purchased their first acreage in 1959. The family, originally from Wisconsin, lived with their five children on a bucolic country farm until one day in 1969, when a man drove up their driveway in an old beat-up BMW.
"I've looked all over the West Coast for a great viticulture site, and I think you're sitting on it," said Dick Erath, after he stepped out of the car and knocked on Maresh's door. The only vineyard in Yamhill County at the time was David Lett's. Erath asked Maresh if he was interested in wine grapes.
Maresh replied, "Well, I've tried everything else."
Erath suggested they build a greenhouse on Maresh's property. He also proposed acquiring cuttings from Wente Nursery in California to propagate rootstock for planting vineyards on both properties. Erath also suggested using rootstock from Charles Coury's nursery at his recently established Forest Grove winery, Laurel Ridge.
Maresh agreed to the proposition. Erath propagated grapes with Maresh for years after their first meeting while establishing Knudsen-Erath a mile north of the Maresh Farm on Worden Hill Road. Their friendship has now endured for 44 years.
After building the greenhouse, Jim and Loie obliged Erath and planted a vineyard. They later renovated their red barn into a tasting room, crossing their fingers that grapes would sell as well as the cherry and hazelnuts they previously farmed.
This community of viticulturists, who were generally trained to be anything but vintners, planted grapes until a network of vineyards covered the hillsides where hazelnut orchards once dominated.
Others joined the Maresh and Erath families, forming a diverse community united by the desire to grow grapes. The neighborhood included Bill Archibald and Gary Fuqua, who directly followed Maresh and Erath in planting vines. Jim McDaniel was next, followed by Arthur and Vivian Weber of Weber Vineyards. John Bauer planted a vineyard currently owned by Winderlea Winery; and Bill and Julia Wayne established Abbey Ridge Vineyard, which later became affiliated with winemaker John Paul of Cameron Winery. Tom Saucy planted the vineyard now owned by Julia Staigers and Gerard Koschal of Crumbled Rock, and in 1987, Don and Wendy Lange of Lange Estate completed this generation of Dundee Hills growers.
They helped one another in various ways, loaning tractors for tilling and debating effective bird deterrents. They celebrated harvest, bud break and anything else to keep themselves forging ahead into the unknown; then debated some more. They learned from one another's mistakes and successes.
During the early years, before the advent of prolific commercial wineries, many of these families grew grapes and sold their tonnage to a fledgling group of local winemakers, including Dick Erath, Myron Redford and David Adelsheim, along with Elk Cove Vineyard owners Pat and Joe Campbell.
Visits to neighborhood parties and early Oregon winegrower association meetings included Dick and Nancy Ponzi, Susan Sokol-Blosser and Bill Blosser, David and Diana Lett, Ken and Penny Durant, and Shirley and Charles Coury, who planted the Coury Clone — many of the early growers planted his cuttings, which were primarily Pommard mixed with his infamous Coury clone; years later, he admitted it traveled from Alsace in his suitcase.
Coury, Lett, Erath and Bill Fuller of Tualatin Estate all attended UC Davis in the '60s to study viticulture. They formed a competitive alliance and had heated conversations about the ideal cool-climate growing locale for winegrapes. They also discussed early bottling and labeling laws with fervor. In 1976, Dan Berger, a reporter for the Salem Statesman, interviewed Erath on the topic.
"We had a lot of ideas," said Erath, "But no one agreed with anyone else about what was the best thing. Getting two winemakers to agree on anything is like trying to get 100 cats in a sack." Eventually, Adelsheim negotiated and led the legislation for labeling regulations.
Erath sold nursery rootstock besides buying many of the grapes from area winegrowers for Knudsen-Erath Winery. He wrote in an Erath Nursery newsletter (September 1977) advertising grape cutting stock: "dormant bare root plants, 50 cents each in bundles of 50."
Erath crafted Pinot Noir, Chardonnay and Riesling — for his German father. He also made a wine he named Coastal Mist. The sweet blend appealed to the palates of a burgeoning crowd of Oregon wine-drinking enthusiasts who gradually had begun to frequent the Knudsen-Erath tasting room Erath constructed in the garage of his home. The same room is still in use by Chateau St. Michelle.
"Kina Erath and I opened the garage door of the tasting room the first day and wondered if people would show up," recalls Martha Maresh, who helped run the fledgling Knudsen-Erath tasting room in the early '70s.
Planting, growing and maintaining a vineyard was hard work for the growers, and the weather was unpredictable. The harvests were grueling. They hoped to be lucky enough to sell their young Pinot Noir and Chardonnay grapes to a winery to cover operating costs.
Gary Fuqua, who planted Fuqua Vineyards in 1972, was an economist for Bonneville Power Administration during the day and returned home to manage the vineyard after work. He detailed start-up vineyard costs for local growers in a document titled "1972 Vineyard Establishment Costs, Willamette Valley, Oregon."
"Both ends of the cost spectrum were analyzed to try to determine what a grower might expect to pay at the low end and the high end on a per-acre basis. The low-end of price per acre is $1,200, and the high end is $2,000. Labor cost is $3 an hour. The interest rate for borrowing money from the bank is 9 percent. Vineyard harvest costs include picking, at four tons an acre for $50 a ton," wrote Fuqua.
Even after three decades, the growers vividly remember their first harvests:
Bill Wayne and his wife, Julia, planted their vineyard, Abbey Ridge in 1977. They have been growers with Cameron Winery since John Paul formed the winery in 1984, along with Marc Dochez and Shawna Archibald.
"Our first harvest happened in conjunction with the 1978 Mount St. Helens eruption. Our shoulders were covered with fine gray ash, but we picked 15 boxes of grapes with Marc and Shawna," said Wayne.
Julia Staigers and Gerard Koschal, who grew grapes in their vineyard, Juliard, before they opened Crumbled Rock Winery, recalled their early attempt to sell Riesling grapes in 1988:
"We put several boxes of freshly harvested grapes at the top of our driveway on Worden Hill Road with a handwritten sign advertising the grapes for $250 a ton," Julia recalled. "We taped the sign on the boxes and waited. Ironically, the person who stopped to inquire about buying the grapes was a winemaker, Bill Heron from Rogue River Winery in Southern Oregon. He came back with his truck and took all the boxes."
The couple sold their next harvest to Heron and also focused on Willamette Valley wineries to sell their grapes to after their roadside marketing attempt. Throughout the years, they established vineyard contracts with Erath, Amity and many others.
The significance of these emerging vineyards was also noticed internationally. Large, simultaneous land purchases by wine luminaries occurred in 1986 and 1987. The purchases brought national and international interest to the small segment of Oregon winegrowers. Domaine Drouhin purchased 90 acres of vineyard land in the Red Hills near Sokol Blosser. In the town of Dundee, Argyle Winery was founded by Rollin Soles, along with partner Brian Croser, who was a partial owner of Petaluma Winery in Australia.
Additionally, Robert Parker, the influential wine writer from Maryland who established the groundbreaking Wine Advocate publication, decided to join the Oregon wine industry. He partnered with his brother-in-law, Michael Etzel, and purchased an 88-acre pig farm in the Ribbon Ridge appellation where they established Beaux Frères. And in 1987, Joe Dobbes of Dobbes Winery, which would eventually be a prominent producer for the Dundee Hills, became cellar master at Elk Cove Vineyards.
The proliferation of vineyards created a need for vineyard managers, such as Allen Holstein, Joel Meyers, Mark Benoit and John Davidson, of Walnut City WineWorks — he began working in the industry in the 1980s.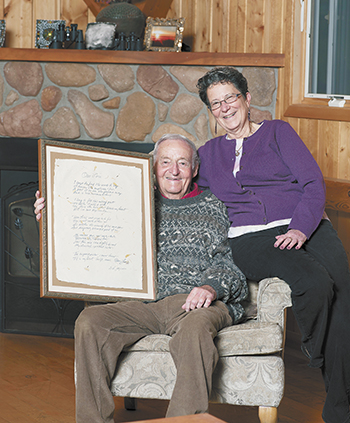 The Maresh family has produced grapes throughout all the changes in the industry. Jim's grandson, Jimmy, is the third-generation to grow grapes. His label, Arterberry-Maresh, is named after his deceased father, Fred Arterberry Jr., the first Oregon winemaker to produce sparkling wine and cider in 1980, along with his wife, Martha Maresh. Throughout the 1980s, the pair produced 600 cases of bubbly a year — other early sparkling winemakers included Dick Erath, Gerard Rottiers of Chateau Benoit Winery, Robert Hudson of Ellendale Vineyards and Rich Cushman, then-winemaker of Laurel Ridge Winery.
As a testament to his hard work and dedication, Jim Maresh was inducted into Ponzi's Wine Walk Hall of Fame in November 2014, as well as honored with the Founders Award at the 2015 Oregon Wine Symposium — Loie, who died in 2000, was also honored. Maresh is an icon in the Red Hills, and he is still driving the tractor, still representing this diverse group of growers who planted grapes and dreamed of starting a fledgling wine industry in the early decades of Oregon wine. Despite the appearance of international winegrowers, there are still many more potlucks than paparazzi in the vineyards along Worden Hill Road.
Holstein was also honored with a star on the Wine Walk of Fame for his contribution to Oregon viticulture. In 1980, he purchased Gary Fuqua's Dundee Hills vineyard and built a house on the site. He is still farming the Knudsen Vineyard for Argyle Winery and growing grapes on his 42-year-old vineyard, which he has almost entirely replanted. Originally from Kentucky, Holstein moved to Oregon in 1979 after a stint waiting tables in San Francisco with his college friend, Ken Wright, where they discovered Oregon wines being served. After studying enology and viticulture at UC Davis, Wright arrived in Oregon in 1986 and formed Panther Creek Cellars with his former wife, Corby Stonebraker Soles.
Maresh and Holstein's recognition on the walk of fame is a significant acknowledgement for the remaining early growers in the Dundee Hills. Although the number remaining has dwindled to a resilient group, their story is one of hands-on, hard work blended with a real sense of community, enduring dedication and a love of the land, the Red Hills of Dundee.
Kerry McDaniel Boenisch has a degree in English from the University of Oregon and wrote the book, "Vineyard Memoirs" in 2004. "Dirt+Vine=Wine" is her second publication. She is currently writing a third book, "Fall Down, Stand Up," about transcending loss and making comebacks. In her other lives, she has been a photostylist for commercial, television and movie sets, operated a vintage furniture store and worked for Knoll Textiles in New York City. She and her husband have three children and live on a farm in Dundee. Her website is www.kerrymcdanielboenisch.com