Free-Range Beer
Wolves & People to open on springbrook farm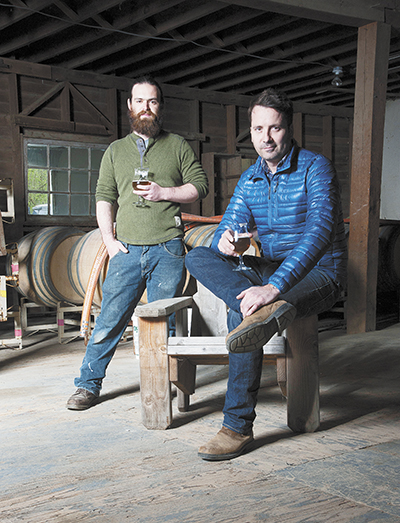 By Mark Stock
Early spring in the Willamette Valley screams potential. Among the chirping, budding, pollen and mud, there's an unavoidable lushness, an invitation to grow. The days are longer, finally, affording extra time to stare in awe at nameless shades of green you previously thought impossible.
At Springbrook Farm in Newberg, the season is showing through these very signs. There's the green emerging from the stoic brown frames of the hazelnut orchard. The pink of the flowering plum trees. The continuous flicker of gray and gold as the sun peeks through a conveyor belt of clouds. And while it's easy just to enjoy all of this as it is, Christian DeBenedetti is eyeing more than colors; he's after ingredients.
DeBenedetti grew up on Springbrook Farm, raising and processing filberts with his family. He earned a love of agriculture and the surrounding valley, one that would ultimately call him back to the farm at the base of Parrot Mountain. A writer by trade who spent almost a decade on the East Coast, DeBenedetti is back on his old stomping grounds, ready to launch what will almost surely be wine country's most intriguing brewery, Wolves & People.
The name says a lot about the brewery's intentions. On the surface, Wolves & People refers to a game DeBenedetti played as a kid, one that falls somewhere between Freeze Tag and Red Rover. Going further, the name touches on a fearsome wildness the animal represents. The wolf has always epitomized a rugged independence, the American West, a healthy shot of terror even. There's history, too, DeBenedetti says, referring to a series of "wolf meetings" in which local settlers gathered to discuss the struggles and triumphs of live in mid-19th century Oregon, one teeming with wolves and plenty of other predators.
When DeBenedetti describes the provenance of the place, he's almost giddy. He's quick to go hunting for old black and white photos of the farmhouse and enjoys picturing the landscape just before Oregon became a state. In many ways, he's honoring the heritage of the place through the forthcoming brewery. Not only will Wolves & People ferment with its own indigenous yeasts (propagated from nearby fruit trees), it will incorporate established local ingredients like hazelnuts and set them to some of the oldest brewing methods.
Growing up, DeBenedetti inserted himself in the small but growing Willamette Valley wine scene. "Lynn Penner-Ash, Harry Peterson-Nedry, Doug Tunnell, and especially Jimmy Brooks tolerated my persistent questions and taught me how hard it is, and how rewarding it is, to ferment beautiful stuff for a living," he said. After working some low-level wine jobs, DeBenedetti headed to Walla Walla for college, where friends introduced him to their memorable home brew; and eventually he made some of his own. "My first homemade beers were terrible," he noted. "But I stuck with it."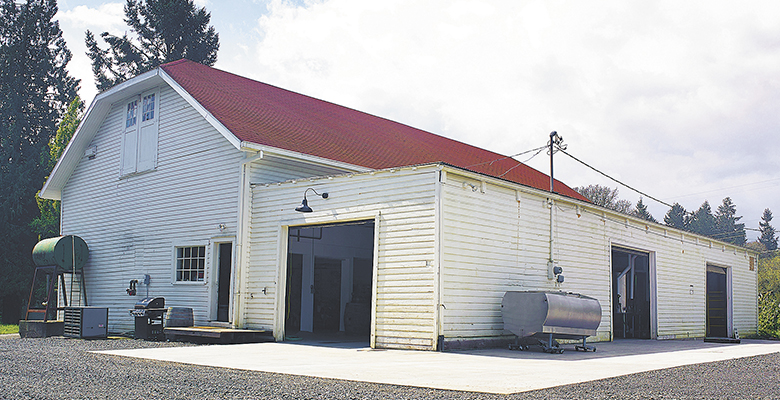 Hobby morphed into career thanks to an independent study grant sending DeBenedetti halfway around the globe. He studied ancient brewing traditions in Europe and West Africa, where ingredients like millet, sorghum and cassava feature prominently. Over the course of the year, DeBenedetti participated in village brewing, befriended a personal hero in the late English beer writer Michael Jackson and even battled malaria. "By the time I got to London, I felt like a new person," he said. "Africa does that, and it's a beautiful thing."
DeBenedetti credits Belgium for his first genuine education in beer. The western European nation of 11 million has about as many styles of beer as it does people. Moreover, it has been making the beverage for a thousand years-plus, achieving mastery en route. Techniques like barrel aging, fermenting with wild yeast and the incorporation of fruit impressed DeBenedetti and continue to inform his brewing stance. Nothing is bottled yet, but Wolves & People is already employing these techniques. They're now sitting on a barrel of saison they made in Portland from about 60 pounds of J.K. Carriere Pinot Noir fruit, and it continues to age on the lees.
Last October, DeBenedetti hired Jordan Keeper as head brewer of Wolves & People. The Austin native toiled at Jester King, a Texas Hill Country brewery lauded for its time-tested and highly geographic techniques. Terroir probably best explains the approach. That is, brewing with site in mind, using resident yeasts and other authentic ingredients while not allowing pasteurization or filtration to muffle the flavors of those specific coordinates. Wolves & People will be of a sibling nature.
"Seasonality will be one of the most interesting aspects of making beer here," explained DeBenedetti. "The amount of wild yeast in the air, the fruits we can barrel age with. A lot will depend on what we've got on hand at any given time." It's a hyperlocal brand of foraging that will put Wolves & People on a lot of beer enthusiasts' maps. Given their setting, DeBenedetti and company will source equipment and inspiration from local vineyards and winemakers.
The brewery will operate like a cellar to some extent, blending barrel-aged beers, some spending 36 months in oak. DeBenedetti and Keeper speak in wine-like tongues, touting the importance of acidity, dryness and structure in their work. While Wolves & People is not striving for "wine-like" beers, there is obvious common ground between the two, especially when both are operating from such a naturalistic methodology. "It's a happy coincidence of sorts that the pH of a great Pinot Noir and Belgian Lambic, as well as the best American wild ale counterparts, is similar," added DeBenedetti.
From the bone-white, century-old farmhouse DeBenedetti and Keeper are restoring, it's hard not to be excited. The grounds are a pleasing mix of orderly agriculture and sprawling flora. Again, DeBenedetti surveys the land, a chef scanning the aisles of the wildest of farmer's markets.
Some legal paperwork and lingering construction projects will likely prevent Wolves & People from opening until early summer. But the skeleton is complete, from a saloon-like tasting room once housing hazelnuts to copper kettles and creative ideas for future beers. Soon enough, there will be beer that reflects the unrestrained nature of the animal it's named after.
Mark Stock, a Gonzaga grad, is a Portland-based freelance writer and photographer with a knack for all things Oregon. He currently works at Vista Hills Winery.