April News Briefs
New Book!
Local writer Kerry McDaniel Boenisch recently published her latest book, "Dirt + Vine = Wine," which recounts the early days of winegrowers in the Dundee Hills, where she grew up.
For more information, visit www.dirtvinewine.com.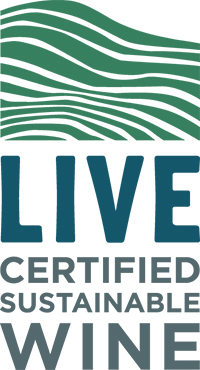 LIVE Unveils Brand Redesign
On April 7, LIVE, a nonprofit providing education and independent third-party certification of vineyards and wineries using international standards of sustainable grapegrowing and winemaking practices, unveiled a new logo designed by creative agency Grady Britton of Portland.
Although LIVE stands for Low Input Viticulture and Enology, the agency suggests how wineries should not explain the acronym immediately. According to the new logo's guidebook, "Consumers have become accustomed to business names that are not explicit about what the business does or sells. What is important is to make LIVE synonymous with sustainable winegrowing in the Pacific Northwest, in the way that LEED certification is synonymous with green building practices."
For more about LIVE, visit www.live-wines.com.
Savor Cannon Beach Competition Winners
CABERNET SAUVIGNON
Gold BOC
Seven Falls 2012 WS
Gold
Ferraro Cellar 2012 Phinny Hill Vineyard CV
Forbidden Fruit 2010 Earth Series Reserve SV
Kitzke 2010 CV
Kitzke 2011 CV
Reininger 2012 WW
Skylite 2010 CV
Silver
14 Hands 2012 The Reserve HHH
Alexandria Nicole 2012 "A Squared" Destiny Ridge Vineyard HHH
Alexandria Nicole 2012 "Alderdale" Destiny Ridge Vineyard HHH
Basel Estate 2010 Estate CV
Chateau Ste. Michelle 2011 Ethos Reserve CV
Cliff Creek 2011 RV
Cloudlift 2012 Halcyon HHH
Columbia Crest 2011 Reserve CV
Griffin Creek 2011 RV
Kriselle 2011 RV
Lindsay Creek 2012 Washington
Orofino 2012 Passion Pit SV
Pete's Mountain 2011 Elijah's Reserve HHH
Schmidt Family 2011 AV
Serendipity 2010 OV
Swiftwater 2011 Reserve CV
Walla Walla Vintners 2011 WW WW
Wautoma Wines 2011 Reserve CV
Zerba 2011 WW
Bronze
Echo Ridge 2011 CV
Girardet 2011 UV
Indian Creek 2012 SRV
Mt. Lehman 2012 Reserve OV
Oliver Twist Estate 2010 OV
Sigillo 2012 Barrel Select RM
CABERNET FRANC
Double Gold BOC
Sigillo 2012 Cabernet Franc RM
Gold
Kitzke 2011 CV
Walla Walla Vintners 2012 CV
Silver
Cloudlift 2012 Ascent HHH
Ledger David 2012 RV
Mt. Lehman 2012 Reserve OV
Whidbey Island 2012 YV
Zerba 2012 WW
Bronze
Cliff Creek 2009 RV
Echo Ridge 2011 CV
CHARDONNAY
Gold BOC
Blakeslee Vineyard Estate 2012 Estate YC
Gold
Chaberton Estate 2013 Valley BC VQA
Silver
Del Rio 2013 RV
Pudding River Wine 2013 WV
Schmidt Family 2013 Reserve AV
Slagle Creek 2013 Estate SO
Tamarack 2013 CV
Walnut City WineWorks 2012 Reserve WV
Bronze
D'Anu Wines 2013 DH
Girardet 2012 UV
Hood Crest 2013 CV
DESSERT WINE
Gold BOC
Isabella 2013 Little Beaver Riesling Ice Wine OV
Silver
Abacela 2013 Muscat UV
Indian Creek 2014 Muscat Canelli SRV
Isabella 2013 Little Beaver Chardonnay Ice Wine OV
MALBEC
Gold BOC
Swiftwater 2011 CV
Double Gold
Reustle-Prayer Rock 2013 "Golgotha Bloc" UV
Gold
Schmidt Family 2011 SO
Silver
Convergence Zone 2011 Black Cloud RM
Daven Lore 2012 HHH
Indian Creek 2012 My Best Friend SRV
Northwest 2012 Spofford Station Vineyard WW
Bronze
Kitzke 2012 CV
Lindsay Creek 2012 Washington
Skylite 2011 YV
Wind Rose 2013 YV
MERLOT
Silver
Chaberton Estate 2008 AC 100 BC VQA
Colter's Creek 2012 SRV
Lodmell 2009 Estate CV
Mt. Lehman 2012 Reserve OV
Northwest 2012 Cordon Grove Vineyard CV
Oliver Twist Estate 2013 Cab Franc OV
Orofino 2012 Red Bridge Red British Columbia
Reininger 2011 Helix CV
Reininger 2011 WW
Reustle-Prayer Rock 2013 UV
Schmidt Family 2010 Reserve AV
Sineann 2013 Champoux CV
Tamarack 2012 CV
Walla Walla Vintners 2012 WW
Wild Goose & 2012 OV
Bronze
Hood Crest 2012 CV
Latah Creek Wine 2012 WS
Oliver Twist Estate 2012 OV
Slagle Creek 2012 Estate SO
Seven Falls 2011 WS
NON-GRAPE
Double Gold BOC
Forbidden Fruit 2013 Pearsuasion SV
Gold
Buddha Kat 2014 Blackberry Port
Isabella 2013 Blueberry Dessert Fruit Wine FV
Silver
Forbidden Fruit 2013 Adam's Apple SV
Bronze
Forbidden Fruit 2013 Plum Noir SV
Isabella 2014 Blueberry Semi-sweet Dessert Wine FV
OTHER REDS
Gold BOC
Trio Vintners 2011 Carmenere RM
Double Gold
Lindsay Creek 2012 Petite Sirah Washington
Gold
Angel Vine 2012 Petite Sirah CV
Daven Lore 2012 Durif HHH
Daven Lore 2012 Petit Verdot HHH
J. Scott 2012 Zinfandel CV
Trio Vintners 2011 Mourvedre YV
Silver
Abacela 2012 Dolcetto UV
Abacela 2012 Tinta Amarela UV
Angel Vine 2012 Zinfandel CV
Cloudlift 2012 Stratus Petit Verdot YV
Enrico Inc 2012 Cabernet Foch Mill Bay
Harbinger 2010 Barbera CV
Jaxon 2012 Grenache RV
Kitzke 2012 Nebbiolo RM
Latah Creek Wine 2012 Monarch Petite Sirah HHH
Latah Creek Wine 2012 Monarch Primitivo HHH
Perennial Vintners 2013 Lemberger RM
Reustle-Prayer Rock 2013 Grenache UV
Split Rail 2011 Petit Verdot SRV
Trio Vintners 2011 Grenache YV
Wind Rose 2012 Barbera CV
Wind Rose 2013 Dolcetto CV
Bronze
Atam 2013 Barbera Lake Chelan
OTHER WHITES
Gold BOC
Chaberton Estate 2013 Reserve Bacchus FV
Silver
Hip Chicks do Wine 2013 Muller Thurgau UV
Indian Creek 2014 Mountain Syringa Gewurztraminer SRV
J. Scott 2013 Pinot Blanc WV
Mt. Lehman 2013 Gewurztraminer FV
Reustle-Prayer Rock 2013 Gruner Veltliner UV
Schmidt Family 2013 Albarino AV
Westport 2012 Captain Gray Gewurztraminer YV
Whidbey Island 2013 Siegerrebe Puget Sound
Bronze
Chaberton Estate 2013 Reserve Gewurztraminer BC VQA
Convergence Zone 2013 Sunbreak Chenin Blanc Snipes Mtn
Perennial Vintners 2011 Dry Orange Muscat YV
Perennial Vintners 2011 Madeleine Angevine Puget Sound
Reustle-Prayer Rock 2013 Gruner Veltliner Winemaker's Reserve UV
Whidbey Island 2013 Madeleine Angevine Puget Sound
PINOT GRIS
Gold
One Wines, Inc. 2014 "One White" Destiny Ridge Vineyard HHH
Rainstorm 2013 Oregon WV
Silver
Convergence Zone 2013 Drizzle RM
Del Rio 2013 RV
Enrico Inc 2012 Mill Bay
Grizzly Peak 2013 RV
Kramer 2013 Estate YC
Mt. Lehman 2013 FV
Puffin Brand Wines 2014 Oregon
Schmidt Family 2013 SO
Bronze
Girardet 2013 Pinot Gris UV
Hanson 2013 Estate WV
Reustle-Prayer Rock 2013 UV
Serendipity 2013 OV
PINOT NOIR
Double Gold BOC
Abiqua Wind Vineyard 2012 Isaac's Reserve WV
Double Gold
Bradley 2012 Reserve Elkton
Vercingetorix VX Vineyard 2012 Reserve Cuvee WV
Wild Goose & 2012 OV
Willamette Valley Vineyards 2012 Bernau Block WV
Gold
Cubanisimo 2012 Estate WV
Melrose 2012 UV
Spindrift 2012 Reserve WV
Silver
Agate Ridge Vineyard 2012 Estate RV
Carlton 2012 Estate YC
D'Anu Wines 2012 DH
Kramer 2012 Estate YC
Orofino 2012 Home Vineyard SV
Reustle-Prayer Rock 2013 Winemaker's Reserve UV
Provincial 2012 Estate WV
Pudding River Wine 2012 Reserve WV
Sineann 2013 Oregon Oregon
Sineann 2012 Yates Conwill YC
Spoiled Dog 2012 McMinnville
Spoiled Dog 2012 Reserve McMinnville
Sweet Earth 2012 Hungarian Oak WV
Swiftwater 2011 WV
Walnut City WineWorks 2012 Reserve WV
Willamette Valley Vineyards 2012 Estate WV
Youngberg Hill 2012 Cuvee WV
Youngberg Hill 2012 Natasha WV
Bronze
Bradley 2010 Elkton
Carlton 2011 Roads End YC
Carlton 2013 Seven Devils WV
Cubanisimo 2012 Rumba WV
Indian Creek 2012 SRV
Mt. Lehman 2011 Platinum Reserve OV
Puffin Brand Wines 2012 WV
Sweet Earth 2012 Reserve WV
RED BLENDS
Gold BOC
Colter's Creek 2012 Koos-Koos-Kia Red SRV
Double Gold
One Wines, Inc. 2011 "One Exception" Red Wine Red Blend-Destiny Ridge Vineyard HHH
Gold
Neroni Chef's Blend 2012 Red Blend SO
Orofino 2011 Beleza SV
Skylite 2010 Meler WW
Swiftwater 2010 Proprietary Red CV
Silver
Abacela NV Vintner's Blend #14 UV
Agate Ridge Vineyard 2011 Estate DK Reserve RV
Alexandria Nicole 2012 "Quarry Butte" Red Blend-Destiny Ridge Vineyard HHH
Alexandria Nicole 2011 Destiny Red Blend-Destiny Ridge Vineyard HHH
Basel Estate 2010 Estate Claret CV
Basel Estate 2010 Estate Merriment CV
Blooms 2012 Poetic Washington
Cloudlift 2012 Panorama CV
Columbia Crest 2012 H3 Les Chevaux Red Wine HHH
Golden Ridge 2010 Estate Red WW
Harbinger 2010 El Jefe Rattlesnake Hills
Isabella 2010 Imperial Grand Reserve FV
Isabella 2010 Little Beaver Grand Reserve Attribute OV
Jaxon 2012 Forte SO
Kitzke 2010 Monte Caramelle CV
Kitzke 2012 Janaina Sensacao CV
Kriselle 2012 Di'tani RV
Locati 2010 Innovation CV
Lodmell NV Sublime CV
Malaga Springs 2009 Al y Kat Washington
Mercer Estates 2011 Reserve Cavalie CV
Mercer Estates 2012 Sharp Sisters Red Blend CV
Northwest 2012 Cadenza CV
Puffin Brand Wines NV Red Wine WV
Reininger 2012 Helix Pomatia CV
Reustle-Prayer Rock 2013 Cot et Merlau UV
Schmidt Family 2011 Soulea AV
Sigillo 2012 Confluence CV
Split Rail 2011 Horned Beast Reincarnate SRV
Stemilt Creek 2010 Boss Lady CV
Walla Walla Vintners 2012 Washington State Cuvee Washington
Westport 2012 Nirvana HHH
Williamson 2011 Harvest Moon SRV
Williamson 2011 Homestead Red SRV
Wind Rose 2012 Bravo Rosso Washington
Zerba 2011 Wild Z WW
Bronze
Angel Vine 2012 The Hellion CV
Cliff Creek 2008 Claret RV
Convergence Zone 2011 Storm Front RM
Cricket Hill 2007 Le Arpege Grand Vin AV
Echo Ridge 2011 Three Blondes and a Boy CV
Indian Creek 2012 Star Garnet SRV
Isabella 2011 Attitude OV
Oliver Twist Estate 2013 Rockabilly Red OV
Serendipity 2010 Serenata OV
RIESLING
Gold BOC
Blakeslee Vineyard Estate 2013 Estate WV
Silver
Convergence Zone 2013 Dewpoint CV
Schmidt Family 2013 SO
Latah Creek Wine 2013 CV
Pacific Rim 2013 Selenium Vineyard YV
Swiftwater 2013 No. 9 CV
Bronze
Atam 2011 Lake Chelan
Girardet 2013 UV
Chateau Ste. Michelle 2013 Chateau Ste. Michelle & Dr. Loosen Eroica Gold CV
Orofino 2013 Hendsbee Vineyard SV
Reustle-Prayer Rock 2013 UV
ROSÉ
Gold BOC
Puffin Brand Wines 2014 Rose Oregon
Gold
Mt. Lehman 2013 Rose FV
Silver
Abacela 2013 Grenache Rose UV/SO
Cubanisimo 2013 Rosado de Pinot Noir WV
Indian Creek 2014 Rose of Syrah SRV
Bronze
2Hawk Vineyard & NV Rose SO
Isabella 2013 Rose FV
Kitzke 2013 Rose Nebbiolo CV
SANGIOVESE
Silver
D'Anu Wines 2012 Seven Hills Vineyard WW
Ledger David 2012 RV
Malaga Springs NV Washington
Trio Vintners 2011 Flash Point Reserve YV
Trio Vintners 2010 WW
Walla Walla Vintners 2012 CV
Williamson 2011 SRV
Bronze
Hood Crest 2012 CV
Kitzke 2012 CV
SAUVIGNON BLANC
Gold BOC
Kriselle 2013 RV
Silver
Agate Ridge Vineyard 2012 Estate RV
Carlton 2013 YC
Forbidden Fruit 2013 Earth Series SV
J. Scott 2013 RV
Ledger David 2013 RV
Serendipity 2013 OV
SPARKLING
Double Gold BOC
Treveri NV Rose SEC CV
Gold
Treveri NV Brut Blanc de Blancs CV
Silver
Kramer 2013 Celebrate Muller-Thurgau YC
Bronze
Sigillo 2012 Sparkling Viognier Brut CV
SYRAH
Double Gold BOC
Walla Walla Vintners 2012 WW Estate Vineyard WW
Gold BOC
Reustle-Prayer Rock 2013 "Masada Bloc" UV
Gold
Reininger 2012 WW
Silver
Abacela 2012 Jasper Block Reserve UV
Basel Estate 2010 Estate WW
Colter's Creek 2012 SRV
Jaxon 2012 RV
Orofino 2012 Scout Vineyard SV
Pete's Mountain 2012 Tristan's Block 17 HHH
Pudding River Wine 2012 WW
Reustle-Prayer Rock 2013 Winemaker's Reserve UV
Reustle-Prayer Rock 2013 Gloria's UV
Schmidt Family 2011 AV
Swiftwater 2011 CV
Bronze
Girardet 2012 UV
Mt. Lehman 2010 OV
Reininger 2011 Helix CV
Skylite 2010 WW
TEMPRANILLO
Gold BOC
Girardet 2012 UV
Silver
Abacela 2012 Fiesta UV
Red Lily 2011 Red Blanket RV
Indian Creek 2012 SRV
Jaxon 2012 RV
Kriselle 2011 RV
Red Lily 2012 Life of Riley AV
Red Lily 2011 Red Lily RV
Schmidt Family 2012 SO
Trio Vintners 2011 WW
Bronze
2Hawk Vineyard & 2011 SO
Reustle-Prayer Rock 2013 UV
Reustle-Prayer Rock 2013 Winemaker's Reserve UV
Wind Rose 2013 Hunter's Red YV
VIOGNIER
Double Gold BOC
Alexandria Nicole 2014 "Crawford" CV
Gold
Pudding River Wine 2013 WW
Silver
Agate Ridge Vineyard 2012 Estate RV
Grizzly Peak 2013 RV
Hip Chicks do Wine 2013 WV
Kriselle Kriselle 2013 RV
Bronze
Indian Creek 2014 SRV
Oliver Twist Estate 2013 OV
Perennial Vintners 2011 YV
Serendipity 2013 OV
WHITE BLENDS
Gold BOC
Alexandria Nicole 2014 "Shepherds Mark" Destiny Ridge Vineyard HHH
Silver
Abiqua Wind Vineyard NV Abiqua Cuvee WV
Basel Estate 2013 Semillon-Sauvignon Blanc CV
Mt. Lehman 2013 Tapestry FV
Westport 2013 Willapa White YV
Wild Goose & 2013 Autumn Gold OV
Bronze
Mt. Lehman 2012 Symmetry OV
Neroni Chef's Blend 2013 White Blend SO
AV: Applegate Valley; CV: Columbia Valley; DH: Dundee Hills; FV: Fraser Valley; HHH: Horse Heaven Hills; OV: Okanagan Valley; RM: Red Mountain; RV: Rogue Valley; SV: Similkameen Valley; SRV: Snake River Valley; SO: Southern Oregon; UV: Umpqua Valley; WS: Wahluke Slope; WW: Walla Walla Valley; WV: Willamette Valley; YV: Yakima Valley; Yamhill-Carlton: YC