Come What May
Oregon Wine Month offers best promotion yet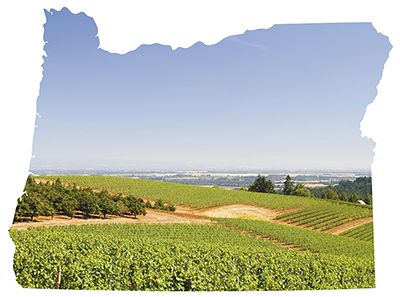 Who knew May was Zombie Awareness Month? National Bike Month? Or even National Blood Pressure Month? Maybe the undead bike shop owner with serious hypertension was aware, but not this writer.
How about Oregon Wine Month? In its fourth year, the Oregon Wine Board's statewide promotion is getting some real traction — like someone on a bike escaping a zombie — and consumers, as well as wineries, are making plans to make the most of it.
It all starts with OWB's new website, www.oregonwine.org, which can also be reached using the URL www.oregonwinemonth.org. Either way, you will find Oregon Wine Month information under the first tab at the top. Here, consumers will discover a variety of promotions.
"We are working with wineries, restaurants and retailers to set up special offers that will happen throughout the month," said Michelle Kaufmann, OWB communications manager. "Whether it is a two-for-one tasting, vineyard and winery tours, or even a tasting at Fred Meyer, users can easily discover what is happening every day during Oregon Wine Month."
OWB also will be promoting events such as winemaker's dinners, association tastings, Mother's Day celebrations and much more.
On the new site, consumers will find the Oregon Wine Month Oregon Wine Country Dream Weekend Sweepstakes. The getaway grand prize includes: two nights' lodging; dinner for two; $100 gas card; and an exclusive experience at an Oregon winery. The winner can choose from three options (see details in sidebar).
Wine distributors and reps can win, too, during Oregon wine's official month. On OWB's industry-only site, (industry.oregonwine.org), and part of the Oregon Wine Month Tool Kit, wineries can nominate an Oregon Wine Month Rep of the Year (on- and off-premise). Additionally, the kit includes other easy-to-use tools for making the most of Oregon Wine Month: point-of-sale shelf-talkers, skewer cards, case cards, posters and templates for wineries and restaurants to create their own print materials.
"Wineries can use whatever they need," said Kaufmann. "We also have e-newsletter and social media copy for people to plug and play. We really wanted to take away any hassle that wineries might face with Oregon Wine Month."
No matter whether you are a consumer, in the wine biz or both, Oregon Wine Month has a clear branding message for everyone: "Wildly Sophisticated, Properly Oregonian."
"We thought the best way to connect with consumers this year was to focus on the people who are making Oregon unique," Kaufmann added. "It has to do with the quirky personalities who are here producing outstanding, world-class wines in an area that is not quite as easy as some of the other regions."
For the print campaign, OWB was inspired by those in the early years, specifically, Richard Sommer and the Letts. "We are not focusing on their individual brands but instead on the people and their contributions to the industry," Kaufmann noted.
"As we continue through the month of May, wineries can submit photographs through the industry site (industry.oregonwine.org), so that in our social campaign, we can continue to tell the story, not just about the founding winemakers, but the people who are here today continuing the legacy of excellence."
And as the tradition of wine continues to build, so does the economic influence. In fact, the industry's monetary impact was the impetus for former governor John Kitzhaber's 2012 proclamation that May be deemed Oregon Wine Month.
"Oregon Wine Month was started because of the economic value that the Oregon wine industry brings to the state," Kaufmann explained. "For example, in 2010, the number was $2.7 billion; in 2013, it was $3.35 billion. You can see in three years, the number went up significantly."
OWB's hope is that Oregon Wine Month will grow significantly itself; their goal: expanding the promotion to the national stage. But for now, they are happy with their latest efforts, knowing the past three Mays have been building to a bigger and better product each year.
"It's like getting anything off the ground, it takes a couple years to figure out what the heck you are doing, but by year three, everyone is like, 'Okay, this wine month thing, what is it? What is actually happening? How do we get involved?'"
It all comes back to the website.
"The website is the biggest part of the Oregon Wine Month this year," Kaufmann said. "We really tried to get the platform dialed in as tightly as we could so that we can have better outreach and better promotion."
In regard to the consumer, you know what to do: Support Oregon wine not only in May but throughout the year. Go wine tasting. Order a bottle of Oregon wine at your favorite restaurant. Encourage friends and family to visit wine country — that is, unless they are zombies.