News Briefs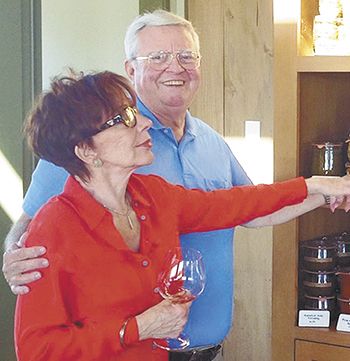 Beloved Tour Owner Dies
Michael G. Thomas (April 15, 1944–Feb. 9, 2015) was born in Birmingham, Alabama, and graduated from Auburn University. Following two years of teaching, he joined Georgia Pacific's salesforce. In 1973, he was lured to the Pacific Northwest by American International Forest Products, in Beaverton, where he worked for seven years as a lumber trader.
For the next two decades, Thomas found great pleasure and success representing World's Finest Chocolate to schools, PTAs, Little Leagues and other students' activities helping them in their fundraising efforts.
In retirement, he had the good fortune of making his hobby his business. He and his wife, Carol, founded Wine Tours Northwest.
From his obituary: "He often said that of all the jobs he had, this was by far the most satisfying and enjoyable. He never tired of meeting people from around the world, showing them the Northwest's beautiful wine country and introducing them to vintners, winemakers and restaurateurs."
Thomas was also active in the Portland area wine community.
Diagnosed with cancer last fall, he leaves behind his wife, Carol, and her daughters, Christine Wooley, Kathleen McGraw, and their spouses; as well as his sister, Lisa, her spouse and his nieces, Ashley and Staci.
A memorial service was held Sunday, Feb. 22 in Portland.
Donations can be made to; ¡Salud!, c/o Tuality Healthcare Foundation, 335 S.E. Eighth Avenue, Hillsboro, OR 97123.
Cycle and Sip Sunday
Cyclists of all abilities are invited to participate in the inaugural Cycle and Sip Sunday event to be held March 15 in McMinnville.
Eola Hills Wine Cellars and The Principal Financial Group are co-sponsors of this new cycling event that will benefit Doernbecher Children's Hospital and St. James Catholic School in McMinnville.
Cyclists will take a guided 30-mile ride through wine country, departing from and returning to Evergreen Water Park. Following the ride, cyclists will enjoy attending Sip: The McMinnville Food and Wine Classic held at the Evergreen Air & Space Museum.
Cyclists can reserve space online at www.eolahillswinery.com or call 503-623-2405.
Nora's Table Sold
Oregon Wine A-List winner Nora's Table has been sold. Owners Kathy and Stu Watson recently announced the Hood River restaurant had been purchased by chef Roman Deingruber and his wife, Amy Kaefer. Ownership changed hands Feb. 7.
Deingruber is a native of the Czech Republic, where he studied culinary arts. His experience includes nine years managing both Café Gitane and Bread Restaurant in New York. He then managed the kitchen of the well-regarded LA restaurant Gjelina, which Los Angeles Magazine named "One of the 99 Essential Restaurants in 2013.
For more about Nora's Table, please visit www.norastable.com.