Oregon Pinot at the Pole
Last Call: A Q&A with the jolly old elf on top of the world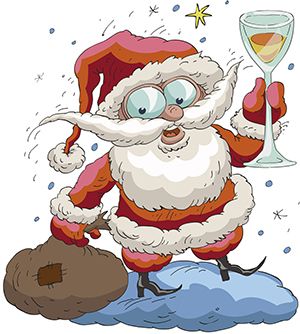 OWP: Santa, is it true that you enjoy eating almost as much as speeding around the globe on Christmas Eve?
Santa: Here at the Pole, we all love to eat, and, I must say, Mrs. Claus is a marvelous cook. Also, as fun and rewarding as my Eve Adventure always is, it still only happens one night of the year. There are all those other 364 dining days as well.
OWP: We hear you have fine wine when you dine. Can you reveal any favorites that accompany those gourmet dinners?
Santa: Wine and food pairing dinners are fairly frequent up here. And I agree with whoever it was that said, "Pinot Noir is the food friendliest wine on the planet."
OWP: We are delighted to hear that. Do you have any preference as to where your Pinots are grown and made?
Santa: I'd take up the Claus for Oregon Pinot any time. I know a thing or two about cool climates and when you combine that attribute with terroir and winemaking skills, the Beaver State consistently comes out on top.
OWP: Where do you store your wines at the North Pole?
Santa: We have a deep underground cellar. Ideal temperature: a steady 13 degrees Celsius. Digging it was a lot of work because of the permafrost, but then there are a lot of workers with spare time on their hands during the off-season. We're neck-deep in back-up teams, young elves on the bench ready to relieve those old pros making toys for girls and boys year-round.
OWP: Oh, yes. Your elves. Do any of them enjoy a little wine now and then with you and Mrs. Claus?
Santa: Many of the more mature elves have very good palates. They're also quite moderate in their consumption. I find that elves, like wine, get better with age.
OWP: Just how old would that be, in regard to your little helpers?
Santa: You must remember elves are immortal. But by about the human age of 50 years, they reach your equivalent of physical adulthood, then they require about another 50 to fully mature. I'd say that our best tasters are at least 150 years old. I, myself, take the Fifth on revealing my age. Let's just say Methuselah and I are becoming the best of buddies.
OWP: Where do you buy wines and how do you get them home?
Santa: The Internet, of course. Both Fed Ex Frozen and UPS Polar offer insulated dog sled delivery direct to our door from Oregon. Occasionally, if a winery hospitality room has a chimney and a tree, I'll drop in to leave a gift or two and find a nice bottle waiting for me. That's a special treat.
OWP: You mean, you drink on the job, Santa?
Santa: Mercy, no. I never sip and sleigh. What would the reindeer think? However, when the Eve is over and I'm back at the Pole, a tipple or two might be in order. Mind you, I have to watch Rudolph carefully. How do you think he got that red nose?
OWP: O.K., Santa, time to 'fess up. Do you prefer milk and cookies or wine and cheese?
Santa: Both of them equally, but not in that order. Serve the mixed cheese platter with a complexly balanced Pinot that has been allowed to breathe; then finish up with oatmeal cookies baked to perfection and washed down with a flagon of fresh, chilled cow's nectar.
OWP: How about your favorite cookie and wine pairing?
Santa: That depends on the cookie and the wine. Being an eclectic old elf, my cookie favorites range from flaky butter to chocolate chip with walnuts. Whereas a late harvest Riesling or Pinot Gris is a fittingly complement for the former, a Pinot Noir port plays perfectly on the palate with the latter.
OWP: Is there any other wine besides Pinot Noir that really captures your fancy with food?
Santa: Well, I must admit that I do lean toward Riesling as my preferred white wine. And Oregon wineries are really coming on strong with the noble variety. It has such distinctive character and the slightly sweeter styles make lively, refreshing aperitifs while the drier styles complement so many lighter and creamy entrées. Then, of course, there's late harvest. Yumm.
OWP: Any other beverages you would like to share with OWP readers?
Santa: What comes to mind is later in the evening when I pull out my pipe and relax in front of a roaring fire, a snifter of Oregon artisanal brandy does makes a cozy accompaniment.
OWP: I guess we'll allow you that little indulgence, Santa. Thanks so much for taking the time to share your thoughts with our readers.
Santa: It was my pleasure. Happy holidays from all of us up here at the North Pole to everyone down there in Oregon Wine Country, and keep up the wonderful work. I look forward to savoring it for many, many years to come.