'Shroom with a View
Cookbook offers glimpse into mouth-watering mushrooms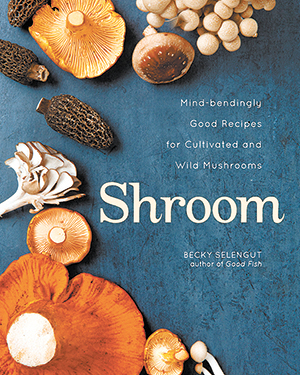 Now is the season for chanterelles, those golden-orange beauties that crop up in copious mounds every fall after the first rain here in the Pacific Northwest. So what do you do when a friend appears with a sackful foraged from a parcel on her property and you have no idea what to do with them?
"I really want this book to be in the beginner's hands," said Becky Selengut, author of the new book "Shroom: Mind-bendingly Good Recipes for Cultivated & Wild Mushrooms." "I really like writing cookbooks that aren't dumbed down, but at the same time beginners can get confident cooking through the book and getting better at their skills."
Chapters one and two tackle button, cremini, portobello and beech mushrooms. These are easy to prepare and palatable varieties for newbies to the field of fungi. Later chapters pick their way through oyster, king trumpet, shiitake, maitake, lion's mane, morel, chanterelle, hedgehog, porcini, lobster, black trumpet, truffle and matsutake.
Selengut, who is also a private chef, humorist and cooking teacher, structures the recipes from easiest — you've never worked with this mushroom before, you don't have the slightest idea what to do with it — to more adventurous. The first and second recipes in each chapter are designed for beginners. Once you've mastered those, you're ready for the third or the fourth.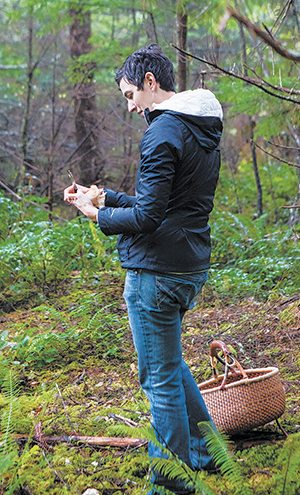 "If you're a weekend warrior, maybe you want to dive straight into the last recipe," she said. It's The Times crossword approach to cookbooks. "Yeah, don't go straight to the Saturday puzzle if you're not an expert."
Yet I did exactly that when I purchased some matsutakes from my local specialty market. I followed her recipe for grilling them with rosemary and olive oil. It turned out good, but the stems of the mushrooms I bought were spongy and bug-eaten, and they were starting to emit an ever-so-slightly smell of chlorine, a sign they were not good specimens and likely past their prime.
"Yeah, you probably should have taken them back and gotten a refund," Selengut advised. She knows bad mushrooms are no good — and seriously nothing to mess around with.
"I really love foraging, but it's not a foraging book either," Selengut said sternly. What makes Selengut such a good chef instructor is that she can crack jokes one minute; then switch on her mother voice.
"What's not good is someone who hears all about how fun foraging is and going out and picking a bunch of mushrooms and not knowing what they are … 'I think that's a chanterelle!' No one should learn solely from the pages of a book. Nothing can replace an expert in the field.
You have to break open the mushroom, smell it, file away that smell; now take a look at the habitat around you, now store that picture in your mind the way you'd know your grandmother's face, so that you know from a lineup of hundreds of people, that that is your grandmother."
Another word of caution: "Never be exclusionary and say, 'I don't think it's a deadly mushroom, therefore I will eat it.' Yet people do."
Selengut said she leans on the side of people being scared to pick mushrooms. "It's a healthy fear. You should know all the recommended steps before becoming a mushroom forager. It's taken me personally 15 years to feel comfortable picking six species. But I value my life and health."
"What is a mushroom?" I ask Selengut in all seriousness. "A vegetable? Plant? Animal? Alien?"
"You know, they still haven't really figured that out," she answered. "The more I've learned about mushrooms, the more I'm not comfortable calling it a vegetable. Most people lump it under vegetable, but it really does not belong there. It doesn't photosynthesize, it doesn't breathe up carbon dioxide the same as plants do. It's more closely aligned with humans. It's other."
In Selengut's opinion, what is certain about mushrooms is their important connection to our environment.
"We would be swimming in our own organic matter if it wasn't for mushrooms — literally, we'd be buried under feet of organic matter! The most important role of fungi is as a decomposer. In the woods and the forest, it's fungi that is breaking down all the dead wood."
Selengut loves to share her sense of wonder about 'shrooms. "The honey mushroom, for instance, is the largest organism in the world. One honey mushroom can be 4,000 acres. That's crazy and cool. It's amazing to think about the world that is going on under our feet!"
Along with being a cookbook author, Selengut is a private chef, humorist and cooking teacher based in Seattle.
Peter Szymczak is a Portland-based writer. Read more online at www.portlandinseason.blogspot.com.
---
Porcini Salad with Pine Nuts and Lemon Salt
Excerpt & Recipe from "Shroom" by Becky Selengut
Serves 4 (as an appetizer)
This is a deceptively simple composed salad that really highlights the versatility of porcini. When thinly sliced and roasted — but not overly so — porcini can be subtle, delicate and sublime. The heat is applied lightly here, so that you can appreciate the subtlety of the dish, while the pine nuts echo the nuttiness and depth of the porcini and the lemon zings it up an octave.
Wine Paring: Austrian Grüner Veltliner
Ingredients
* extra-virgin olive oil, as needed
1 pound fresh porcini mushrooms, sliced ¼-inch thick (cap through-stem slices)
1¼ teaspoons fine sea salt
¼ teaspoon red pepper flakes
* finely grated zest of 1 lemon (save lemon halves for squeezing on salad)
¼ cup pine nuts, toasted
1 stalk celery (see note), shaved paper-thin into half-moons on a mandoline (leaves cut into chiffonade, reserved for garnish)
¼ cup shaved Parmigiano-Reggiano (use a vegetable peeler)
* fresh chervil leaves, for garnish (substitute small flat-leaf parsley leaves)
Method
1. Preheat the oven to 450°F. Line two baking pans with parchment paper and brush with olive oil. Lay the porcini slices on the parchment. Brush with more olive oil.
2. Sprinkle 1 teaspoon of the salt over the top. Roast until lightly browned in spots, 15 to 25 minutes, flipping once after 10 minutes.
3. In a spice grinder, pulse the red pepper flakes, lemon zest, pine nuts, and the remaining ¼ teaspoon salt to a chunky consistency.
4. Arrange the cooked porcini slices on plates. Sprinkle the celery over the mushrooms. Drizzle olive oil over the salads (1 to 2 teaspoons, but you don't need to measure), followed by a squeeze of lemon juice. Sprinkle the pine nut mixture over the top. Garnish with cheese shavings and celery and chervil leaves.
NOTE: Try to take off as many celery strings as you can prior to shaving the stalk on the mandoline (otherwise, they get caught in the blade). Use a paring knife—starting at the top, grab the strings between your thumb and the side of the knife and pull downward, stripping them off. If you don't have a mandoline, use a very sharp knife and cut the celery as thinly as you can manage.