Festive Finger Foods
Give these holidays appetizers a gourmet go-go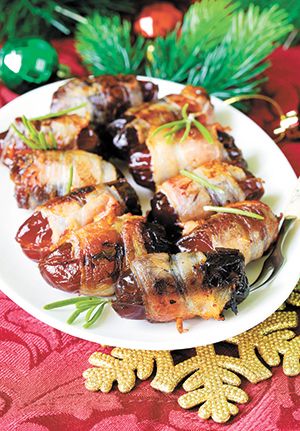 By Wendy Bennett
Wine Country Cooking
Blue Cheese-Stuffed Medjool Dates Wrapped in Bacon
Sweet, creamy Medjool dates, a zing of blue cheese and the smoky, saltiness of bacon: a marriage made in heaven when paired with a heartier Pinot Noir, Syrah or Tempranillo.
Yield: 24 pieces
Ingredients
12 slices bacon, cut in half
12 Medjool dates
3 ounces good-quality blue cheese (Point Reyes or Rogue Creamery)
¼ cup Oregon honey
Method
1. Preheat oven to 350°F.
2. Lay slices of bacon on a baking pan lined with parchment paper. Place tray in oven and cook the bacon for 10 to 12 minutes or until the bacon is a third cooked. The bacon should not be crisp.
3. While bacon is cooking, slice dates lengthwise and remove pit, ending up with 2 halves. Insert ½ teaspoon blue cheese into center of each half date.
4. Once bacon is cooked, remove it from baking pan, allowing it to cool slightly (you should be able to touch the warm bacon without burning yourself).
5. Wrap a half slice of bacon around outside of each date and secure with a toothpick through the center. Arrange dates so they are not touching one another on a parchment-lined baking pan.
6. Bake 8 to 10 minutes until bacon is crisp. Drizzle honey over dates; serve immediately.
Dungeness Crab Beignet with Chipotle Dust
Nothing says holiday like Dungeness crab! This appetizer, a favorite among my cooking studio clients, pairs beautifully with bubbles! Prosecco, Champagne or Oregon's finest sparkling wine will start your night off with a pop!
Yield: 24 pieces
Ingredients
12 ounces Dungeness Crabmeat, drain well to remove excess moisture
½ cup water
¼ cup butter, unsalted
½ teaspoon salt
½ cup flour, all-purpose
2 eggs, whole
1 tablespoon onion, grated
2 teaspoons horseradish
* dash Tabasco sauce
* oil for deep frying
Method
1. Bring water, butter and salt to a boil in a saucepan, making sure butter is completely melted.
2. Remove pan from heat and add flour all at once. Stir vigorously with a wooden spoon until it forms a smooth ball that pulls away from the sides of the pan.
3. Transfer mixture to mixing bowl and with a mixer on medium speed, beat in one egg at a time; beat thoroughly until mixed.
4. Remove bowl from mixer and stir in onion, horseradish and Tabasco. Gently fold in drained crab meat (excess liquid will make dough too wet).
5. Scoop one tablespoon of batter and gently release into hot oil (350°F). Fry 2 minutes, turn and fry 2 minutes on other side. Remove from oil and drain on several layers of paper towel.
6. Lightly sprinkle hot beignets with Chipotle Dust; serve immediately.
Chipotle Dust
Ingredients
¼ cup powdered sugar
1 teaspoon chipotle powder
1 teaspoon table salt, non-iodized
Method
1. Mix all ingredients together.
2. Place mixture in a mesh strainer or shaker for dusting.
Mediterranean Koftka with Tzatziki Sauce
Do you love BIG reds? Well, this is your appetizer pairing! Nebbiolo or Zinfandel would be fine choices. Be sure to sear the outside of the koftka on a very HOT grill to add a caramel note to the spice and herbs in this traditional street food treat. The Tzatziki sauce offers a note of tart from the yogurt, spice from the garlic and earthiness from the dill. I think you're going to love it so much, you may not want to share!
Yield: 16 to 20 pieces
Ingredients
4–6 cloves garlic, minced
12 ounces ground beef, finely ground
4 ounces ground pork, finely ground
3 tablespoons chopped fresh parsley
3 tablespoons chopped fresh mint
1 teaspoon ground cumin
½ tablespoon ground cinnamon
½ teaspoon ground allspice
¼ teaspoon ground ginger
¼ teaspoon ground black pepper
1 teaspoon kosher salt
16 skewers, soaked in water 30 minutes
Method
1. Combine all ingredients and form 16 balls, similar to an oval flat meatball. Cook on a pre-heated grill for 3 to 5 minutes.
2. Serve immediately with Tzatziki Sauce.
Tzatziki Sauce
Ingredients
2 cloves garlic, minced
1 cucumber, peeled, seeded, diced small
2 tablespoons white wine vinegar
2 tablespoons chopped fresh dill
1 cup Greek yogurt
1 cup sour cream
1 teaspoon salt
¼ teaspoon white pepper
Method
1. Combine all ingredients and refrigerate. Serve chilled.