Columbia Gorge AVA Turns 10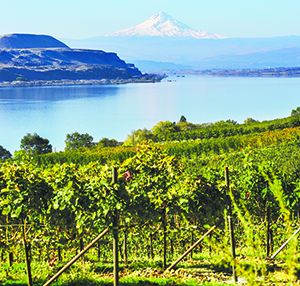 This year, the Columbia Gorge AVA celebrates a decade. The beautiful and diverse region rests in the Columbia River Gorge National Scenic Area and produces wines from more than 40 different Vitis vinifera grapes.
The region actually hosts two separate AVAs (American Viticultural Areas): Columbia Gorge AVA, established in 2004, and the southwest corner of the Columbia Valley AVA, established in 1984. Within this area, more than 83 vineyards — with 1,250-plus acres under vine —and more than 30 boutique wineries thrive. Together, the wineries of the Columbia Gorge wine region have won more than 1,000 notable wine awards.
The land is defined by the Columbia River as it cuts westward through the Cascade Range to the ocean. This short, dramatic transition in landscape is reflected in the climate. Most notably, cool and moist maritime air flowing in from the Pacific brings 36 inches of rain to the western boundary of the Columbia Gorge AVA, but drops to as little as 10 inches in the Gorge's arid eastern end.
After making wine for several years in the Willamette Valley, James Mantone established his winery, Syncline Wine Cellars, in the area prior to the establishment of the AVA.
"I was intrigued by the tortured topography and the challenge of making wine in a mountain-influenced climate," Mantone says. "After working in a cool-climate for years, I love the sub-alpine aspect here where I have a chance to make wine of maturity at higher acid levels."
To commemorate the AVA's birthday, the Columbia Gorge Winegrowers Association, with the help of Kris Ostness Cinematography, has produced a video, showing the beauty, diversity and high quality of the Columbia Gorge. Find the video online at http://vimeo.com/105056206.