Celebrating Wine, Preserving History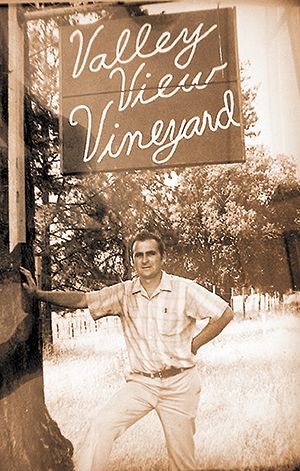 By Maureen Flanagan Battistella
and Mary Jane Cedar Face
Southern Oregon grapegrowers and winemakers celebrated their heritage and a new digital collection at Southern Oregon University's Hannon Library on Nov. 7.
With climatologist Greg Jones as moderator, wine historian Will Brown and early viticulture expert Porter Lombard shared their research on and anecdotes of the history of winemaking in Southern Oregon. The event coincided with the opening of an exhibit of 25 historic photographs documenting the Rogue Valley AVA, which includes the Applegate Valley AVA and Illinois Valley growing area.
Funded by a grant from the Erath Family Foundation, the Wine of Southern Oregon collection is nearing 450 photographs, wine labels, and historic documents. Jones, Lombard, Brown and writer MJ Daspit are project consultants for the growing collection. The site, www.hanlib.sou.edu/wine, includes an interactive map of wineries.
Oregon's rich viticulture tradition began in Southern Oregon. Valley View, the state's first recorded winery, was established by Peter Britt in the 1850s. By 1889, more than 60 acres of vineyards had been planted by 14 individuals. A report to the governor in 1890 states that the grape and wine industry is "destined to be the most profitable industry" in Jackson County.
A century after Peter Britt, Porter Lombard, horticulturist with the OSU Experiment Station near Jacksonville, conducted successful wine grape trials in the late 1960s, growing Chardonnay, Merlot and Cabernet Sauvignon. By the 1970s, clippings from these vines began to flourish throughout the valleys of Southern Oregon as pear orchards gave way to grapes.
In the 1990s, SOU professor and world renowned climatologist Greg Jones determined that warmer climate varietals like Pinot Noir, Syrah and Viognier would thrive in Southern Oregon, and so they have. New generations of Southern Oregon grapegrowers and winemakers continue the agricultural tradition, firmly establishing the Rogue, Illinois and Applegate valleys as unique terroirs, producing world-class wines.
Hannon Library has a longstanding commitment to providing resources to serve the regional wine industry, including a collection of nearly 16,000 wine books, and industry and scholarly wine journals. Since 2003, this collection was developed with contributions and input from Southern Oregon winemakers and growers.