Linfield College Hires Wine Director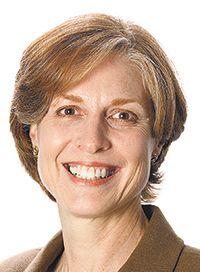 By OWP Staff
Ellen Brittan, general manager at the Carlton Winemakers Studio and owner of Brittan Vineyards, has been named director of wine education at Linfield College in McMinnville.
Brittan will work with Linfield's Division of Continuing Education (DCE) to develop a wine education program that could include a variety of courses offered online or during the summer. Her appointment is effective Jan. 5.
"Ellen's extensive experience in the wine and hospitality industry will be invaluable in helping us create courses that can serve the local wine industry, as well as provide educational opportunities and experiences for individuals interested in learning more about wine," said Linfield President Thomas L. Hellie. "Ellen's primary role will be to develop a wine education program through DCE, but she will also play a major role in advising and creating wine education programs for our traditional students."
Brittan, who holds bachelor's degrees in French language and literature, and Spanish language and literature, spent 20 years in the financial services industry, working her way from a bank teller to executive vice president. When her career brought her to Napa, California, she began taking classes on wine and food and ultimately left her corporate position to pursue her passion for food and wine, taking a position in a tasting room to learn the business from the ground up.
She worked as general manager of Rudd Vineyards, and was later promoted to executive director of the Rudd Group, managing branding, marketing and communications for the group which included Dean & DeLuca, Rudd Winery, Edge Hill Winery, Distillery No. 209, Oakville Grocery and PRESS restaurant. She also served as executive director of the Rudd Foundation, where she participated in the development of the Rudd Center for Professional Wine Studies at the Culinary Institute of America, and the Rudd Center for Food Policy and Obesity at Yale University.
She and her husband, Robert, purchased their vineyard near McMinnville in 2004 and moved to Yamhill County full time in 2008. He is the viticulturalist and winemaker at the vineyard. In addition, Ellen Brittan serves on the board of the International Pinot Noir Celebration, and will become chair of the Oregon Wine Board and president of the Oregon Winegrowers Association in January.
Brittan said developing an education program at Linfield would benefit to the Oregon wine industry and could encompass a variety of programs related to the business and marketing aspects of wine.
"Our rapidly growing Oregon wine industry needs a bigger pool of qualified candidates for jobs," she said, adding that 75 percent of Oregon's wine industry consists of small vineyards and wineries that produce 5,000 or fewer cases of wine per year. "Small wineries don't have the time or resources to develop training programs. They need people who can hit the ground running. If Linfield can help bridge that gap by providing a basic skills set and some basic knowledge it will really help those smaller wineries."
Although specific classes have not yet been determined, programs offered through DCE could include social media for wineries, tasting room fundamentals, basic wine knowledge and accounting or marketing for the wine industry. In addition, workshops or seminars offering educational experiences and opportunities for wine enthusiasts at Linfield could be developed.