October News Briefs
World of Wines results from Southern Oregon, Willamette wines shine in Seattle, and Umpqua's Hill Crest Winery & Distillery receives an honor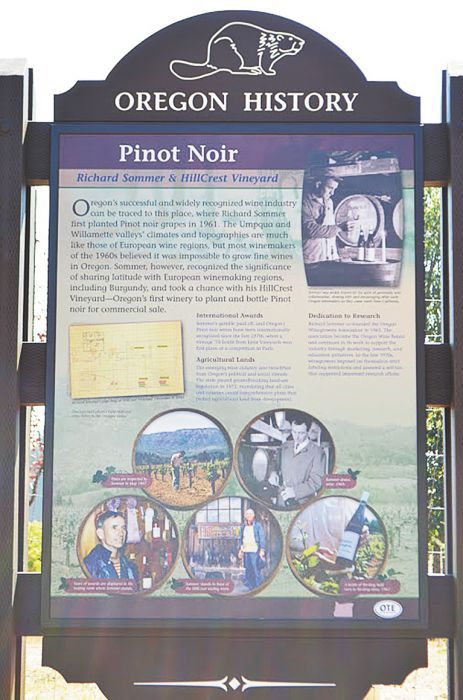 World of Wine Results
If there were any doubt that Southern Oregon has reached world-class wine-producing status, the 2014 Southern Oregon World of Wine Festival — a multi-day wine competition attracting more than 200 wines made exclusively from grapes grown in Southern Oregon — dispelled that doubt.
Three nationally recognized judges, Dilek Caner, Amy Christine and Mike Dunne, bestowed awards on the best of the best of Southern Oregon at the event's medal dinner Aug. 22.
Caner and Christine hold the prestigious "Master of Wine" certification, granted after a rigorous three-year program of study, mentoring and testing by the Institute of Masters of Wine in the United Kingdom — the title is held by only 319 people worldwide. Dunne is a wine columnist for The Sacramento Bee newspaper. He has been a wine judge for at least 15 regional and national competitions, including the 2014 San Francisco Chronicle Wine Competition.
The competition was a blind tasting: The judges simply knew the type of wine at each tasting —varietals or blends — but not the winery, winemaker, vintage or price of the entry.
Best of Show medals were awarded to Abacela 2013 Albariño, Abacela 2013 Grenache Rosé, both made by Andrew Wenzl, as well as Agate Ridge Vineyard 2011 Malbec, made by Brian Denner. Wines receiving unanimous gold medal scores from all three judges were awarded double golds, which went to Abacela 2013 Albariño and Agate Ridge 2011 Malbec.
Nine wines received gold medals, with three wineries earning two Gold Medals each. Brandborg Vineyard & Winery, in Elkton, and owner/winemaker Terry Brandborg, won gold for Brandborg 2012 Ferris Wheel Estate Pinot Noir and 2013 Gewürztraminer. Foris, in Cave Junction, and winemaker Bryan Wilson, earned gold for the Foris 2010 Cabernet Sauvignon and 2012 Maple Ranch Pinot Noir. Pebblestone Cellars, in Phoenix — Wilson also makes their wine — garnered gold for the Pebblestone 2013 Pinot Gris and 2010 Cabernet Franc.
Cliff Creek Cellar's 2008 Claret, made by Joe Dobbes, Season Cellars 2013 Viognier, crafted by Scott Henry IV, and Weisinger Family Winery 2011 Tempranillo, made by Eric Weisinger, complete the gold-winning wines.
Silver medals were awarded to 40 other wines from a total of 27 wineries.
Until now, the judges were unfamiliar with Southern Oregon wines. The three judges felt that, overall, this competition presented better wines than most of the other competitions they had judged.
Visit www.worldofwinefestival.com for a complete list of medals.
By Roberta Kent. Courtesy of Medford Mail Tribune.
Pinot in Seattle
On Sept. 11, roughly 60 Willamette Valley wineries headed north on I-5 to Seattle. The destination was SODO Park, which played host to Pinot in the City, a roadshow-style event showcasing Oregon wine throughout the country. The event series, sponsored by the Willamette Valley Wineries Association, has landed in Los Angeles, New York, Chicago, San Francisco and Washington D.C.
The Emerald City is where the tasting began in 2010. SODO Park, a repurposed factory in Seattle's south end, hosted the inaugural event as well. Making the trip were a variety of labels, from pioneer brands like Adelsheim to up-and-comers like Beckham Estate and Merriman Wines. As is the case with every Pinot in the City event, there was both a trade show for industry and a public segment for wine enthusiasts or the just plain curious.
Unsurprisingly, Pinot Noir was the most poured wine at this year's gathering. Other varietals included Chardonnay, Viognier, Müller-Thurgau and Pinot Blanc — wines are generally poured by the winemakers themselves, which is part of the event's draw.
With Pinot in the City, the WVWA is hoping to connect the entire valley's prized industry — and the characters responsible for it — with cities near and far. Given the warm growing season thus far, the timing for this year's event was a little tricky.
"Perhaps our biggest struggle with this Pinot in the City was the proximity to harvest," said Emily Richardson, associate director of the WVWA. "Bottling and picking made it difficult for many winemakers to make the trip. But for those who did, and for the other representatives, too, we think it was a fantastic showcase of what the Willamette Valley has to offer."
Richardson estimates that 300 tickets were sold to the Seattle event, with a strong media showing as well. The association is still tabulating how many tradespeople attended. About a dozen labels entered the event without a Washington distributor and those that did hoped to expand their connections with shop owners, restaurateurs and other buyers.
The majority of Pinot in the City events has sold out, and the association is already planning for next year, with particular interest in a return trip to New York in the spring and a West Coast locale in the fall. Dates and host cities will be confirmed soon; see www.willamettewines.com for details.
News brief by Mark Stock.
HillCrest Honored
It's a busy day at HillCrest Winery & Distillery in the Umpqua Valley. The vineyard stretches, lush with grapes ready for harvest. And while the sound of recorded cannon fire — intended to discourage birds hoping to harvest the grapes themselves — echoes through the vineyard, the booming noise seems appropriate, signaling a celebration at hand.
On this day, Sept. 16, an official Oregon Historical Marker was placed at the iconic winery near Roseburg. The plaque pays tribute to wine pioneer Richard Sommer and HillCrest, the birthplace of Oregon Pinot Noir. The year was 1961, and, like cannon fire, Sommer shattered the rules of winemaking with a vision that would reverberate throughout the next 50-plus years.
Strong and sturdy like the vines, the marker is intended to endure the outside elements. The markers themselves have a history dating to the 1940s. Constructed out of Port Orford cedar, they are handmade by volunteer master craftsmen dedicated to preserving Oregon history and honoring those who made it.
Included on the HillCrest marker are photographs of Sommer. One black and white photo captures him in old coveralls with a weathered cap resting on the back of his head. He stares into a glass of wine he holds; his face, with a look of humility, is illuminated by a single candle sitting on a wine barrel.
"He was a man of beliefs," current HillCrest owner/winemaker Dyson DeMara commented. "He sought nature. A lunatic before a pioneer. Sometimes it takes the quiet thought of one person."
Perhaps the celebration's most eloquent remembrance came from Girardet owner/winegrower Philippe Girardet, a longtime friend of Sommer and fellow winemaker. In reference to his own decision to make wine in the Umpqua, Sommer was the reason he was here.
In following the philosophy of "let's see if we can make it" and not the rules of conventional winemaking, Girardet added, "Education can make you stupid."
Speaking on behalf of the Oregon Wine Board, Michael Donovan, another friend and early Sommer supporter, stated how during his lifetime he did not receive the recognition he deserved. A simple farmer, he brought his vision to the Umpqua and established the modern wine industry in Oregon.
On this routine day made extraordinary by a simple roadside ceremony, Sommer took his place in Oregon history. As the cannons held their "fire," another sound erupted: applause for the man considered the father of Oregon wine.
The Oregon Historical Marker program is administered by Oregon Travel Experience and is part of its Roadside Interpretive Program.
News brief by Nancy Rodriguez