Getting Schooled
Eola-Amity Hills tour takes wine pros on fine wine field trip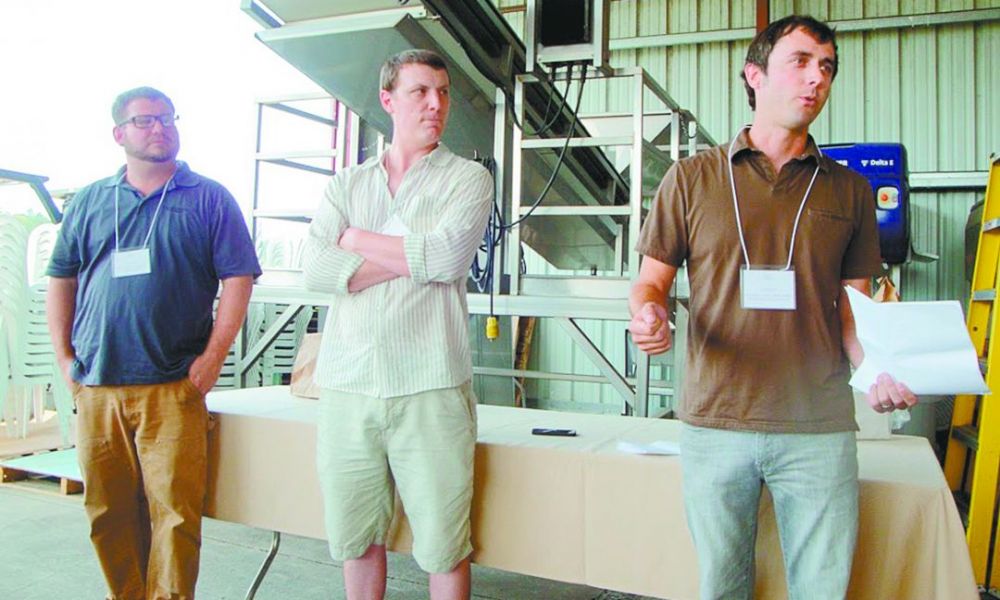 Why would 25 sommeliers, wine buyers and writers board a yellow school bus — without air conditioning — on one of the hottest days of summer? They were eager students ready for an "old school" field trip through the Eola-Amity Hills AVA (American Viticultural Area).
The People on the Bus
The day started with a cooler of cold java from Stumptown to keep everyone alert for the pop quizzes on the ride. Gabriele Keeler, of Keeler Estate Vineyard, handed out prizes to students with correct answers. Pattie Björnson, of Björnson Vineyard, was ready with a spray bottle to mist any overheated riders.
Traveling from Portland, the bus headed to our first stop, Methven Family Vineyards & Winery. Awaiting us there was lunch and a class on white wine, but before we arrived, the bus stopped to pick up a hitchhiker: Larry Miller, of Stangeland Vineyards & Winery, the first teacher of the day.
Miller began Stangeland with 2.5 acres in the 1970s. "I told my mom that David Lett said hills with southern exposure are good for growing winegrapes. She responded, 'Dad and I have property in West Salem with southern exposure.'"
He has witnessed the growth of the Oregon wine industry, specifically Eola-Amity Hills. "People from all over the world visit and are amazed at the beauty."
Show and Tell: Whites
The panel discussion on white wines was led by winemakers Ben Casteel, of Bethel Heights, Don Crank, of Willamette Valley Vineyards, and Ian Burch, of Evening Land Vineyards' Seven Springs Estate. They discussed the evolution of Oregon Chardonnay, beginning in the early days when clones from UC Davis and the overuse of new oak led to less-than-successful results.
Today, Dijon clones better suited to Oregon's climate produce food-friendly, acid-driven Chardonnay. According to Casteel, these clones ripen two weeks earlier than those from UC Davis. "They lose their acid fast if picked late." The area's drop in evening temperatures broadens that picking window a bit. Most Eola-Amity Hills Chardonnay producers use oak influence to enhance texture but are more likely to choose 10- to 30-percent new oak, versus the 70 percent routinely used in the early '90s.
Riesling was also a hot topic, as well as vineyard designates. "Now is the time when we can share vineyard stories with customers about Riesling and Chardonnay," Crank said.
The panel discussion was followed by an opportunity to taste whites and rosés from Eola-Amity Hills. We sampled Chardonnay, Riesling, Pinot Gris, Gewürztraminer, Pinot Blanc, Viognier and Grüner Veltliner along with several rosés of Pinot Noir.
Playing in the Dirt
Eola-Amity Hills vineyards are predominantly combinations of rocky volcanic and marine sediment soils. Grapevine roots have to work hard to punch through the rocky layers to absorb water retained in the marine sediment below. Steven Westby, of Witness Tree Vineyard, says this strength results in wines with flavors of black fruits and earth. Roots at Crawford Beck are 15 to 20 feet deep; owner/grower David Beck tells his vines, "You better go deep because I ain't providing water. Even in the hottest summer my vines don't show heat stress."
One of the aspects that make Eola-Amity Hills wines interesting is the variation among sites. At Antica Terra, there is little to no soil. Grapevines grow in sandstone and fossilized oyster shells, producing small clusters with thick skins. Minimal irrigation provides these plants just enough water to do their job. Maggie Harrison, of Antica Terra, explains, every living thing, from tomato plants to cats, needs a certain amount of water to function. "Stressed vines make stressed wine." Westby pointed out that stressed winemakers, however, do make good wine.
Story Time: Pinot Noir
During a panel discussion at Witness Tree Vineyard, winemakers Steve Doerner, of Cristom Vineyards, Ken Pahlow, of Walter Scott Wines, and Erin Nuccio, of Evesham Wood Vineyard, sang the praises of Eola-Amity Hills Pinot Noir.
"In a late, cool year or a warm, dry year, Eola-Amity Hills offers a midpoint," Doerner said. This has led to many wineries sourcing fruit from Eola-Amity Hills, including Adelsheim Vineyard and Ken Wright Cellars.
The panel was quick to point out that for most Oregon winemakers, the difference in estate vineyards and purchased fruit is the land deed. Winemakers work with family growers and are walking the rows and tasting the grapes as they do with estate fruit.
Pahlow said Pinot Noir is a grape that translates place. "It is my job to give it a voice and let it speak." The panel described Eola-Amity Hills Pinot Noir as follows "floral notes, high tone red and black fruit, freshness, purity and low alcohol."
Doerner added, "If you twisted my arm, and I could only choose one AVA [for Pinot Noir grapes], I would choose Eola-Amity Hills."
King of the Hill
At the top of Temperance Hill, in view of the Van Duzer Corridor, sweaty field trippers and ripening grapes enjoyed cooling winds. These are the winds that give name to Eola-Amity Hills and reputation to its fruit. Eola is derived from Aeolus, a Greek deity who controlled the winds. The Van Duzer Corridor is a low point in the Coastal Range. Pacific winds come through, providing a significant cooling effect at night, allowing grapes to ripen while maintaining acidity.
Eola-Amity Hills is only 52 miles from the Pacific Ocean. Ben Casteel offered, "We talk like we own the Van Duzer Corridor, but Eola-Amity Hills just gets the effects first due to proximity." These cooling winds also keep grapes dry, thicken skins and concentrate flavor.
Temperance Hill is a popular set of vineyard blocks supplying fruit to 18 wineries. Great wine starts in the vineyard, and Temperance Hill is recognized for excellent conditions for growing Pinot Noir. With high elevation (660 to 860 feet), the site is cool and late-ripening. Soils are mostly Nekia, Rittner and Jory. Wineries have staked their claim and purchase fruit from the same blocks year after year; many designate the vineyard on their labels. The hill is 200 acres with 100 planted to vine. Dai Crisp has managed Temperance Hill since 1999.
FlashCard Facts
Vinifera grapes were planted in Eola-Amity Hills in 1971 at Amity Vineyards. By 1983, 273 acres were under vine in the area, but there were only two commercial wineries: Amity and Hidden Springs (now Brooks). Today, Eola-Amity Hills boasts more than 2,486 acres planted to vine and 30 commercial wineries.
After-School Snack
The field trip ended with dinner from Salem's Crooked House Bistro served at Bethel Heights. This winery took their wine to market in 1984, the same year the Willamette Valley was defined as an AVA. Library wines proved the ability of Eola-Amity Hills wines to age beautifully. Conversation reflected the collaboration and camaraderie among these producers.
Remember to Say Thank You
Participating wineries along with their winemakers and principals generously shared their wine, stories and knowledge. Sincere thanks to: Antica Terra, Argyle, Bethel Heights, Björnson, Brooks, Bryn Mawr, Calamity Hill, Cristom, Evening Land/Seven Springs, Evesham Wood, Keeler Estate, Lumos, Methven, Redhawk, Stangeland, St. Innocent, Walter Scott, Willamette Valley Vineyards, Witness Tree and Z'IVO.
Jade Helm is the primary author of Tasting Pour, a blog about wine, cocktails and food. She is a Certified Specialist in Wine and has earned a diploma from WSET.