Blankety Blanc Great!
Darn good Pinot Blanc, Sauv Blanc and Melon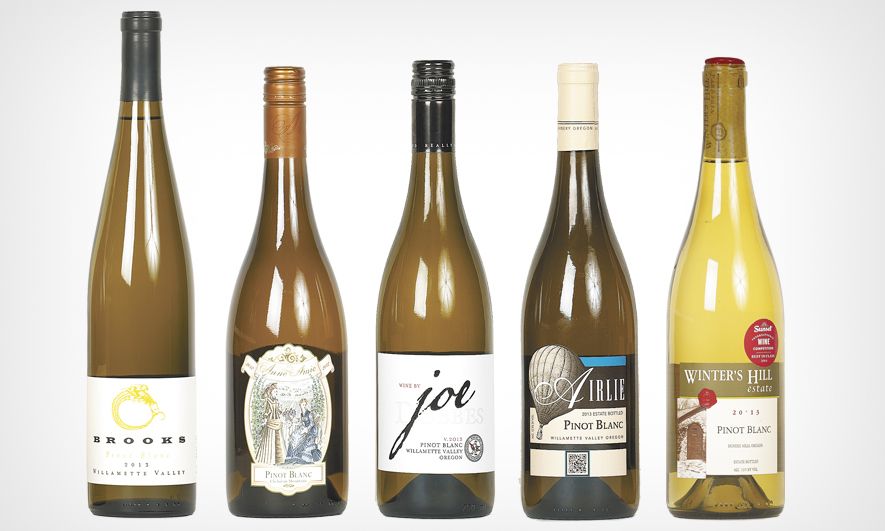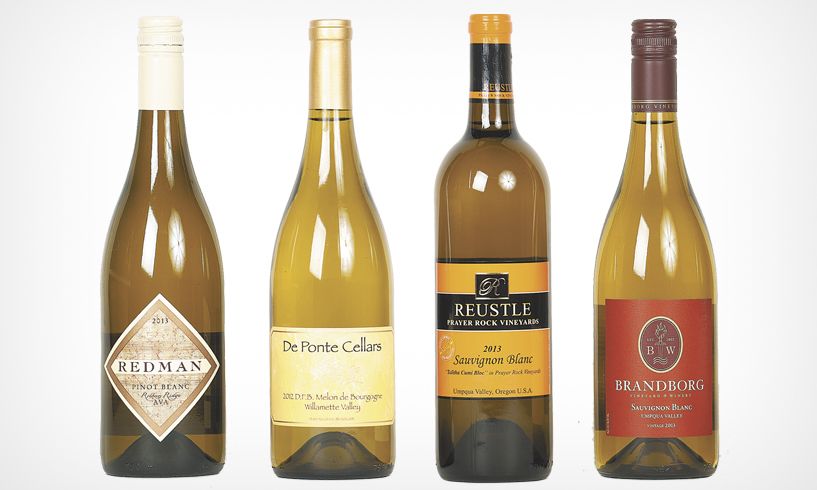 Of the numerous varieties in Oregon's white wine world, Pinot Blanc, Sauvignon Blanc and Melon de Bourgogne receive relatively little media attention. But each has played a lengthy, significant role in its region of origin and deserves ongoing inclusion in the blind tasting evaluations conducted by Oregon Wine Press.
In total acreage, the most recent available information, dating back to 2012, shows both Pinot Blanc and Sauvignon Blanc experiencing significant increases from the previous year. Pinot Blanc rose 69.4 percent from 160 acres in 2011 to 271 in 2012. In the same period, Sauvignon Blanc went from 80 to 124 acres, a one year jump of 52.5 percent.
Though the number of acres involved is relatively small, such a rapid and substantial upswing in commitment to the two varietals suggests continued planting given successful outcomes in quality of fruit and finished wines.
Melon de Bourgogne, the grape responsible for crisp, citrusy, seafood-friendly Muscadet that dominates the wine offerings at the western end of the Loire Valley, has only a tiny foothold in Oregon. But an originally head-trained, 40-year-old estate vineyard at De Ponte Cellars in the Dundee Hills, amplifies the prominence of the variety's presence here.
2013 Brooks Willamette Valley Pinot Blanc
A crisp, citrusy entry balances delicately sweet stone fruit and a touch of honey. Lime zest and allspice augment the counterpoints of an appealing flavor profile. $18; 528 cases
2012 Anne Amie Chehalem Mountains Pinot Blanc
Allowing this estate wine to age on the lees for 18 months brought complexity in the aroma and layers of flavor. Buttery toast, tangy citrus and a touch of oak lead the way in making this a delightful drinker throughout. $20; 881 cases
2013 Wine by Joe Willamette Valley Pinot Blanc
Joe Dobbes does it again. At such a great price, everyone should grab a bottle of this satisfying sipper, demonstrating crisp, fresh citrus and round richness of ripe fruit. $14; 214 cases
2013 Airlie Estate Willamette Valley Pinot Blanc
The rich tropical fruit and spicy undertones of this viscous, full-bodied wine roll across the palate. Sweet, peachy flavors bloom in the mid-mouth while good acidity carries a bright, fresh taste experience from start to finish. $18; 84 cases
2013 Winter's Hill Dundee Hills Estate Pinot Blanc
Clean, pure fruit defines this crisp, dry wine exuding an array of fresh flavors, including green apple and stone fruit accented by tangy citric acidity. A hint of earth and minerality frame a luscious fullness in the mid-mouth. $17; 320 cases

2013 Redman Ribbon Ridge AVA Estate Pinot Blanc
Distinctive in style, this wine exhibits compelling components. An orange blossom aroma combines with macadamia nut and honeysuckle to create a wine of delicate complexity and character. $23; 80 cases
2012 De Ponte Cellars DFB Estate Willamette Valley Melon de Bourgogne
The aroma entices with green tea and Granny Smith apple leading into a full-bodied mouthfeel offering hints of salinity and minerality. Bright acidity accents the overall taste experience. $25; 1,121 cases
2013 Reustle Prayer Rock Umpqua Valley Sauv. Blanc
There's a touch of grassiness in an expansive aroma. The full, ripe flavor is reminiscent of pineapple upside down cake balanced with bright, citric acidity. An excellent example of the variety. $23; 319 cases
2013 Brandborg Umpqua Valley Sauvignon Blanc
The sweetness of pineapple and zestiness of grapefruit complement each other in this well-balanced wine, showing the weediness of the variety and delivering a long, lingering finish. $20; 78 cases
The Oregon Wine Press tasting panel has selected the following wines based on overall quality and value within their respective categories. To the best of our knowledge, they are currently available in the marketplace. Wine must be: 1) produced by an Oregon winery; 2) priced (retail) $30 or less for reds, $30 or less for Chardonnay, $30 or less for dessert and sparkling wines, and $25 or less for remaining varietals; and 3) currently available to consumers. Recommended wines were selected using a double-blind method and a 20-point ranking system for appearance, aroma, taste, balance and finish.