Lady in Red
Jerry Owen's newest winery sings a tune all its own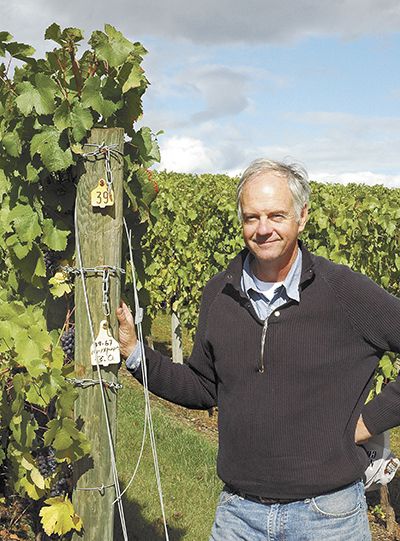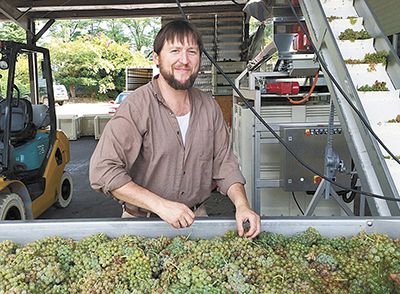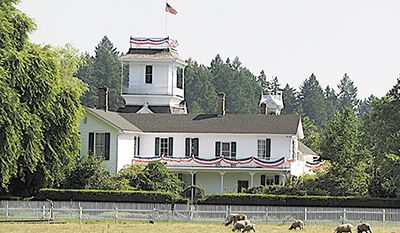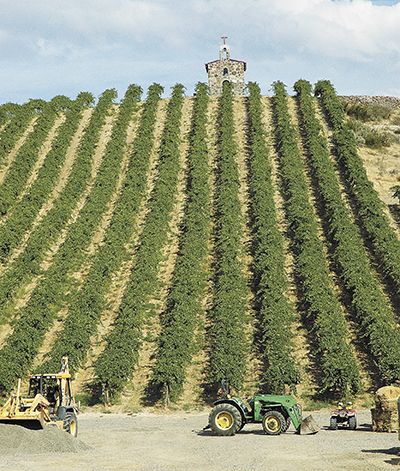 By Jim Gullo
There are wine country-founding families who lived here when David Lett planted his Pinot Noir vines almost 50 years ago in the Dundee Hills. Then there is Jerry Owen, who, with wife Elaine, established Lady Hill Winery outside Newberg about two years ago.
But don't let this newness fool you: Owen's family landed here way before Oregon's wine pioneers, residing on and working the Lady Hill property for five generations — pre-dating by a country mile Pinot plantings, Jory soil worship and stone sub-AVA markers. In addition, Owen is in his second iteration as a winery owner, with a résumé dating to 1995, when he first planted grapes on the family farm and subsequently co-founded an influential winery, Owen Roe.
Lady Hill, a 1,500-acre farm, is located across the road from Champoeg State Park, land that Owen's family also once owned after settling here in 1856. Making your way to a small tasting room tucked inside the winery means driving past strawberry fields, gnarled fruit trees and the white pioneer house — "We call it our neediest child," jokes Owen — that has been the ancestral home of the Zorn clan and now the Owens, since 1862. His nine children — eight daughters, one son — are testament to the estate's nickname: Over these 158 years, only three males have been born to the families in residence, Owen included, and they all had lots and lots of sisters. Or ladies, as it were.
He planted a vineyard among the farm's strawberry and corn fields in 1995, and in 1999, he co-founded Owen Roe. Despite the family ties to Oregon, the winery made its wines — and still does — largely from grapes sourced across the Columbia River in eastern Washington, and Owen devoted considerable time establishing relationships with growers in the Columbia Valley.
When the Owen Roe partnership ended less than cheerfully two years ago — "There was a different vision between the partners," Owen diplomatically offers — he and Elaine created a new winery at home. Establishing Lady Hill in 2012, they hired former Owen Roe employee Erik Brasher as winemaker and continued vineyard contracts with many of the distinctive Washington slopes from which Owen has been sourcing for years. Besides the lowland farm vineyard that doesn't yield much in the way of fine wine, the company doesn't own any estate vineyards and doesn't plan to add any in the near future.
Instead, Lady Hill plays the vineyard field from the Washington border to the southern Willamette Valley, branding itself not as an Oregon winemaker that dabbles in Washington fruit, but as a proponent of what Lady Hill Marketing Consultant Cole Danehower calls "True Northwest" wines. "After all," points out Danehower, the former award-winning wine journalist and author who recently began a marketing consultancy, "grapes know no borders. They just go with climate and terrain." And the original Oregon Territory, he adds, extended from what is now northern California all the way north to British Columbia.
To that end, the 10,000-case Lady Hill brand encompasses five distinct labels, or sub-brands, that provide a somewhat geographic overview of the great variety of grapes and exceptional wines that the Northwest produces. Everything from Sangiovese and Barbera to Syrah, Cabernet Sauvignon and, last but not least, Oregon Pinot Noir, is represented here and given equal treatment in the fermentation rooms and in the marketing department.
The Lady Hill brand — the handsome labels are designed by Elaine and feature the family farmhouse — starts with a crisp, stainless steel-fermented Pinot Gris and a Pinot Noir crafted from the Freedom Hill Vineyard of the broad Willamette Valley AVA, but then adds Merlots and Cabernet Sauvignon from Columbia Valley grapes to its lineup.
Radicle Vine is an entry-level label of value-priced Sauvignon Blanc, Cabs and a red blend; while Procedo — with Jerry's fingerprint on the label — adds Italian varietals like Sangiovese and Barbera to the mix, along with a Cabernet Franc bottling.
Ad Lucem — Latin for "toward the light" — brings in the Rhône varietals of Syrah, Mourvèdre and Durif (or Petite Sirah) from sites like Red Willow and Red Heaven vineyards, both located in the Columbia Valley. Fons Amoris — also Latin, meaning "fountain of love" — is the winery's reserve label, with a Pinot Noir and a Cab, bottled in limited quantities and available only to wine club and tasting room customers.
Although the names differ, the wines share Brasher's steady hand and style, as well as vinification techniques that include cold soaks to bring out aromatics, and the careful handling and fruit processing typically given to high-end Pinot Noir production. "The flag we're putting up is that the wine style of the Northwest is Pinot style," Owen says. "And the Northwest brand is stronger than, say, a Washington brand."
All this fruit and brand juggling — not to mention having nine kids and a 1,500-acre working farm — keep the family plenty busy. On the day we met, Owen had just returned from picking up six tons of Merlot grapes across the Big River, and a week earlier he'd had a successful visit with prospective investors in Kansas, several of whom committed to the $10,000 share to own a piece of the Lady Hill pie. A million-dollar facility is under construction that will house the barrel room, processing plant, tasting room and a conference center, with hopes of opening by Thanksgiving weekend. For now, tastings are held in a small corner of the crowded winery, with space shared with Sineann Winery.
Ultimately, it all comes back to place, and in this case, Lady Hill's creation of a perception that it is firmly rooted not only in Oregon, but also in the Northwest itself, with wines representing the finest fruits of an admittedly vast territory.
"What's the center of the Northwest?" asks Owen. "Champoeg!"
In some other dimension, looking over his shoulder are a whole bunch of aunts and grandmas and other distant descendants, the forebears of Lady Hill.
McMinnville freelance writer and author Jim Gullo is working on a novel about the Marx Brothers.