Rapoport Holds Court
Bon Appétit editor graces OWP with fun interview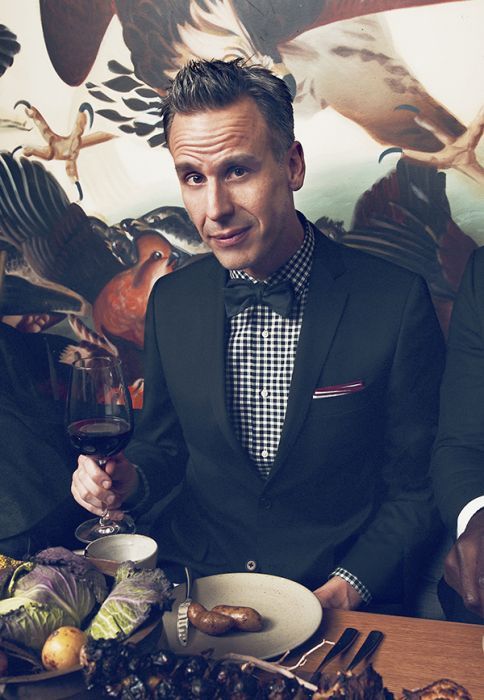 Adam Rapoport is the current editor-in-chief of Bon Appétit magazine. In 2013, under his direction, Bon Appétit was named the Advertising Age A-List Magazine of the Year. Before joining the magazine in 2010, Rapoport was GQ's style editor, where he covered food, travel, fashion, design, film and music. Prior to his time at Condé Nast, he served as the restaurant editor at Time Out New York and worked as an editor and writer for the James Beard Foundation. Rapoport is a frequent guest on NBC's "TODAY," and NPR's "The Splendid Table" and "All Things Considered." He is a graduate of the University of California, Berkeley, and lives in New York City with his wife and their son.
Bon Appétit is the major sponsor of Feast Portland, a celebration of Oregon bounty. The event takes place Sept. 18–21. Find details online at www.feastportland.com.
What was the first bottle of wine that wowed your palate?
I was working at the James Beard Foundation; it was 1996, and I went on a trip to France with my then-boss Mitchell Davis — he is still with the Foundation — and Andrew Carmellini who is now the chef of The Dutch and Locanda Verde here in New York, as well as another friend Colin, who is also a chef. Anyway, were just dumb, young kids at the time. We were in Paris and wanted to go to this Michelin three-star restaurant in Belgium, so we piled into a tiny Euro compact [car] and drove. We weren't very good at looking at maps — and this was before GPS or anything like that — and we drove what we thought was going to be an hour drive but was really a three-and-a-half hour drive. We got there so late. They were about to close but they decided to let us dumb Americans in.
We ordered a Nuits-Saint-Georges Burgundy, and after the first sip, it just clicked. I was like, "Ohhh… this is what great wine tastes like. I get it. Now, I know what the fuss is about." I have been a big Burgundy fan ever since. Of course, this was before the Euro and whatever the conversion rate for the Belgium currency, we did not do our math right and the bottle was far more expensive than we thought it was. But, here it is, some 20 years later, and I am still talking about the bottle, so I am going to say it was worth it. I am a fan of lighter reds — I don't like those big, inky, high-alcohol "trophy" wines.
What was the last bottle of wine to wow your palate?
Cold rosé. It's summertime, so the drinking should be easy. We had a fun Bon Appétit party a month or so ago at this restaurant called Montmartre in Chelsea on Eighth Avenue. They had a grill going and music, and they were pouring magnums of rosé, ice-cold out of a big bucket, just walking around, filling you up every five minutes. That's kind of like my perfect summer evening.
What is the New Yorker's opinion or knowledge of Oregon wine?
New York is such a big city that there is probably less of a wine culture than maybe like in San Francisco because of its proximity to Napa and even Oregon. It is tied to local wines that are grown there; people are more aware and prideful of it. There is less of a singular culture here in New York. Some people are wine-obsessed, some buy real expensive wines, some collect, some have no clue; there is less of a collective knowledge here. So people in New York, who do know wine, are certainly very knowledgeable about Oregon wines. I am a Burgundy guy, so if I am going to drink an American one, I would typically order an Oregon Pinot.
Which of the latest food trends do you love?
I enjoy the democracy of dining out these days in America; there really are great restaurants all over the map right now. It used to be New York and San Francisco and a few other cities, and now you can be anywhere in America and find a really good meal by a really inventive, well-trained chef sourcing great ingredients. It is no longer the domain of white tablecloths and French service. I love the fact that I can walk into a place with no tablecloths and loud rock music blaring, and sit down at a picnic table and eat phenomenal crudo and Wagyu beef. It's the mix of high and low, the lack of pretense and just the accessibility of quality ingredients and quality food these days that is awesome.
Which food trend do you wish would go away?
The foraging thing is really tough. It's done well by a precious few. Just because something is unusual or locally sourced that you found out on a hike doesn't mean it tastes good. Interesting doesn't always translate to delicious.
As the former editor of GQ, how does food relate to fashion?
As I have said before, there are only two things you have to do every day: get dressed and eat. Both are very essential to your life and who you are. And I try to do both pretty well. It makes life much more enjoyable.
In your opinion, what makes Portland a unique food town?
When I went there a few years ago for the first Feast Portland, I was surprised at the consistent quality and number of restaurants in a city of that size. There are so many good restaurants that serve great food, have a great look, and are just cool and delicious, and affordable — at least for those of us coming from New York City. That says a lot about the people of Portland and their ability to recognize and demand good food, wine, coffee and all that stuff. You can't have great restaurants without great clientele. There has to be a demand and an appreciation for it. And [Portland restaurants] do it without a lot of attitude and highfalutin nonsense.
If you owned a restaurant, what would you serve and what kind of a wine list would you procure?
Well, I wouldn't serve wine. I've thought a lot about this. It would be a sandwich shop — I love sandwiches; a well-made sandwich is kind of the best thing ever. You are going to walk in, and it's going to smell amazing because we're going to have fresh-roasted ham and turkey, and short ribs and brisket. These amazing, slow-roasted, beautiful meats will sit on these big cutting boards, carved to order. We will offer different breads and homemade slaws, obviously Hellman's mayonnaise, Utz potato chips — no French fries — little pickled things, Budweiser in a can, Coca-Cola in glass bottles. It's going to be awesome.