Weiss Entices
Oregon winemakers find way with Germanic whites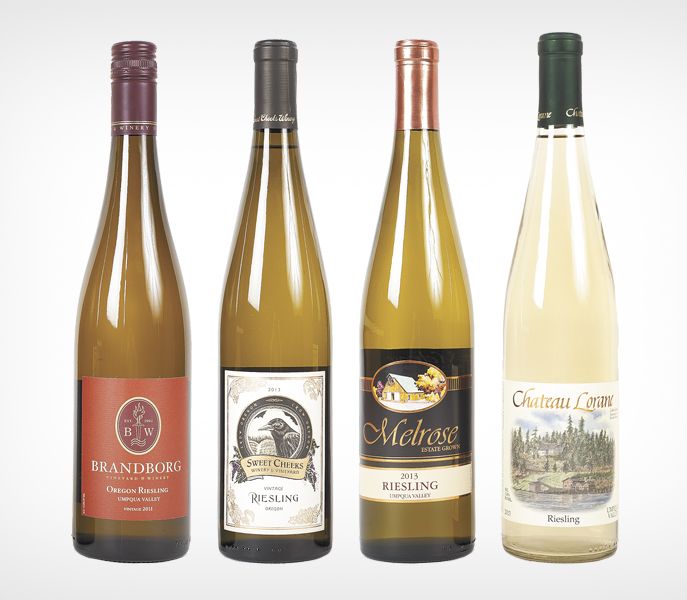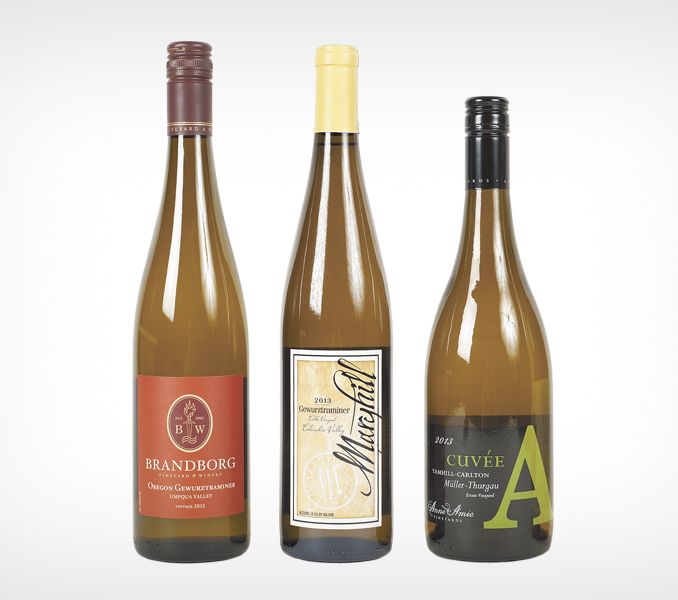 The Rhine River and its tributaries may be the ancestral home to white Riesling, but the noble varietal has found a welcome place in wine regions around the world. Oregon is one of those places where, in the right areas and under the right conditions, growers have become convinced Germany's premier grape can consistently attain excellence if not greatness.
Similarly, but to a lesser extent, Gewürztraminer demonstrates real potential in Oregon. Certain producers have already proved that the rewarding, albeit sometimes challenging, Alsatian grape has the ability to thrive in selected locales and bring forth an outstanding result.
For nearly three decades now, a few Oregon vintners have successfully grown Müller-Thurgau. The German hybrid — developed in the 1890s by the viticulturist after whom it was named — can yield a high-production, charmingly light white.
Excellent examples of all three varieties comprise this month's Value Picks. They are proof positive that Oregon is in the process of carving out an admirable reputation for Germanic-style white wines.
2011 Brandborg Umpqua Valley Riesling
The many merits of an Elkton AVA are borne out in this just off-dry, classically varietal Riesling. Rhine-like peach and citrus mingle with Mosel-style minerality to create a come-back-for-more palate-pleaser. Hints of musk, yeast and effervescence add their assets. $18; 808 cases
2013 Sweet Cheeks Oregon Riesling
Tasting your way through the famous villages and individual vineyards of the Rheingau might top this wine's quintessential character. But it would be much more convenient and considerably less costly to simply visit your local wine merchant. An expansive floral entry leads into lush peach and apricot flavors. The kick of kiwi accents a full mouthfeel and the long finish leaves a memorable impression. $14; 2,707 cases
2013 Melrose Umpqua Valley Estate Riesling
Light, lively and piquant on the palate, this nicely balanced Riesling favors with a symphony of harmonious flavors. Lemon zest and green apple play on a platform of delightfully delicate orange blossom and clover honey. Passion fruit also gets in on the act. $16; 540 cases
2013 Chateau Lorane Umpqua Valley Riesling
Umpqua origins monopolized this month's competition, including this Lorane, which does justice to the dry side. Vibrant acidity and mineral backbone support citrus, stone fruit and an herbal edge. Augmenting its dry dimension, the finish is long and lingering. $18; 127 cases
2012 Brandborg Umpqua Valley Gewürztraminer
Terry Brandborg is, without exaggeration, making one of the finest Oregon Gewürztraminers going. The fascinatingly floral aroma features a spicy rose nose. The effect is captured in a cocoon of caramel apple that's coy but not cloying when married with mouthwatering acidity. $18; 630 cases
2013 Maryhill Celilo Vineyard Columbia Valley Gewürztraminer
As with real estate, location, location, location is the operative phrase here. Once again, Celilo Vineyard and Gewürz grapes appear to be a winning combination. A tingly cinnamon spice aroma rolls out of the glass, persisting with each subsequent swirl. Apple, anise and lemon zest are surrounded by a delicate sweetness. A pinch of pepper and hint of flint top it off. $9.95; 726 cases
2013 Anne Amie Cuvée A Yamhill-Carlton Estate Müller-Thurgau
Planted at Chateau Benoit in 1979, these Müller-Thurgau grapes represent the best that maturity has as yet brought to this variety in Oregon. A crisp, refreshing palate merges the yin and yang of grapefruit with stone fruit. A grassy vegetal verve lends tang to the well-balanced whole, supplying light, supple satisfaction sip after sip. $15; 1,694 cases
The Oregon Wine Press tasting panel has selected the following wines based on overall quality and value within their respective categories. To the best of our knowledge, they are currently available in the marketplace. Wine must be: 1) produced by an Oregon winery; 2) priced (retail) $30 or less for reds, $30 or less for Chardonnay, $30 or less for dessert and sparkling wines, and $25 or less for remaining varietals; and 3) currently available to consumers. Recommended wines were selected using a double-blind method and a 20-point ranking system for appearance, aroma, taste, balance and finish.