Oregon Pinot Camp
The best three-day Oregon wine party you can't attend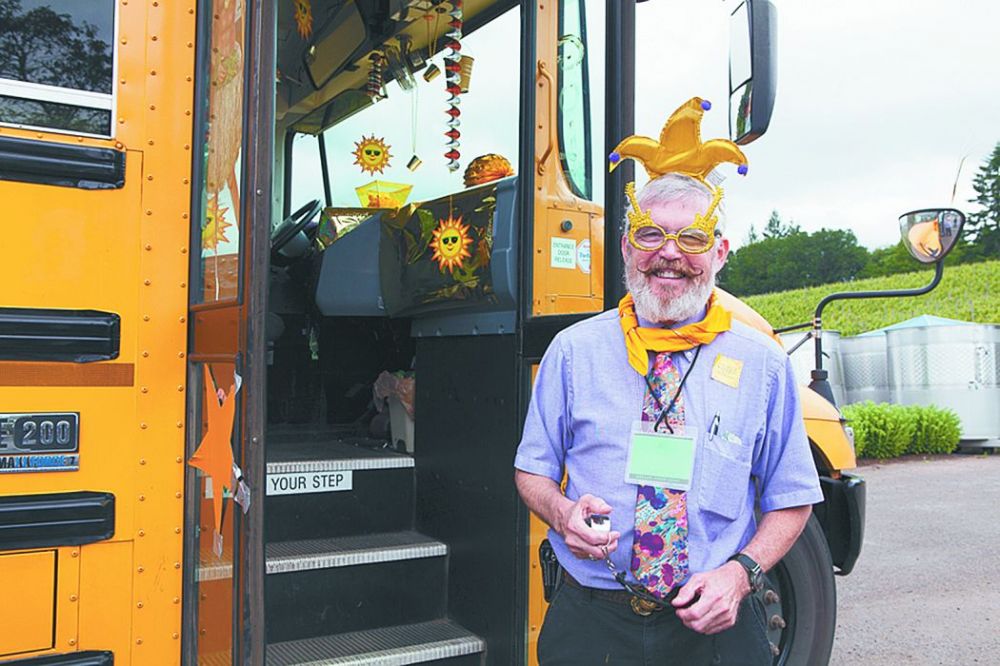 It's Sunday night and Lumpy's, a dive bar in Dundee, is packed to the gills. Two master sommeliers are playing pool, the wine director from the newest James Beard award-winning restaurant is scrolling though the karaoke songbook, and two wine buyers from competing grocery stores are talking World Cup over local ales. This is considered "down-time" from a three-day extravaganza that brings some of the top wine professionals from across the country — and around the world — to Oregon's Willamette Valley.
Oregon Pinot Camp (OPC) was started in 2000 by several wineries that felt the best way to showcase their products was to bring the wine opinion leaders (sommeliers, wine stewards, educators and distributors) here to not only experience the wines first hand, but also meet the winemakers and vineyard owners — as well as fondle the vines and kick the dirt. Now 50 wineries deep, OPC is the best Oregon wine event I've ever attended.
The first night at Sokol Blosser starts with a meet-and-greet under tents featuring some of Oregon's finest. Groups are divided into four busloads. Even though everyone is warned to get a good night's rest, sommeliers and their ilk are known to let a little steam off when they get together. Lumpy's it is.
At Lumpy's, wine people are busy connecting or reconnecting. "Didn't I see you at Pebble, Aspen, James Beard Awards, Tex Somm or any other wine event" is overheard. Business cards are passed. Polite behavior is the theme of the night.
Day two starts early. Everyone meets at 8:30 a.m. to board the buses. People are groggy and frowning into their coffee. Winemaker Roland Soles arrives and hands out Argyle mimosas with or without the orange juice. Buses get loaded and people start to wonder what's in store.
The Evergreen Air & Space Museum is the first stop. Campers take in jets, planes and breakfast sandwiches before everyone is herded into the auditorium for an inspirational video about Oregon's wine history.
The buses — the school variety — take off different directions. A camper will attend a minimum of six different workshops. Examples include: history of the valley, winemaking, various personalities of Pinot Noir, white varietals of Oregon and importance of soil.
A visit to Penner-Ash is mandatory since the Newberg winery sits on the intersection of three main soil types of the Willamette Valley: red volcanic Jory, marine sedimentary known as Willakenzie and a windblown loess mixture called Laurelwood. A backhoe has created eight-foot trenches to walk through each soil type, a mere 50 yards from each other.
A Pinot Gris symposium commences at Soter Vineyards, outside Carlton, with a panel featuring a who's who of Oregon Pinot Gris. A surprise tasting of Chardonnay is poured, providing a chance for the panel of winemakers to hear honest opinions about their other white. A polite nod of approval all around but not everyone is exited about being test subjects. "Cost to attend" is murmured among campers.
Participants enjoy another walkabout at Annie Amie Vineyards, also outside Carlton. Tough to tell a favorite but The Eyrie Vineyard Pinot Gris — sourced from the nation's original planting — was a highlight. A sit-down dinner served in a field tent capped the day. Each table hosted an Oregon winemaker who brought not just current releases but also library wines.
Bused back to everyone's cars, shouts of "Meet ya at Lumpy's" are overheard. Lubricated by a day of learning, drinking and shared experiences, people are letting loose. Somms and stewards are boasting at the pool table. Shots are passed around. The cautious politeness is replaced with ribald behavior. Laughter all around. Closing time comes too early, and 8:30am not long after that.
The next morning, back at the OPC bus station, campers aren't "showing" any signs of hangover, which would bring about juvenile jokes about not being a true wine professional. Luckily the bus is stocked with water, energy bars, pastries and various snacks.
Day three features more intense learning seminars. I filled four notebooks and have a much better understanding of the different clones, when and where they should be planted and their flavor components. Pinot Noir is probably the most complex red grape. These seminars help those who want to know more.
At last, the final dinner is hosted at Stoller Family Estate. Home to what once was the West Coast's largest turkey farm, Stoller has been growing grapes since 1993. Here, a tent large enough to host two Cirque du Soleil performances has been erected with white tablecloths, professional waitstaff and all-you-can eat alder-smoked salmon prepared by the Dundee Bistro. Winemakers again dine with the campers, showing off their wines.
Even though every person is full, choruses of "See you at Lumpy's" resound. This night, there is a high level of comfort between the campers; fences and inhibitions have been long dropped. That quiet, shy girl who always sat in the back of the bus is on stage belting out Janis Joplin's "Piece of My Heart." An always conservatively dressed (stuffy) sommelier is wearing a "Run DRC" T-shirt while going shot for shot with a chain wine store buyer. Lifelong friendships are established.
How does one get invited to this three-day extravaganza all things Oregon wine? The wineries involved pay a pretty penny to participate and show their efforts. They are allowed to nominate a person or two, usually out of state. Other wineries trust the board to pick participants for them. It is rare for someone from Oregon to attend since we have ready access to local wineries and winemakers. Last year out of the 200-plus campers, there were three from Oregon, this year, a handful.
As Sue Horstmann, executive director of OPC said, "Please don't write about OPC, the last thing I need is a bunch of local pinot fans bugging me about attending."
But for those who qualify an invitation, what a treat to experience Oregon hospitality, taste world-class wines, learn a thing or two about just what makes this place so special and make amazing friends.