Feastastic Four
Super chefs set to enchant guests at culinary fest
Top chefs from all over the nation are converging on Portland this September to show off their culinary prowess. Many of Oregon's top wineries will tag-team with them to wow diners at the third annual Feast Portland food and wine festival.
Anita Lo, Homaro Cantu, Ari Taymor and Edward Lee are just four of the nearly 100 superstar chefs from coast to coast who will be at this year's Feast, set for Sept. 18–21.
Each chef hails from a different U.S. city — New York, Chicago, Los Angeles and Louisville, respectively — and brings a distinctly different flavor profile. And yet, all serve Oregon wines in their acclaimed restaurants. [Insert self-congratulatory pat on the back, aka the Portland high-five.]
If you already have tickets or are planning on attending Feast Portland (log on to www.feastportland.com for ticket info), here's a taste of what to expect from these four. Discover what they love about Oregon wine, plus, what makes Portland such a feisty, flavorful town.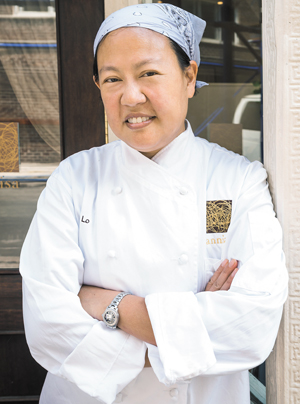 Anita Lo
Annisa, New York City
Annisa means "women" in Arabic, so it's natural that the wine list highlights female winemakers such as Maggie Harrison from Oregon's Antica Terra.
The woman behind Annisa is Anita Lo. A second-generation Chinese-American who grew up in Alabama and Michigan, Lo cooked her way from Paris to the Far East before settling in New York City. In 2011, Lo released her first cookbook, "Cooking without Borders," highlighting her multicultural flavor journey.
She opened her intimate Greenwich Village restaurant in 2000. In June 2009, after a fire destroyed it entirely and plans for rebuilding got underway, Lo appeared on "Top Chef Masters" and finished fourth out of 24 chefs. Annisa reopened in April 2010, and this year earned a prestigious three stars from The New York Times.
This will be Lo's second appearance at Feast; she appeared previously at the inaugural event in 2012.
Did you enjoy Portland during your last visit?
Oh, it's so awesome and beautiful out there, and the food culture — it's just a wonderful city. I didn't really get outside the city, which I hear is spectacular. I rented a bike one day and rode up the river, which was awesome.
There are a few Oregon wines on your wine list at Annisa. How familiar are you with Oregon wines?
I'm by no means an expert, but we've carried a few Oregon wines in the past and have a few on there right now. I certainly drank a few last time [laughs] — that's what you do at these events! But generally I'm not a big fan of running around and tasting a lot of wine. I like tasting a few at a time, but big wine tastings just tear up my palate, and it's more work than fun. I've tasted a hundred wines at once, and I could not be a sommelier. I lost my palate for a while and that was really bad. I traveled to Bordeaux with a bunch if sommeliers once and I just could not keep up. [more laughs]
Annisa's wine list highlights women winemakers. Oregon has a relatively high percentage of women winemakers — around 10 percent of winemakers in the state are women (about 40).
That's high? Wow. The fact that there's only 10 percent female winemakers in Oregon… That's good, but that's also kind of scary. I read one of the reviews of Annisa when we reopened after the fire, and the reviewer thought that my wine list, which celebrates women, is an anachronism. I thought, "How is that an anachronism?" We're not in a post-gender world. I think we clearly have a long way to go, and it's evidenced by the Time magazine article, "Gods of Food," which had not one woman [chef] in it.
You'll be paired with Sokol Blosser and R. Stuart at the wine dinner where you're cooking. What do you know about those wineries?
Susan Sokol Blosser is certainly a pioneer of the Oregon wine industry. She's wonderful, and now her daughter, Alison (along with her brother Alex), has taken over the operation. Susan and I did a wine dinner together back in the '90s — oh my god, am I that old?
What Oregon products are you're looking forward to cooking with?
I love the Jacobsen salt, and the seafood out there is just fantastic.
You like to fish, too?
I do! Gosh, it would be so cool if I could go fishing while I was there. Most of the salmon we get at the restaurant is from Alaska. Oh my god, I love Dungeness crab! I'd rather eat the West Coast crab — I wish they were local to New York. I love Kumamoto oysters, razor clams — they're hard to get on a consistent basis, but I love them.
On Thursday, Sept. 18, Lo will cook alongside Gregory Gourdet (Departure, Portland) and pastry chef extraordinaire Pichet Ong (New York, New York). Wine pairings will be provided by R. Stuart & Co. Winery and Sokol Blosser. Lo will also appear at the USA Pears Night Market at Zidell Yards on Friday, Sept. 19.
---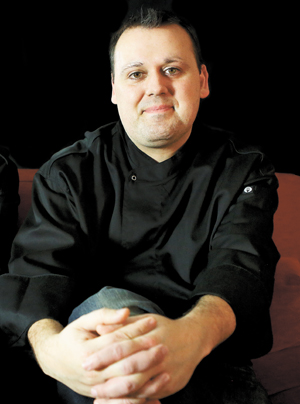 Homaro Cantu
Moto, Chicago
Homaro Cantu traces his proclivity for "disruptive technology" to his humble beginnings in Portland, Oregon, where he, his mother and his sister lived in homeless shelters for three years. It was this experience that motivates him today not only to be a chef, but also a social entrepreneur. His goal is to fight world hunger and poverty through innovations in the production of food and re-engineering sugar-laden foods.
Cantu's culinary journey started at Portland's Western Culinary Institute. After graduating, he crisscrossed the U.S., apprenticing in 50 restaurants before settling in Chicago, where he found a mentor in legendary chef Charlie Trotter. He opened his own restaurant, Moto, in 2004, and has challenged culinary conventions ever since.
Somewhat surprisingly, his approach to pairing wine is more inside than out of the box. The visionary in him comes out, however, when he foresees a future wine world where grapes are grown quite differently than they are today.
What molecular gastronomy fireworks are you planning to light up at Feast?
We want to show people some of the disruptive technologies that we've been pioneering over the past 10 years. It really started from growing up in Portland and having a real affinity for everything green, all that great local produce from the market.
What's your approach to pairing wine with your challenging cuisine?
I'm basically taking after what I learned from Charlie Trotter. In a tasting menu format, you go from lighter style whites to desserts at the end. I love outside-the-box thinking, but I'm not a fan of drinking dessert first. ... I believe if you're sitting down for a 3-1/2 hour meal, you need something that can gel with your physiological satiation, but also your mental satiation. It should all work, and the food has to pair with the wine. It has to go hand in hand. I'm just not a fan of contrasting pairings: serving a light, acidic seafood dish with a heavy red — that's just not my style.
You use the "miracle berry" to interact and transform flavors. How does it work?
Well, for instance, we do a dish where we take a triple-cream cow milk cheese, make a sugarless graham cracker, with some sliced apples, and serve that with Penfolds Shiraz. You eat this and in the beginning everything goes together, the cheese and wine pairing. Then you eat the miracle berry and this is where it explodes. It tastes like mom's homemade apple pie. The Shiraz turns into a port. It's a cheese course and dessert in the same dish.
When you look at what it does to food, it's more natural than what sugar does to food. Sugar is a highly processed product. It's not a natural product by any stretch of the imagination. This berry is something you can grow in your house as a houseplant. It's non-GMO, you don't need chemicals or fertilizers to grow it. …
[It] really opens up the door to more explosive food experiences. We create a donut with jelly made from cherries and balsamic vinegar. It's the most beautiful jam you've ever had but there's no sugar. That donut is going to be just over 100 calories, as opposed to 350–400 calories. So it's a win-win.
What do you see as the future of wine?
Using science and food and applying that to wine is what's next.
What we've discovered in our indoor farm, which I'd say is one of the most advanced indoor farms in the world, is what I like to call targeted composting. Winemakers are all about their compost, their soil, and letting Mother Nature do her thing. But when you farm indoors, we discovered something subtle. If you take onion skins and compost that, that grows amazing cabbage. If you do that with cabbage, that grows amazing oranges. With oranges, you can grow amazing watermelon. They'll grow faster with no chemicals indoors in a closed-loop system. No food miles, no packaging, no handling, none of that.
You have to ship this [wine], right? There's going to be glass and all that stuff. But imagine if you were to apply all this food technology around us where it's grown indoors, you could feasibly grow your grapes in your building, your processing facility. Nobody's ever done it, but it's just going to be a matter of time. What with the unpredictability of fuel prices, weather... just the carbon footprint could drop below what wine takes to grow.
On Friday, Sept. 19, Cantu will appear at the State of the Art dinner featuring Adelsheim and Willamette Valley Vineyards. He'll be joined by fellow modernist chefs Justin Woodward (Castagna, Portland), Dominique Crenn (Atelier Crenn, San Francisco), Matt Accarrino (SPQR, San Francisco) and pastry chef Matt Tinder (The Restaurant at Meadowood, Napa Valley).
---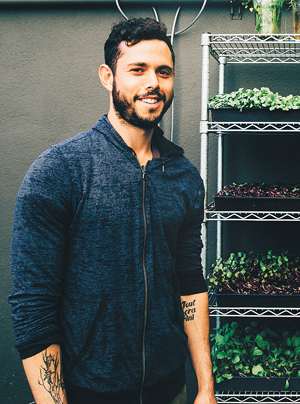 Ari Taymor
Alma, Los Angeles
Creative acclaim runs in the Taymor family. Julie Taymor, the director of "The Lion King" on the stage and several movies, is Ari's aunt.
Taymor, the chef, worked at such notable San Francisco restaurants as flour + water and Bar Tartine, before moving south to Los Angeles and starting Alma (with his partner Ashleigh Parsons) as a pop-up in 2012. The following year Alma was named the best new restaurant by Bon Appétit magazine, and then the 28-year-old was knighted as one of Food & Wine magazine's Best New Chefs of 2013.
"All of the accolades are wonderful, but at the end of the day what Ashleigh and I are trying to do is build a sustainable business, both in the ingredients we use and the way we treat our staff," Taymor said.
He finds inspiration and substantiation for his business model from his peers in Portland.
What comes to mind when you think of Portland?
It's somewhere that I've always looked to, one of the more influential restaurant towns, especially lately. It seems to be the kind of city where there are independent restaurants, there's not a lot of money backing them, and that emboldens people to be a little braver with their concepts. When we were opening [Alma], [Portland] was one of the places we looked to where young, creative people were doing their own thing and weren't really trying to make a ton of money, but wanted to do the kind of food that they wanted to.
A lot of the people who I've talked to who have worked in restaurants in Oregon or chefs I've met who have come through there, they speak really highly of the support and the camaraderie in that city. It's pretty rare to find such a tight-knit community, so that's something I aspire to.
How does what you've heard about Portland compare to LA?
We're so geographically spread out from each other. If you need something, if you're in a bind and need a product from somebody, it's often too far away to get it. Most of the restaurants are spread out too, so you just don't see each other, there's no after-hours bar where you'll go and find a ton of restaurant industry people. There might be one for Hollywood and one for downtown, one for the west side, so you don't get to interact like you would in a smaller, more compact area.
What do you like about the Oregon wines you serve at your restaurant?
The growing conditions lend themselves to a lot of nuanced wines. It's not as hot, so the alcohol content isn't so high, and it really allows the winemaker's talent to show through...
We're looking for people who take care of their grapes and that shows in their wines — as little manipulation as possible. We're not so interested in labels like organic and Biodynamic. That's helpful, but we're more into the actual craft of winemaking. So, they're usually not producing a ton, and the results are very often inconsistent. But it makes it exciting that you're seeing a wine change from vintage to vintage, even bottle to bottle.
Do you think the concept of a wine pairing dinner is played out?
No. If you get the right philosophies, then it works really well. A lot depends on what you're expecting it to be. If you're expecting the food and the wine to match up only using one winemaker, it's pretty rare they can grow the variety of grapes it takes to pair. But when you get people with the same mentality, you get a more interesting energy experience, and that can be fantastic.
Friday, Sept. 19, will a busy one for Taymor. He is teaming up with chef Sarah Pliner (Aviary, Portland) for a wine pairing dinner featuring Archery Summit. That same night, he is also scheduled to serve a dish at The Hot 100 Dinner: Celebrating Bon Appétit's Best New Restaurants in America.
---
Edward Lee
610 Magnolia, Louisville
A Korean-American who grew up in Brooklyn, Lee now calls Kentucky home. His restaurants include 610 Magnolia, MilkWood and The Wine Studio, where he hosts casual barbecue and pizza nights to show off wines from around the world, including Oregon.
Lee is also an accomplished food writer, with articles published in Gastronomica, Esquire, Organic Gardening and other journals. Although this will be his first time at Feast, it's his second visit to Portland in the past year, previously stopping to promote his cookbook "Smoke & Pickles."
What did you find exciting about Portland when you last visited?
Portland has an incredibly diverse cultural culinary identity. I fell in love with all the food trucks in the area, and it has some of the best restaurants in the country as well. It's just really a cool place. I'm very excited to be traveling there.
Any similarities or differences between Louisville and Portland?
They have very different identities in terms of the landscape and geography. But like a lot of small cities, they are very prideful. There's a lot of tenacity and a real individualism to the city that's just so unique. I think Portland is really strong in its identity. For a traveler, that's a really fascinating thing. You see that about Louisville, too. People come here from all over the world. But it's mostly about the people, you know?
You have a good number of Oregon wines on your list at 610 Magnolia. What do you like about them?
Obviously, you're talking cool-climate red wines. To me, cool-climate Pinots are my personal favorite, and there's really only a couple places in the country that do it, and Oregon is at the top of the list. As the temperature of Napa Valley keeps getting higher and higher, you're going to see a lot of the wine industry move, and obviously it already has. You're getting fruit, but also austerity and elegant balance — that's difficult to find. Ten years ago, the prevailing wisdom was more fruit, more tannin, more jam. Oregon was pushing the frontier of balance and a more elegant identity of wine. I think Oregon wines were ahead of that curve, and now the rest of the country is catching up. It's no mistake that it's enjoying popularity right now.
Aside from wine, do you use any other Oregon ingredients?
We're pretty committed to the land around us, but we do get mushrooms, and every year for a couple of weeks we feature salmon from the Pacific Northwest — it's the best salmon in the world. But other than that, we try to stick pretty local.
What kind of food do you pair with Oregon Pinot?
A lot of our seafood dishes play around with Asian flavors. I find that sometimes white wine doesn't quite do it, because we use things like burnt miso. It might be a seafood, but it's paired with Asian robust flavors. Pinot picks up on the umami notes, but it's still light enough that it complements the seafood.
What's your wine philosophy?
The whole idea is to not listen to tradition and not be weighed down by the baggage of the rules that have been set up around wine, which go back hundreds of years. Not to say we're disrespecting them, but we have oftentimes done dinners where we serve red wine first and finish with crisp white wines. We serve fish and pair it with red wine. We like to explore the lesser-known regions. We're constantly looking at exploring the world of wine through a lens that is about what we like. We're not interested in retelling the same narrative of wine that's been told for generations. In fact, many times we've found that a lot of those preconceived rules do not work.
On Thursday, Sept. 18, Lee will team up with Jenn Louis (Lincoln, Portland) for a wine dinner featuring King Estate.
Peter Szymczak chronicles his epicurean inspirations online at portlandinseason.blogspot.com.