DEVOted to Wine
Famous musician and '80s icon whips into wine industry
Gerald "Jerry" Casale, is a musician for and founding member of the New Wave band Devo, formed in 1972 in Kent, Ohio.
Devo's classic line-up included two sets of brothers, Casales (Gerald and Bob, who recently died in February) and the Mothersbaughs (Mark and Bob), along with Alan Myers (who died last year). The band had a No. 14 Billboard chart hit in 1980 with the single "Whip It," and has maintained a cult following throughout its existence.
With Mark Mothersbaugh, Gerald Casale is also credited for designing Devo's distinctive attire, such as their iconic red terraced hats known as "Energy Domes," as well as their plastic pompadours and unforgettable yellow radiation suits. In addition, Casale directed most of Devo's videos, as well as videos for other artists, including The Cars ("Panorama"), Rush ("Superconductor") and Foo Fighters ("I'll Stick Around"), among others.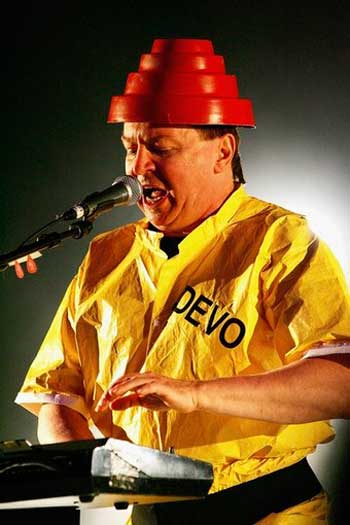 Outside his musical and directorial pursuits, Casale has taken a deep interest in wine since moving to California in the '70s. In fact, in the 1990s, he taught classes in wine tasting for three years during Devo's hiatus.
Just this year, Casale announced he would be opening a new wine company, The 50 by 50, initially selling Pinot Noir and Pinot Noir Rosé, while the Wooden Valley estate's Bordeaux varietals take root in the vineyard. Casale, a self-admitted Pinot Noir junkie, has sourced the Burgundian-style grapes from Rodgers Creek in the Sonoma Coast AVA for the launch of the brand.
The anchor of the winery's vision is the realization of a never-built architectural masterpiece known as The 50 by 50. Situated on the flat basin of the estate, the building was designed more than 60 years ago by pre-eminent 20th century modernist architect Mies van der Rohe. .
More about The 50 by 50 can be found at www.thefiftybyfifty.com. For more about Devo's latest tour and music, visit www.clubdevo.com.
How'd you first become interested in wine?
Wine was not part of the Ohio blue-collar culture I grew up in. What was available was Mogen David, Cold Duck or Night Train and quite foul. It was not until I befriended some out-of-state students from NYC at Kent State University where I attended the Honors College that I was introduced to real wine; it was a Chateau Lafite Bordeaux — I don't remember the vintage. I'll never forget that revelation but also the shock of what it cost. I knew it would not become a staple in my then-destitute student life.
But five years later, Devo received a record deal, and we all moved to Los Angeles. I landed right in the middle of a late '70s West Coast food and wine revolution that celebrated the local bounty of California. I met and befriended seminal "new wave" chefs like Michael McCarty, Bruce Marder, Wolfgang Puck, Piero Selvaggio, Celestino Drago, Jeremiah Tower, and on and on. I received a trial by fire of eating and drinking the best.
Then, as Devo embarked on world tours, I began exploring the wines of France, Italy, Spain and Australia. Like every young gun, I favored the big grapey and oaked monsters. It would be years before I just kept coming back to Pinot Noir (Burgundy in particular). It became my true, elusive love.
Your first wines offered are Pinot Noir and a rosé of Pinot Noir. Why make Pinot?
It will be a few years before the Bordeaux-style varietals being planted at The 50 by 50 Vineyards in Napa Valley can produce high quality fruit necessary for a truly first-class Bordeaux-style table wine composed of Cabernet Sauvignon, Cabernet Franc and Merlot. So, until that estate wine is ready for prime time, I decided to stick with what I know and love the most: Pinot Noir. I get my fruit from Rodgers Creek on the Sonoma Coast AVA, arguably one of the best areas in all of Northern California for Pinot Noir. I blend two clones of the grape, Dijon 667 and Pommard, 50/50. Oddly enough, all the vinification details can be found at www.thefiftybyfifty.com.
What are the similarities between making music and making wine?
Both are labors of love that require patience for the organic process and persistence for any success. Financial gain is a by-product of doing something right. Even when one drinks the same wine vintage to vintage, so much changes that the experience can never really be repeated verbatim. Even when we play the same songs we wrote years ago, our relationship to them has changed and thereby changes our perception of the song. Drinking wine and playing music are rituals that reach mythic, timeless proportions even as they are rooted in time.
How does the design of The 50 by 50 house reflect your personality? The personality of the wine?
The realization of Mies van der Rohe's 1952 never-built masterpiece is a study in minimalism and creative genius. I love precision and logic, and the cultivation of the best part of man's rational potential creatively. If my wine can be as clear and elegantly simple yet definitive in its essence as The 50 by 50 house, I would have reached beyond the humdrum of entropy that life deals out.
What is your general impression of Oregon Pinot Noir?
I am a fan, of course. Many producers have reached successfully for the Burgundian style that avoids oak bombs, syrup-like extraction and overripe fruit. I love Doug Tunnel's Brickhouse wines, Jim Prosser's single-vineyard J.K. Carriere Pinot Noirs and Domaine Serene's reserve Pinots.