Bottom Up? Top Down?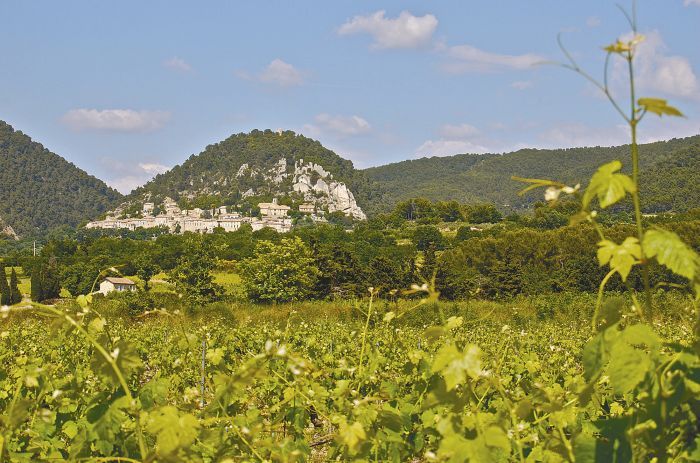 Inverting the pyramid of wine consumerism
By Steven Baker
Hey, look at this. Wine's the same price as water."
So concluded my wife during a stop at the local grocery store the first day of our recent visit to southern France. And indeed, the very serviceable local red wines on display sold for 2 to 3 Euros, the same price as bottled water. And you could buy something really interesting for 8 Euros.
We had come for a two-week working visit through the Rhône, and we were stocking up the larder at a lovely gîte on the slopes of the Dentelles de Montmirail serving as our base while we explored nearby wine villages. It was also a chance to insinuate ourselves into country life in Provence, if only for a short time.
The narrow dirt road to our country house wound uphill through vineyard after vineyard studded with gnarly, stubby old Grenache, Counoise, Carignan and Muscat vines beaten down by the merciless mistrals. Groves of silver-green leafed olive trees cover the hillsides here below 12th century Romanesque chapels looking down from the rocky heights. Traces of ancient civilizations — Roman, Greek, Celtic — seem to loom around every corner in this part of Provence.
Southern Europeans have had a 2,000-year head start cultivating wine, so making comparisons may be a case of apples and oranges — or Grenache and Pinot Noir in this case. But traveling always invites reflection, so it's hard not to appreciate the contrast between the wine cultures of Oregon and Provence.
As anyone who's traveled here knows, good "everyday" wines are available in just about every café and bistro. If only I had a Euro for every time a customer recently returned from southern Europe has come into the shop and asked me for a wine "just like the one we had at this little café," I'd be sitting at that little café myself right now, drinking Pastis and pondering what to do with the rest of my retirement.
But it's not a cliché. The wine accompanying the prix fixe lunch at even the humblest café is more than passable, and sometimes quite good. And although some of the greatest wine in the world is made here, the French don't seem to "fetishize" wine as we tend to do. For most of them, wine is an everyday necessity like the ubiquitous baguette, not a luxury to be coveted and traded as a commodity.
Again, while generalizations of such diverse cultures are always tricky, the approach to wine here could be said to be "bottom up" instead of "top down" as in the U.S. — imagine an inverted pyramid with the most expensive wines at the top. Spurred on by point scores and an unrelenting wine marketing machine that never sleeps but continues to fill your inbox with offers for the latest "wine of the decade" several times a week — the vinous equivalent of crying wolf — Americans are more apt to chase the latest wine press darling and next 100-point wonder, which, of course, is nearly always at the upper end of the pricing scale. The French, on the other hand, consume a vast amount of "everyday wines" at the bottom of the pyramid — more Côtes du Rhône than Châteauneuf-du-Pape, if you will.
So what did a Northwest wine boy take home from this experience, other than a few extra pounds, several great winemaker interviews and some sublime wine and food experiences? An idea — probably not that original — that we should look a little more to the southern Rhône for inspiration rather than the Pinot-centric, top-down Burgundy model adopted by the Willamette Valley.
Obviously, there are already great wines being made from Rhône varietals in Southern Oregon, the Columbia Valley and Walla Walla. The problem is that with few exceptions most producers working with these traditional Rhône varietals seem far more interested in making Châteauneuf-du-Pape than Côtes du Rhône — another example of the "top down" mentality.
Or, to put it another way, why swing for the fence when sometimes all you need is a base hit?
Some producers are on the right track. Guild Winemakers, Highway 14, Giant Wine Co, Blacksmith and others come to mind, but they are too few and often just a secondary focus to the premium wines made by these talented producers. There remains a lot of room at the bottom of the pyramid. And no, so far I don't see growlers and kegs as the answer.
On our way to the northern Rhône, we ventured far from the usual tourist trail toward Mondragon to visit a small family-owned wine farm in the GPS-defying outer reaches of the Côtes du Rhône appellation. We spent a couple of days with a winemaker and his wife who farm about 30 hectares Biodynamically from an old, traditional 17th century farmhouse near the Massif d'Uchaux. As we enjoyed a leisurely country lunch under and enormous plane tree, I marveled at Arnaud's range of wines. They are all impeccably crafted and full of regional character, and all well under $20 after they arrive in the U.S. market. His total production is just 10,000 cases and, no, he doesn't receive some special French subsidy or tax break.
Top down or bottom up? There's a market for both. And now let's talk about that fromage…
Steven Baker is a wine writer and owner of Authentica Wines in Eugene. Each year, he and his wife travel to Europe, visiting producers, tasting new wines and gathering material for Authentica's e-letter and blog.