Betting on the Best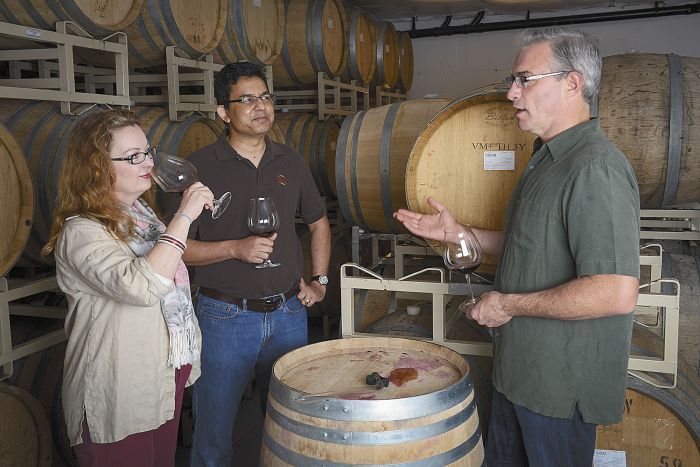 Winemaker Tony Rynders celebrated for fine craftsmanship
By Karl Klooster
If Tony Rynders were an artist, he could be Rembrandt. The famed Dutch painter specialized in portraits. The Oregon winemaker specializes in Pinot Noir and Chardonnay.
The 16th century master's deft technique and individuality of expression made his exquisitely executed oil paintings among the most widely praised and prized in the history of fine art.
In fact, he actually improved upon his subjects, who were generally either noble or Biblical. The images Rembrandt van Rijn rendered on canvas both revealed and dramatically flattered those whose likenesses were being set down for posterity.
Rynders similarly begins with a raw material possessing noble potential. And he helps nurture it to maturity before applying skills that capitalize on its final form.
Not that this analogy is meant to single out Rynders as the pinnacle of talent in his field. Among his contemporaries are numerous individuals whose winemaking skills have proved consistently outstanding. Yet it's all the more reason to indulge in the parallels of such a comparison. Exceptional skill and talent, the desire to attain perfection and the drive to hone ones abilities to a high level are all necessary in creating the very best.
Perhaps the most significant difference between a fine winemaker and a great painter is how the vigneron must sometimes deal with conditions beyond his influence, whereas the artist always has the ability to control his medium.
This X-factor in wine is, of course, the weather. Meeting the challenges of Mother Nature arguably makes the final product of an accomplished winemaker every bit as admirable as that of a gifted artist.
Some people might even say, more so, but that's a discussion for another time.
Right now the time is 2014, the 25th year since Tony Rynders began working in the wine industry. A quarter century is a milestone by any measure and at this point in his career, Rynder's considerable inherent talents are matched by his depth of experience.
Together, they are being put to effective if not inspired use, as evidenced by a wealth of awards that began mounting up after he took the winemaking position at Domaine Serene in 1998.
His first foray into the wine world was in 1989 at Mirassou Vineyards in San Jose. After a tantalizing taste of the grape at this pioneering California winery, he set his future path by enrolling in the master's program for viticulture and enology at the University of California, Davis. In 1992, when he graduated, Rynders was ready to embark on an overseas winery training junket.
After working harvests in Italy's Friuli district, he traveled Down Under, finding additional work in Southern Australia at Petaluma; then back to Italy at Col d'Orcia in Montalcino.
Returning home, he became assistant winemaker at Argyle Winery. After a year and a half, Rynders took the job as red winemaker for Hogue Cellars in Washington. Three years later, 1998, he left for the position of winemaker at Domaine Serene.
After the first year, it was Rynders who thought the Dundee Hills winery should bottle Syrah. "I convinced the owners of Serene to launch a Syrah project," Rynders said. "This was the start of Rockblock Cellars. My idea completely; their money and ownership."
A decade of ever-increasing success followed, with Rynders garnering more 90-plus scores from the Wine Spectator tasting panel than any other winemaker in the country. Meanwhile, Wine & Spirits magazine honored Domaine Serene as "Winery of the Year" for five consecutive years.
Rynders developed Domaine Serene's much-heralded estate vineyard bottlings of Pinot Noir and Chardonnay, as well as Monogram, the most expensive and limited-production Pinot Noir produced in Oregon, and Coeur Blanc, its costly white counterpart.
Due to differences with the owners, Rynders departed Domaine Serene in June 2008. During his tenure, Domaine Serene grew from 2,000 cases in 1997 to 30,000 cases — including Rockblock offerings. Once independent, he rapidly began putting his individual stamp on the industry.
Tony Rynders Consulting works with clients on winery and vineyard design and development, brand and product development and wine quality enhancement.
When Bacchus Capital purchased Panther Creek Cellars in 2013, Rynders was chosen as consulting winemaker for the iconic brand, created by Ken Wright in 1986. His first releases include the 2013 Carter Vineyard Pinot Noir and 2013 French Creek Chardonnay.
His own brand, Tendril Wine Cellars, focuses on very limited bottlings. Current offerings include four Pinot Noirs and one Chardonnay.
What could be called the signature Rynders release has been dubbed C-Note. Can you guess its price?
Whole cluster fermentation and 100-percent new oak add layers of flavor complexity, broadened by bright fruit, to all 49 cases of this product of the Yamhill-Carlton AVA. And it will only cost you a Ben Franklin.
Rynders offers custom winemaking services, often referred to as "custom crush," through his Tour de Force Wine Company. He currently oversees entirely or substantially the production of Bomb, Cornerstone, Saffron Fields, Sitar and Swiftwater Cellars.
These enological efforts emerge from a winery facility tucked away on a hillside southwest of Gaston, once home to the Elvenglade Winery.
Lovely landscaping surrounds the "belle boutique" building. Combined production capability for Tendril and Tour De Force clients there could reach 8,000 cases.
Comparing 21st century Oregon winemaking with 16th century Dutch oil painting might feel something of a stretch. Still, fine artistry can be found in a bottle as well as on a canvas.