Picnic Perfect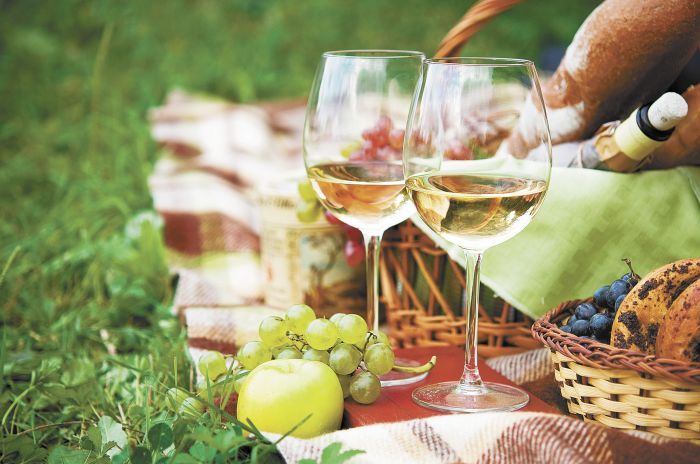 Dine alfresco with fresh-picked summer pairings
Recipes by Wendy Bennett
Fresh Peach with Basil Wrapped in Prosciutto
Yield: 16 Pieces
Wine Pairing: Pinot Noir
Ingredients:
2 large fresh peaches, pitted and sliced into eighths
8 large basil leaves, cut in half lengthwise
4 slices prosciutto, thinly sliced, each slice cut into quarters
1 tablespoon olive oil, extra virgin
* freshly ground pepper
16 wooden toothpicks
Method:
Lay out pieces of prosciutto on a clean flat surface.
Place a piece of freshly sliced peach and basil on top of the prosciutto and roll prosciutto around peach and basil. Sprinkle with a small amount of pepper.
Secure with a toothpick and drizzle lightly with olive oil and refrigerate until just before serving.
---
Spinach, Strawberry and Toasted Almond Salad with Bacon-Balsamic Dressing
Yield: 8 servings
Wine Pairing: Sauvignon Blanc
Ingredients:
¼ cup balsamic vinegar
1 teaspoon Dijon mustard
2 cloves fresh garlic, minced
¼ cup olive oil, extra virgin
3 tablespoons bacon fat, melted
6 cups baby spinach, washed and dried
2 cups fresh strawberries, quartered
3 scallions, sliced very thin
½ cup sliced almonds, toasted
6 slices pepper bacon, chopped and cooked crisp
* kosher or sea salt, to taste
* freshly ground pepper, to taste
Method:
Whisk balsamic vinegar, Dijon mustard and garlic in a small bowl until well blended. Continue to whisk vinegar mixture while drizzling in the bacon fat and olive oil. Set dressing aside.
In a large bowl, toss spinach, almonds, cooked bacon bits and strawberries until blended. Add salt, pepper and the vinaigrette to the spinach mixture and toss to coat.
Serve immediately on chilled plates.
---
Chilled Carrot Ginger Soup with Lime and Cumin Crème Fraîche
Yield: 8 servings
Wine Pairing: Riesling or Pinot Gris
Ingredients:
2 ounces butter
2 cups onion, diced
6 garlic cloves, minced
2 pounds carrots, peeled, cut into 2-inch pieces
¼ cup olive oil
1/3 cup ginger root, peeled, minced
1½ quarts vegetable stock
1 cup orange juice
1 tablespoon orange peel
¼ cup tamari sauce
1 cup crème fraiche
2 tablespoons fresh lime juice
¼ teaspoon cumin powder
Method:
Preheat oven to 375°F.
Place carrots on sheet pan in single layer. Drizzle with olive oil and season with salt and pepper. Place pan in oven and roast carrots until soft and golden brown, about 30 minutes.
Meanwhile, heat butter in heavy pan or Dutch oven over medium heat. Add onion and garlic, and cook without browning, 5 to 7 minutes.
Add ginger root to onion/garlic mixture and continue cooking for 5 minutes.
Add cooked carrots, vegetable stock and orange juice to pot with ginger and increase heat to high; bring to a boil; then reduce heat to simmer for 20 minutes.
While soup is simmering, blend crème fraÎche, lime juice and cumin powder in a bowl until well mixed. Refrigerate until time to use.
Using an immersion blender, purée soup until smooth. Solids can also be puréed in a food processor and added back to broth.
Add orange peel and tamari sauce; stir to combine. Taste and adjust seasoning for salt and pepper.
Chill soup (overnight, if possible). Serve soup chilled; garnish with a swirl of lime and cumin crème fraÎche.
---
Grilled Rosemary Garlic Tri-Tip with Chimichuri Sauce
Yield: 8 Servings
Wine Pairing: Syrah, Nebbiolo or Cabernet Sauvignon
Ingredients:
2 pounds tri-tip steak
4 cloves fresh garlic, chopped
¼ cup fresh rosemary, chopped
¼ cup olive oil
2 tablespoons red wine vinegar
* kosher salt / freshly ground pepper
Method:
Mix garlic, rosemary, olive oil and red wine vinegar; and place in a large Ziploc bag. Add tri-tip steaks; squeeze bag to mix steak and marinade; close the bag, pressing out as much air as possible. Refrigerate steak for 12 to 24 hours to marinate.
Pre-heat grill. Drain marinade and discard. Season steak well with salt and pepper.
Grill for 10 to 12 minutes per side. Steaks should yield to the touch and spring back or be 125°F in the center. Remove steak from grill, allowing to rest 15 minutes before slicing.
Serve with slices of fresh baguette and Chimichuri sauce on the side for dipping.
---
Chimichuri Sauce
Ingredients:
2 cups fresh Italian parsley
4 each garlic cloves, peeled and smashed
¼ cup fresh oregano leaves
¼ cup red wine vinegar
½ teaspoon red pepper flakes
½ teaspoon kosher salt
1/8 teaspoon freshly ground black pepper
1 cup extra-virgin olive oil
Method
Place parsley, garlic, oregano, vinegar, red pepper flakes, salt and pepper in food processor; blend for 1 minute. With food processor running, add oil in a slow, steady stream.
Serve or store in refrigerator for up to one week.
---
Cherry Almond Clafoutis
Yield: 8 servings
Wine Pairing: Moscato or Sparkling Wine
Ingredients:
1¼ cups milk
1/3 cup sugar
3 eggs
1 teaspoon vanilla
2 teaspoons almond extract
1/8 teaspoon salt
½ cup flour
2 cups cherries, pitted, halved
1/3 cup sugar
1 teaspoons ground cardamom
* powdered sugar
Method:
Pre-heat oven to 350°F.
In a blender, blend milk, sugar, eggs, vanilla, almond extract, cardamom, salt and flour. Pour a ¼-inch layer of batter in a lightly buttered 7- or 8-cup baking dish. Place in oven until a film of batter sets in pan (about 2 to 3 minutes).
Remove from heat and spread cherries over batter. Sprinkle on 1/3 cup sugar. Pour on rest of the batter.
Bake for about 45 minutes to an hour. Clafouti is done when puffed and brown, and a knife plunged in center comes out clean. Sprinkle with powdered sugar.
Wendy Bennett, a longtime professional chef, owns Wine Country Cooking Studio in Dundee. She lives nearby on a 12-acre farm with her family and a barn full of animals.