Fixin' for Pie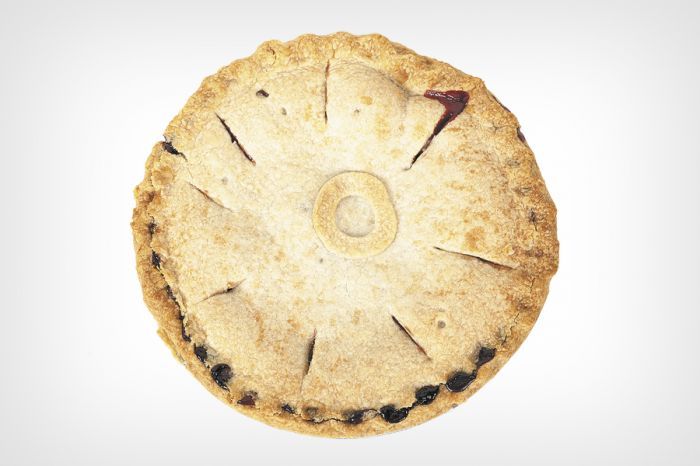 Blue Raeven Farmstand offers much to mend any mood
By Hilary Berg
On the south end of Amity, pie heaven awaits at Blue Raeven. You wouldn't know it driving up to the unassuming yet charming farmstand, but once you approach the front door, the enticing aroma of fresh pie hits you in the face — in the best way.
Whether or not you already have a full stomach or whether or not you even like pie, the smell will seduce you, and I promise you WILL leave with a pie, if not for yourself, for someone. With so many fruit combinations, it's likely you will stew over your choice. (See varieties to the bottom right.) Blue Raeven also makes cream pies (seven flavors), baked cream pies (six), as well as chicken and beef pot pies frozen with directions for home baking.
Dots on a small white board indicate whether your chosen flavor is fresh and available. Sizes come in full ($13) and mini ($6), perfect for lunch on their patio. If you are craving something savory, Blue Raeven also offers sandwiches to order. Suggestion: Order the half-sandwich box lunch; it includes chips and a fresh-made pocket pie, allowing you an immediate pie fix, while saving the big one for later.
Selling more than 40,000 pies in 2013 — in Oregon alone — owners Ron and Jamie Lewis do an incredible business online (www.blueraevenfarmstand.com) and on site. Their success stems from the most incredible crust you will ever taste — all employees must sign a do-not-share-recipe waiver — and, most importantly, the fruit they grow on their 140-acre farm, Raevenbrook, a third-generation enterprise.
Their famous blueberries — and other fruits — are available in The Blueberry Shed line of jams and syrups. Also inside the rustic-chic shop is a wall of Blue Raeven gourmet products such as salsas, tomato sauce, salad dressings and pickled everything — garlic, carrots, quail eggs, chow-chow, etc. More gourmet products from around the Northwest abound, as well as country linens, soap, house décor, nursery plants and even fresh veggies.
So much to see, sample and smell at Blue Raeven, but it's the pie that justifies the drive. Their motto, "Pie fixes everything," says it all. Although, if you get a flat tire on your way home, I suggest using a jack, not dessert.
Blue Raeven Oregonberry Pie
Inside the incredible handmade crust of the Oregonberry pie, you'll discover a mixture of Northwest gooey goodness: blueberry, boysenberry, Marionberry, raspberry and strawberry. Marked with an "O," this pie will leave you saying, "Oh my, more pie!" Sugar-free option available. Full Pie (9 inches): $13; Mini Pie (5 inches): $6.
FRUIT FLAVORS:
Apple, Apple Crumb, Apple Blackberry, Blackberry, Blueberry, Blue Raeven Berry (Blue/Boysen/Marion), Boysenberry, Bumbleberry (Black/Blue/Rasp/Rhubarb), Cherry, Marionberry, Oregonberry (Blue/Boysen/Marion/Rasp/Straw), Peach, Peach Raspberry, Pecan, Pumpkin, Razzle Dazzle (Blue/Marion/Rasp), Rhubarb, Rhubarb Peach, Strawberry, Strawberry Rhubarb, Tayberry, Valleyberry (Black/Marion/Rasp).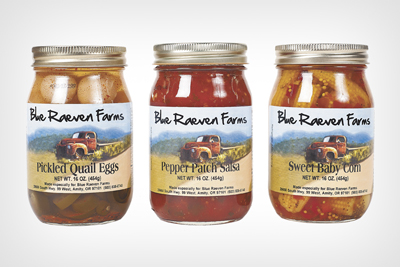 Blue Raeven Products
Copious number of gourmet canned offerings makes Blue Raeven Farmstand an incredible place to pick the perfect gift for foodie friends and family. So many options that OWP was forced to feature only a few: Pickled Quail Eggs ($8.95), Sweet Baby Corn ($6.95), Pepper Patch Salsa ($6.95). All three perfect for a summer picnic.
---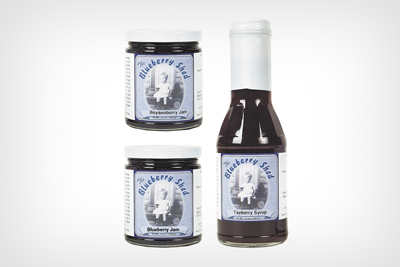 The Blueberry Shed
Jams and fruit syrups make up house brand The Blueberry Shed. On its label, co-owner Ron Lewis' mother is honored with a vintage photo of her as a baby. Flavors include: blackberry, blueberry, tayberry, boysenberry, Marionberry and more. Syrups: $5.99 (12 ounces); Jams: $5.99 (12 ounces).
---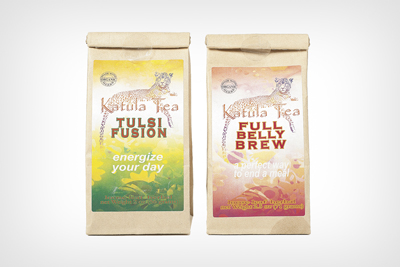 Katula Tea
Owner Kate Parker blends her home-grown, organic herbs to create Katula Tea. The small-batch loose-leaf tea is made in nearby McMinnville. Katula means "leopard" in the Bemba language spoken on the southern shores of Lake Tanganyika, where Parker and her husband first met many years ago. Varieties include: Full Belly Brew, Tulsi Fusion, Balm for the Blues, Herbal Nightcap, Winter Comfort, Spring Tisane. $6.99 (2 ounces)
---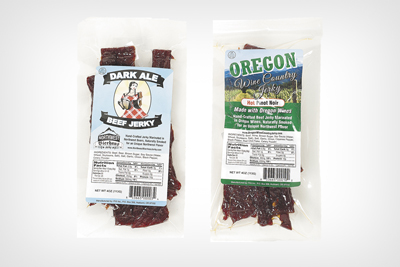 Gourmet Jerky
Made in Hubbard, Oregon Wine Country Jerky and Northwest Bierhaus Jerky are both created by marinating in Oregon wine and Norwest beers, respectively, and then smoked for a truly Western flavor. No sodium nitrate is used. Flavors include: IPA, Dark Ale, Pinot Noir and Cabernet. Choose between hot or not. $11 (4 ounces)
Blue Raeven Farmstand
Address: 20650 S. Highway 99W, Amity
Hours: Mon.–Sat., 9 a.m.–6 p.m.; Sun., 10 a.m.–5 p.m.
Phone: 503-835-0740
Website: www.blueraevenfarmstand.com