Pink, White Done Right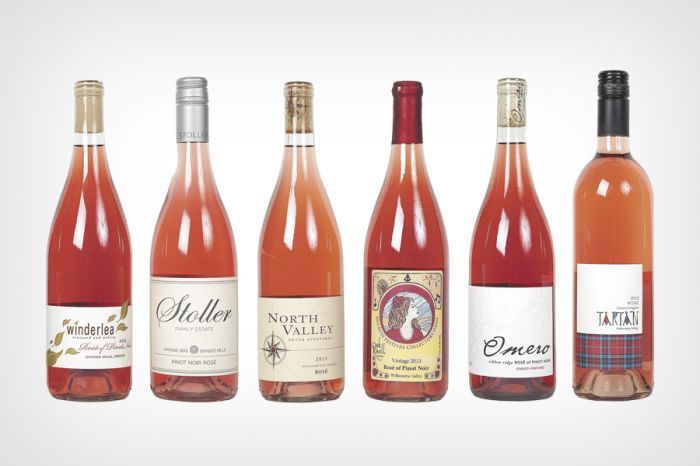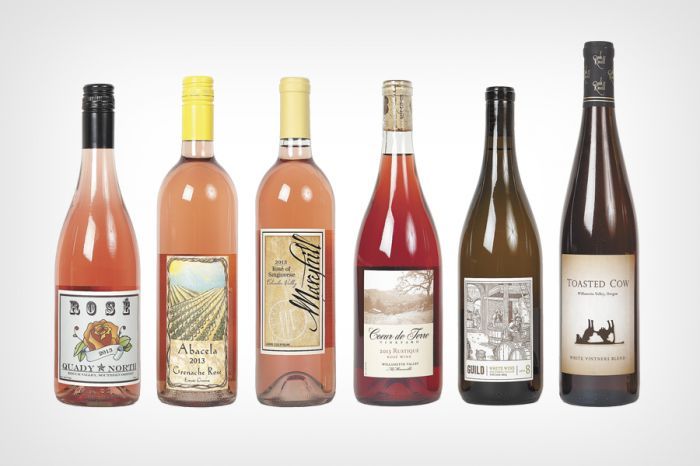 Panel ponders selection of rosés and white blends
By Karl Klooster
Stimulated by the high quality and resulting popularity of sparkling rosés, both domestic and imported, out-of-favor pink wines have experienced resurgence in recent times.
Rosés can be quite good when they are afforded the same meticulous treatment as top-tier reds and whites, but all too often this has not been the case.
The most highly regarded example, Tavel rosé stood out as a Rhône Valley favorite for decades. The Tavel appellation is one of very few in France devoted exclusively to rosé.
Made primarily from Grenache and Cinsault, AOC regulations also allow Syrah and Mourvedre. Unlike most rosés, Tavels exhibit a dry, full-bodied mouthfeel and solid structure. Although most are consumed young, they benefit from cellaring.
Few producers have committed to using premium grapes for rosé, but that trend may be changing in Oregon. Pinot Noir's attributes of lower alcohol, bright acidity and delicate nuances lend themselves perfectly to this style.
In vintages where early picking becomes necessary for at least a portion of the crop, the resulting fruit may be best suited for rosé or even white renditions.
White blends were the second aspect of the July tasting. They can be excellent, if, like rosés, high quality, complementary grapes are used in their production. Then, to achieve a well-balanced blend, judicious winemaking decisions make all the difference.
This month's tasting revealed 10 rosés along with two white blends that met the criteria to be selected as OWP Value Picks.
Rosés
2013 Winderlea Vineyard Dundee Hills Rosé of Pinot Noir
Winderlea's Dundee Hills estate vineyard is the pedigreed fruit source for this tasty rosé whose soft, supple mouthfeel features fresh watermelon and piquant strawberry. $25; 220 cases
2013 Stoller Family Estate Dundee Hills Pinot Noir Rosé
Another Dundee Hills-derived wine, Stoller's rosé is pure in fruit and pretty in pink. Bright, refreshing flavors throughout, accented by an appealing herbal hint lending it aperitif attributes. $20; 1,515 cases
2013 North Valley (Soter) Willamette Valley Rosé
Sourced from North (Willamette) Valley AVAs, this wine is 78 percent Pinot Noir, 20 percent Chardonnay and 2 percent Gewürz. A floral entry and delicately dry style accompany velvety, tea-like qualities flowing harmoniously from start to finish. $24; 1,050 cases
2013 Oak Knoll Willamette Valley Rosé of Pinot Noir
This limited bottling, a part of the 2014 Rose Festival Collectors Series, dons a label designed by Oregon Coast artist Drea Rose Frost. Good balance defines the wine, featuring cola and gooseberry, a hint of smoke and a touch of sweetness. $14; 154 cases
2013 Omero Cellars Ribbon Ridge Rosé of Pinot Noir
The product of early harvesting from a single vineyard block in Oregon's smallest AVA has resulted in a full-bodied, nicely balanced wine, rich and viscous in the mouth with flavors of kiwi and red cherry. $25; 225 cases
2013 Tartan Cellars Omero Vineyard Pinot Gris Rosé
Rosé from white? Can that be right? Yes, when Pinot Gris juice rests overnight on the pink-gray skins, the wine extracts a hint of color. Tartan's take has a rose petal, floral nose with ripe stone fruit and hints of buttered toast on the palate. $22; 56 cases
2013 Quady North Rogue Valley Rosé
This Southern Oregon-style rosé picks up on the classic Tavel model. Grenache and Syrah combine to make this wine fruity and flavorful. Ripe cherry and a hint of sweetness delight the mid-palate. $12.50; 400 cases
2013 Abacela Umpqua Valley Grenache Rosé
Another Southern Oregon rendition of rosé relies on Grenache, the popular grape found in southern France and across Spain, which has become one of the world's most planted varieties. A dry, smoky impression complements strawberry and lime. Nicely balanced. $17; 384 cases
2013 Maryhill Columbia Valley Rosé of Sangiovese
An Italian grape variety gets in on the regional rosé act with this bright, full-bodied example delivering the aroma of rose petals and the rich, slightly sweet flavor of golden raspberry jam. $14; 1,942 cases
2013 Coeur de Terre Willamette Valley Rustic Rosé
Syrah is such a big red you'd just have to pass the juice through the skins to achieve rosé. At 100 percent Syrah, the Coeur de Terre bursts forth with a tangy cranberry aroma followed by dark fruit flavors accented with bell pepper and assorted spices. Tannin's there, too. $20; 75 cases
White Blends
2013 Guild Winemakers Columbia Valley White Wine Lot #8
A four-winery, Portland co-op (Grochau, Vincent, Helioterra, Hammer & Tongs) has collaborated on this blend of 60 percent Pinot Gris, 25 percent Sauvignon Blanc and 15 percent Riesling. The result is a potpourri of lively, grassy, citrusy, off-dry flavors featuring grapefruit and green apple. $13; 750 cases
NV Toasted Cow (Oak Knoll) Willamette Valley White Vintners Blend
A hint of smokiness and a kiss of gooseberry won't give away the ménage of Pinot Gris, Gewürztraminer, Müller-Thurgau, Sauvignon Blanc and white Riesling. But good balance wins the day. $10; 1,495 cases
---
The Oregon Wine Press tasting panel has selected the following wines based on overall quality and value within their respective categories. To the best of our knowledge, they are currently available in the marketplace. Wine must be: 1) produced by an Oregon winery; 2) priced (retail) $30 or less for reds, $30 or less for Chardonnay, $30 or less for dessert and sparkling wines, and $25 or less for remaining varietals; and 3) currently available to consumers. Recommended wines were selected using a double-blind method and a 20-point ranking system for appearance, aroma, taste, balance and finish.