July News Briefs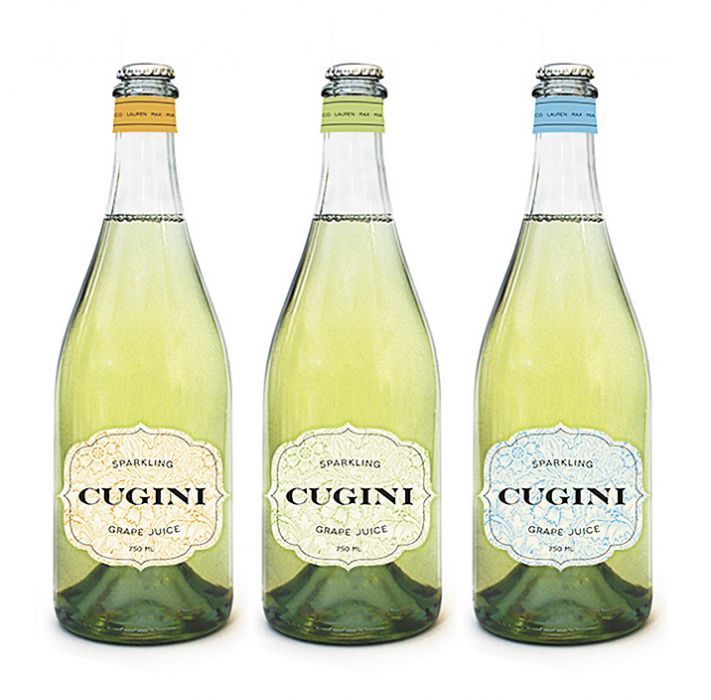 Toast to Cousins
While Ponzi is considered one of Oregon's wine founders, the family never takes for granted its solid foundation; they keep building, continually looking for ways to innovate the nearly 45-year-old brand.
Centered on family, Ponzi's latest project pays homage to its youngest members with a small-production sparkling grape juice called Cugini, meaning "cousins" in Italian. It is the brainchild of second-generation owners, sisters Luisa and Maria Ponzi.
"The inspiration for this bottling came from our children," Maria said. "At family events, everyone should have a special beverage in hand for toasting."
The cousins not only inspired the beverage, they also provided the vision for the packaging design: sophisticated yet playful. Eight different, punchy colors are representative of their eight unique personalities.
Made of Gewürztraminer, the non-alcoholic bubbly is limited in supply with only 100 cases made and retails for $15 a bottle (750 ml). First introduced on Mother's Day, May 11, the small supply is becoming smaller by the day, so if interested, a trip to one of Ponzi's three locations should be planned soon. A phone call to ensure availability is recommended — Beaverton: 503-628-1910; Dundee: 503-554-1500; Sherwood: 503-628-1227.
For more information, please visit www.ponziwines.com.
Canines Uncorked
On Aug. 9, 11 a.m. to 4 p.m., dog lovers have a bark-worthy opportunity, as 13 participating wineries in the northern Willamette Valley will be offering wine tastings for humans and fun activities for their four-legged friends.
Guests and their friendly pooches are welcome to enjoy wine, food, contests and special activities. Themes include: "Grapes and Glamour" (pet fashions), "Lickin' Luau" (dog ice cream social and dog pools), "Relax with Rover" (massages for dogs and humans), "Flights & Fitness" (games for active dogs), "Photos and Fido" (photo booth), "Taste and Treats" (gourmet dog and human treats) and more.
Wineries include: A Blooming Hill, Apolloni, Blizzard Wines, David Hill, Elk Cove, Helvetia, Kramer, Oak Knoll, Plum Hill, Provincial Vineyards, SakéOne, Shafer Vineyard Cellars, and Tualatin Estate.
The Canines Uncorked "License to Taste" Passport and Wine Tour Guide can be purchased in advance from the Oregon Humane Society (www.oregonhumane.org). Passport is $40 online; $45 at the event, and provides complete information about each winery and the special activities taking place. 100 percent of proceeds benefit the Oregon Humane Society.
Take a Bike
Eola Hills Wine Cellars has become known for its love of bikes. Every August, the winery hosts cyclists from around the world who want to pedal among the vines and taste the plentiful wines at several neighboring wineries.
Now, cyclists can make a day of Eola Hills Wine Cellars by trekking to the winery's three different locations, starting with the original in Rickreall (501 S. Pacific Highway 99W).
Traveling east, the second stop is the winery's vineyard tasting room inside an old barn at Legacy Estate Vineyard in Salem (1600 Oak Grove Road N.W.).
From there, about 20 miles north, Eola Hills' second satellite location recently opened in downtown McMinnville. While on Third Street, visitors can grab a bite to eat and even tune your wheels at the local bike shop down the road.
For more information, please visit www.eolahillswinecellars.com.
Changes at Omero
Omero Cellars recently announced the appointment of Chad Stock of Minimus Wines as the label's new winemaker, and Destiny Dudley has been promoted to assistant winemaker and director of operations. A new winery and tasting room will open at the west end of Carlton just in time for the 2014 harvest.
503 Uncorked
While Sherwood residents rightfully complain about the pesky traffic cameras or even the introduction of a Walmart to their city, they are unlikely to whine about the new wine bar in town, 503 Uncorked.
"We are thrilled to introduce a distinctive wine bar to the downtown area of Sherwood," said owner Deb Wilson. "We feature light pairings of food with tasting flights from wines primarily made in the 503 area of Oregon. This is a unique venue to taste local wines, enjoy small plates made with local ingredients and listen to live, local entertainment."
Doors open weekdays at 3 p.m.; weekends at noon. For more information, visit www.503uncorked.com.
¡Salud! Update
¡Salud!, a program through Tuality Healthcare providing healthcare services for seasonal vineyard workers and their families, has announced the return of a summer event.
On July 24, "Summertime ¡Salud! The Big Dinner" will be hosted at Stoller Family Estate in Dayton and presented by The Allison Inn & Spa. The evening will feature an alfresco wine tasting with 18 wineries from Oregon, California and France, dinner prepared by JORY Executive Chef Sunny Jin and a wine marketplace with rare ¡Salud! cuvées and magnums.
¡Salud! has also announced changes to the venue for the November gala auction. While the Big Board Auction will continue at Domaine Drouhin Oregon in Dayton, the Saturday dinner and auction gala has moved from Portland's Governor Hotel to The Allison Inn & Spa in Newberg.
"We were looking for a way to enliven the event, so focusing the weekend festivities in wine country brings our guests closer to our mission and makes it easier for them to enjoy our Vintners Circle member wineries during their stay," said Corby Stonebraker-Soles, ¡Salud! steering committee co-chair.
Nov. 14–15, The Allison will close its doors to the general public, making its rooms available only to ¡Salud! guests. A limited number of weekend packages are for sale, which includes two nights deluxe lodging, transportation and two tickets to both the Friday and Saturday events, and more.
For information about tickets for the summer event and/or the November celebration, call ¡Salud! at 503-681-1850 or visit www.saludauction.org. To inquire about The Allison's special hotel promotion, call 877-294-2525.
Craft WineFest
Nine Washington wineries shared 13 awards from 62 submissions at the conclusion of the 2014 Craft Winefest of Vancouver wine competition, judged on June 7.
"With submitted wines across the board of such high quality, the judging was a pleasure and a challenge," said Norm Banks, chief judge and winemaker for Confluence Winery.
The competition was hosted by the Columbia Willamette Enological Society (CWES), which assembled a premier panel of judges led by Banks. The panelists included: Bill Fuller, co-founder of Tualatin Vineyards and former president of the Oregon Winegrowers Association; Bob Mayfield, northwest wine columnist; Ed Grubel, past president of the Clark Home Wine Makers; and master chefs Erol Kanmaz and Russ Landstadt from the Northwest Culinary Institute.
All the awarded wineries participated in the Craft Winefest of Vancouver, June 20–22 at Esther Short Park.
Medals were awarded in the following categories:
RED VARIETAL
Double Gold: Basel Cellars 2010 Merlot, Walla Walla
Gold: Burnt Bridge 2012 Les Collines Syrah
Silver: Five Star 2009 Sangiovesse, Walla Walla
Bronze: Glencorrie 2010 Cab. Sauv., Walla Walla
RED BLEND
Double Gold: East Fork Cellars NV Cellar Rat Red
Gold: Basel Cellars 2010 Claret, Columbia Valley
Silver: Locati Cellars 2010 Innovation
Bronze: Mt. St. Helen Cellars 2012 Kick Ash Red
WHITE
Double Gold: East Fork Cellars 2012 Riesling
Gold: Bateaux Cellars Vilaine Rhone blend
Silver: Basel Cellars 2013 Semillon/Sauv. Blanc
Bronze: Olequa Cellars 2012 Riesling
DESSERT / FRUIT
Gold: Bateaux 2012 Late Harvest Viognier
Archery Summit Boosts Roster
Archery Summit has announced two new additions to its Dundee Hills winemaking team: Vineyard Manager Tim Scott and Assistant Winemaker Eleni Papadakis.
Scott has more than three decades of experience managing vineyards in the Dundee Hills AVA, most recently at Domaine Drouhin Oregon, the highly touted winery that shares a property line with the equally impressive Archery Summit. Previously, he managed the vineyards at REX HILL for 14 years.
Papadakis also carries impressive credentials, coming to Archery Summit from Domaine Serene, another neighbor and notable winery in the Dundee Hills. During her tenure there, she created an impressive series of high-scoring 94-plus-point wines, including a single-vineyard Pinot Noir that earned 97 points.
Scott and Papadakis join Winemaker/General Manager Chris Mazepink, who joined Archery Summit in 2013.