Wheel Adventure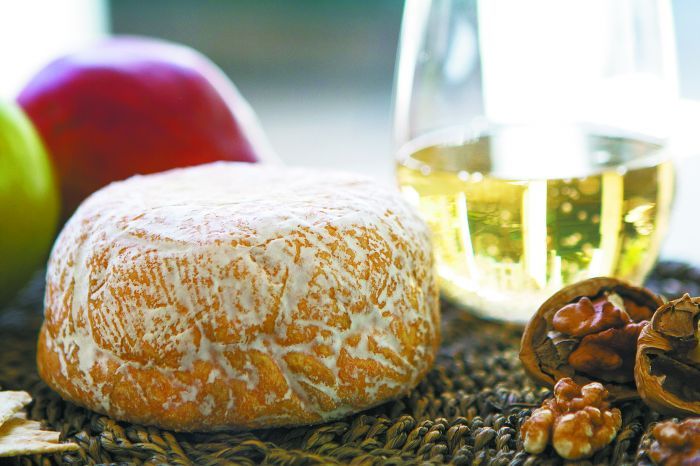 Take a trip down the Marin-Sonoma Cheese Trail
By Christine Hyatt
Curd curious and looking for an edible vacation not too far from home? Bay Area cheese fans have something to moo about with a thriving cheese scene less than an hour from the glittering City by the Bay.
With 29 cheesemakers part of the Marin-Sonoma Cheese Trail (find map at www.cheesetrail.org), you can venture through scenic country, rich in western dairy history and the birthplace of the western cheese renaissance.
This small area boasts one of the highest concentrations of artisan cheesemakers in the country. Seven cheesemakers keep regular hours and another 14 are open from time to time, so the area is ripe for exploration.
The region's dairy history dates to the start of the California Gold Rush. Early producers like Marin French Cheese, which celebrates its 150th anniversary, fed the burgeoning West Coast city.
Much later and up the road a bit in Sonoma, cheese history was made in 1931 when Tom Vella produced Vella Dry Jack, one of the first "American Original" cheeses. He created it to satisfy a demand for aged Italian grating-style cheeses unavailable due to war embargoes.
When the back-to-the-land movement of the late '60s and early '70s captivated the West Coast, it attracted several game changers in the world of cheese. Laura Chenel began producing her eponymous fresh goat cheese in 1979, after falling in love with dairy goats in France. When Alice Waters placed a standing order for her cheese in 1980, America's fascination with the creamy, tangy cheese was ignited.
More recently in the '90s and early 2000s, some of the trailblazers of the new California cheese movement arrived on the scene. Enough of a critical mass was reached in 2001 to warrant a front page feature in The New York Times by food critic RW "Johnny" Apple, who christened it "Normandy North of the Golden Gate."
The story featured profiles of Bellwether Farms, Redwood Hill Farm, Cowgirl Creamery and Point Reyes Farmstead, then the new kids on the scene. These companies have all continued to grow and thrive in an increasingly diverse and exciting industry.
In the last five or six years, even more new cheesemakers have set up shop, including several notable talents focusing on sheep milk cheese. This latest class of cheesemakers has benefited from the already robust and well-connected cheese community that offers a guild and a festival, bringing educational and networking resources, as well as marketing opportunities unimaginable only a decade ago.
It's no accident this region boasts such a robust concentration of creameries. The locavore movement was born here and an eager and increasingly affluent consumer base puts a premium on wholesome food.
Perhaps one of the best things about this region is that cheesemakers are relatively close together and there is a high concentration of them, making a visit to a number of producers more accessible than in other places in the country.
Of course, wine fans will not be disappointed at the cheese pairing possibilities here, either. The country's most famous of wine regions, Napa and Sonoma, are part of the culinary allure.