Wine Country à la Cart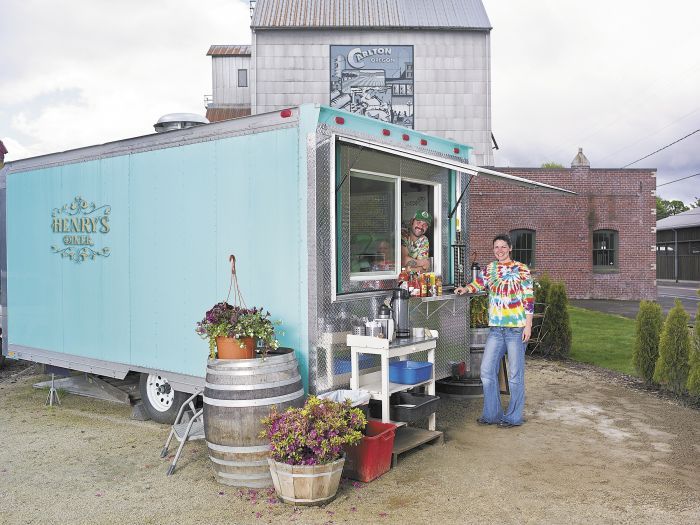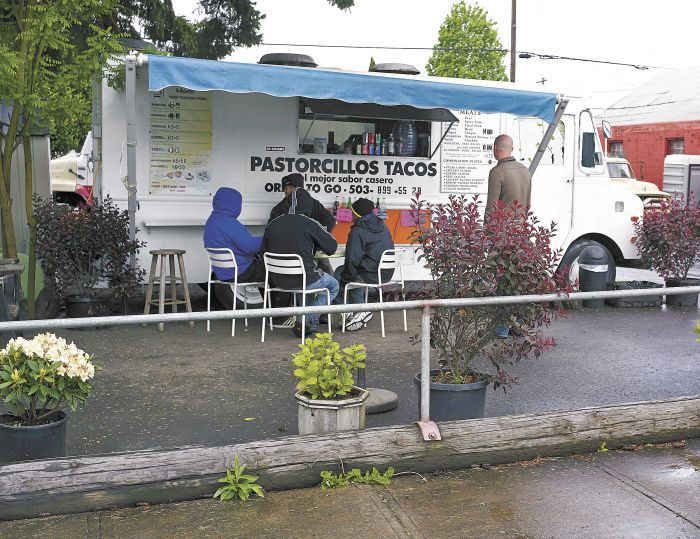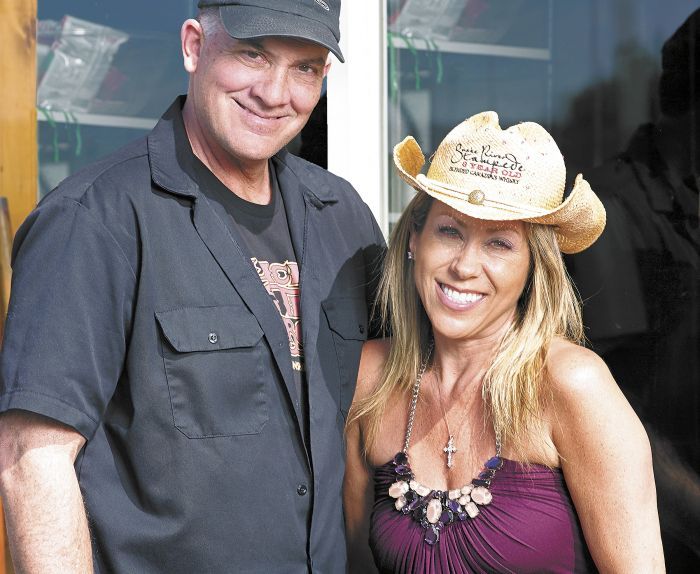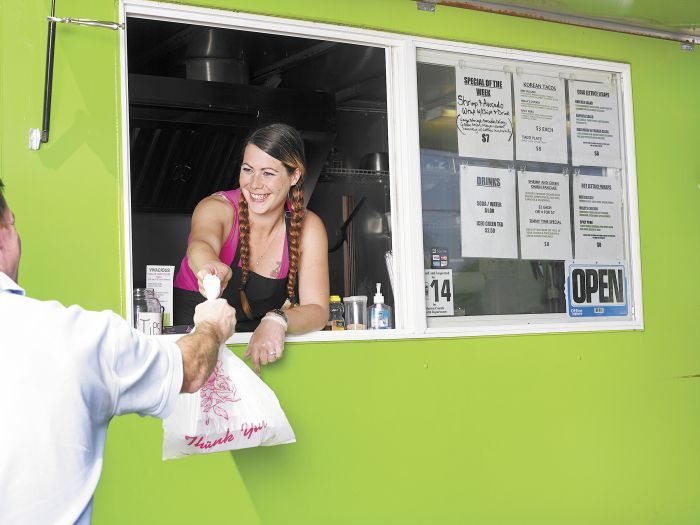 Roll out of the city to discover fine meals on wheels
By Jim Gullo
It's hard to pin down an exact number, but conservative estimates suggest that in Portland, alone, there are a hundred million billion food trucks or other mobile food vendors on the streets. The selections range from simple fried things and honkin' big burritos to some of the finest ethnic food in the city. But the food cart scene is more than the sum of its parts. Through clever marketing and liberal sprinkles of truffle salt on the fries, they have managed to make themselves into an institution — a vibrant, food-slinging example of plucky local spirit of rugged individualism mashed up (literally, with the back of the spoon) with fresh, local ingredients.
One would think, then, that wine country would be similarly blessed with a contingent of skilled, nihilistic cooks, and that at least some of those rolling bastions of gravy groove would make a wrong turn somewhere around Tigard and find themselves settled into a pleasant location in the heart of wine country. Selling lamb kabobs or grilling salmon on the side of the road, let's say, just when you roll out of your fifth tasting of fine Pinot Noir and need something substantial, with attitude. Although the food truck scene is far smaller here, the quality is high and the prices low. Check out these venues recommended by our winery friends.
Henry's Diner, Carlton
Maria Stuart of R. Stuart & Co. is a major fan of Joseph Zumpano's classy, aquamarine trailer, and so are we. Situated in the park next door to Scott Paul Wines, Zumpano is a trained chef who brings some of his East Coast favorites to a hearty menu of breakfast and lunch dishes. The Philly breakfast, for example, comes with scrapple hash, beans, toast and three eggs. And if you've never had scrapple, well, you've probably never been to a million diners in Pennsylvania (as I have). A Jersey pork roll with cheddar cheese and eggs is another huge favorite, as are big, juicy burgers for lunch. For the summer, says partner Katie Koenig, the truck will roll out dinners every Monday night with a single item on the menu priced between $15 and $20, like a recent smoked porchetta with beans and greens. Seating is picnic tables decorated with flowers and afghan blankets Koenig found at thrift stores. Parked at 103 E. Main St., Carlton. Call 503-447-6887 for more information.
Tacos al Paraiso, McMinnville
Discovering this taco truck in the Sears parking lot on Highway 99W in McMinnville was a kind of revelation for my family and me when we arrived six years ago after leaving the Mexican food desert of Puget Sound. The food is simple, precise, inexpensive — okay, they raised the price two years ago from $1 per taco to $1.25 — and unwaveringly consistent. Two fresh corn tortillas piled with a choice of meats that include chicken, chorizo, birria (goat), asada beef and juicy pork carnitas. Cilantro on top, radish slices on the side and a choice of three piquant sauces, two red and one green, to squirt on top. Fold, eat, repeat. This is a one-way ticket to taco heaven, surpassed possibly only by the burritos, which offer the same meats as well as rice and beans and sour cream, all wrapped in an oversized flour tortilla. For special occasions, such as Friday nights, wash it down with a cold glass of horchata – a sweetened rice milk. Hombre! Verdad! Parked at 1621 N.E. Baker St., McMinnville.
Pastorcillos Tacos, Newberg
"Best tacos I've ever had," writes Claudia Bowers of Pravia Wines about this taco truck on Main Street (facing the Thriftway market) in Newberg. Add fajitas, including shrimp, to the menu of tacos and burritos served with homemade — and highly addictive — red and green sauces. Or go nutty on a ranchera taco with beef, bacon, jalapenos and red onions. The patio seating offers homey benches and small tables, and Jarritos sodas (including tamarind and mango flavors) not to mention the usual soft drinks. Parked at 105 Main St., Newberg.
Slick's Big Time BBQ, Newberg
"We were the first barbeque drive-through in Oregon when we opened in March of 2013," says Dan Slick of his booming take-out barbecue stand, which smokes and serves as much as 8,000 pounds of meat every month to loyal customers. Dan and wife Barbi left the fitness business when their homemade sauces and rubs attracted the attention of grocery stores. Brisket, pulled pork and smoked turkey do the heavy lifting and a Big D sandwich piles two kinds of meat and creamy coleslaw on a pretzel bun. Look for Slick's at 28300 N.E. Wilsonville Rd., Newberg, and with mobile catering units at events for Duck Pond Cellars, Cana's Feast and charitable events for veterans. More information at www.slicksbigtimebbq.com.
Bert's Chuckwagon, Dundee
Also dishing up first-rate Q is Bert's, the red take-out shack on Highway 99W in the middle of Dundee. "Generous portions, good service and the best tater tots!" says Michele Dupont of nearby Dobbes Family Estate. Besides pulled pork, brisket and tri-tip, owner Richard Bert offers four big, juicy burgers to eat at picnic tables covered in checkered cloths under a green awning. Parked at 875 N. Highway 99W
Dundee. More information at www.bertschuckwagon.com.
Vivacious Molly's Vibrant Eats, Salem
Molly Frizelle's eclectic Korean-Mexican fusion fare won her the best Food Cart award by the Statesman Journal for 2013, with dishes like hot beef bulgogi with green onion served in a lettuce leaf wrap, or savory pancakes of shrimp, green onion and zucchini. The Korean tacos are some of her bestsellers; choose from beef, chicken or shredded pork —all are served with cabbage, kimchi, marinated cucumber, cilantro and lime. Parked at 2781 12th Street S.E., Salem. More information at www.vivaciouseats.com.
Also try:
DELACATA, in downtown Eugene, gets rave reviews for its Southern soul food of fried chicken, catfish and thick sandwiches. PERUVIAN POINT in Medford is a cheerful red trailer dishing up exquisite Peruvian cuisine – "Pairs perfectly with our Tempranillo, Tradición and Syrah," writes Katherine McCleary of Jaxon Vineyards. Recently relocated to the Dirty Fingers Bicycles lot in Hood River, HERBETTE specializes in eastern Mediterranean fare using fresh, local ingredients.