Björn Again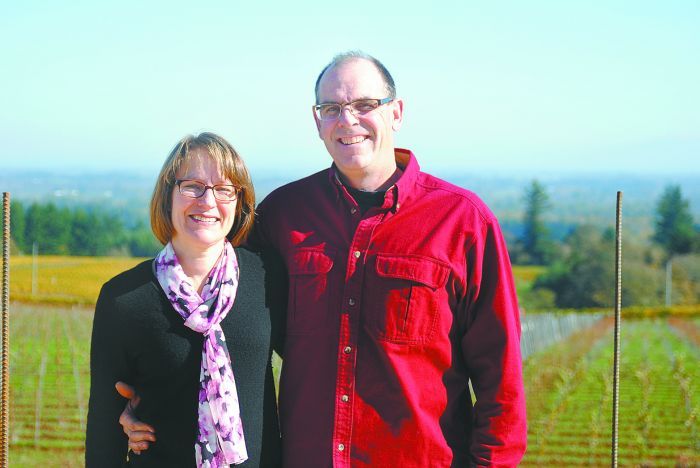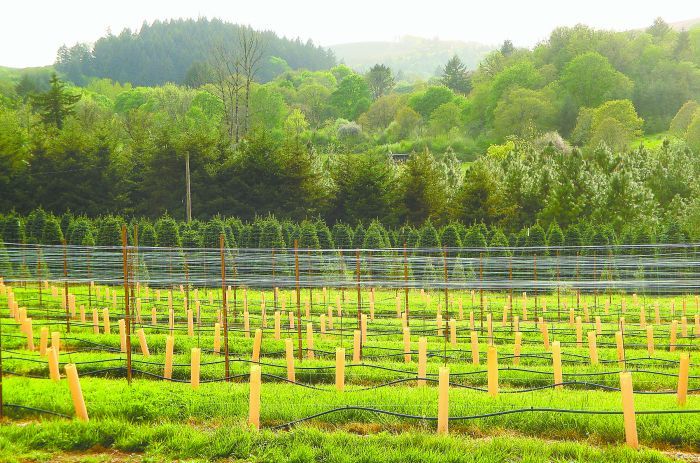 Minnesota family moves west, engenders passion for wine
Midwestern tenacity, family values, community collaboration and great Pinot Noir, these are the things that define the family behind Björnson Vineyard in the Eola-Amity Hills.
Pattie and Mark Björnson met at the University of Minnesota in 1985. They married, raised four children, and worked in the Twin Cities until Mark's job brought them to Oregon in 2005. Their plan was to spend weekends driving the countryside in search of their dream – a vineyard site with forests and streams. Within months, they purchased a scenic 107-acre farm in the Eola-Amity Hills and set to work.
Before planting 15-acre vineyard, Mark and Pattie took vititculture and winemaking classes from Chemeketa Community College, and sought advice from neighbors and beyond. Whether it was tractor recommendations from nearby Bethel Heights or plant spacing suggestions from Patricia Green Cellars farther north, the couple knew they needed to surround themselves with sound guidance and great help, including John Grochau, Björnson's current winemaker.
"Oregon is successful because people realize they need to help each other," Pattie said.
Assistance was needed in the vineyard, too. Mark and Pattie's children were expected to pitch in, clearing rocks from the 15 acres of vineyard land. In return, the blocks were named after them. But as with most children, there was initial resistance. With plans to start with the oldest, Kaitlyn, Mark and Pattie changed their strategy when she refused to help move the rocks.
"I guess Dad meant it when he said if I didn't help they would name the block after my brother Kristjan." She ended up getting her block last, after her three younger siblings. Who could really blame her? They removed 400 tons of rock from just one of the blocks.
While they have been bottling their brand since 2009, the family continues to move rocks, plant vines — they recently purchased 245 acres in Perrydale Hills with plans to plant Riesling, Chardonnay, Gamay and Tempranillo — and expand the family business, selling much of their fruit to wineries around the Willamette Valley, all while Mark continues his day job in the health care industry.
This was the dream, though. When Mark and Pattie met in business school, everyone wanted high-powered corporate careers; instead, he dreamed of kids and a farm. Walking the property, he points out all the changes and plans. A creekside path is dotted with three-foot cedars Mark planted, and he stops to admire each one.
While balancing raising two kids at home — the other two are now in college — Pattie finds time to hone her winemaking skills. She has combined viticulture classes at Chemeketa, work in the lab at Bethel Heights and consulting from Drew Voit of Harper Voit Wines for a trifecta of training that will prepare her to make their own wine in their own winery, expected to be operational by this year's harvest — a tasting room will follow in 2015.
This "get 'r' done" attitude is ingrained in their family, and family is what inspires much of their work, including their special barrel select Pinot Noirs named after their grandparents. Each flavor profile is a reflection of personality. In vintages where the Pinots show certain attributes, the Björnsons honor their ancestors.
Edward was Pattie Björnson's grandfather, a fireman in Minnesota. Mark describes attending the Firemen's Ball with Edward.
"One of Ed's colleagues pulled me aside and said he remembered 'that old b*st*rd in the fire of '38 went up the ladder to the fifth floor of a burning building and carried a 300-pound guy back down.'" Pattie describes her grandfather, "He was intense, strong and quiet. When he said something, he meant it."
His essence is what the Björnsons aimed to capture in the 2012 Edward Barrel Select Pinot Noir. The wine is the strong and silent type with dark fruits, dried cherries, smoke, earth and Christmas spices. It pairs beautifully with lamb and promises continued improvement.
The 2012 Isabel Barrel Select Pinot Noir is named after Mark's grandmother and comes from the block named for Claire — the third child. Isabel graduated college in 1899 and began her teaching career in North Dakota. She and her sister, Margaret, also a teacher, had a master plan:
Phase 1: Each year they switched schools meeting everyone in the district. Phase 2: Turn those acquaintances into votes so Isabel could run for superintendent. In the meantime, Isabel married, so Margaret became superintendent.
Another story reflects Isabel's continued tenacity. Ever the lady, but one who knew her own mind, Isabel accepted a friendly offer from a fellow male teacher in charge of older grades on the second floor. He suggested if there were children she could not handle to just send them up to him. She pleasantly returned the offer that any students he could not handle should be sent downstairs to her.
Mark and Pattie feel the 2012 Isabel captures her "elegance, roundness and richness with soft tannins and high acidity." Bright and very spicy, this Pinot Noir is marked with dusty minerality, red fruit, baking spices and white pepper.
This attention to style and commitment to quality make Björnson wines special. In 2012, only two barrels (50 cases) matched the Isabel flavor profile, so that is all that was made. Other barrels were simply labeled "Björnson," a blend of estate fruit with other fruit from the AVA. Even the "entry level" is wonderful.
Mark and Pattie are still looking for the reflections of their other loved ones. Perhaps a rosé named after the very thrifty Güdbjorg; a big bold wine for Magnus, the town mayor, or maybe a fun wine for Maggie, Pattie's grandmother, who indulged Pattie's appetite for costly Thompson seedless grapes during summer visits.
While Mark and Pattie are still very young and hardy, their kids are already calling dibs on winery jobs when they take over the business. Hopefully, this means there will be wine from the Björnsons for many generations to come.
Björnson Vineyard
Address: 3635 Bethel Heights Road NW, Salem, OR
Phone: 503-877-8189
Website: www.bjornsonwine.com
Open to the public Memorial Day Weekend, Labor Day, and Thanksgiving weekend. Otherwise tastings welcome by appt.