Quite White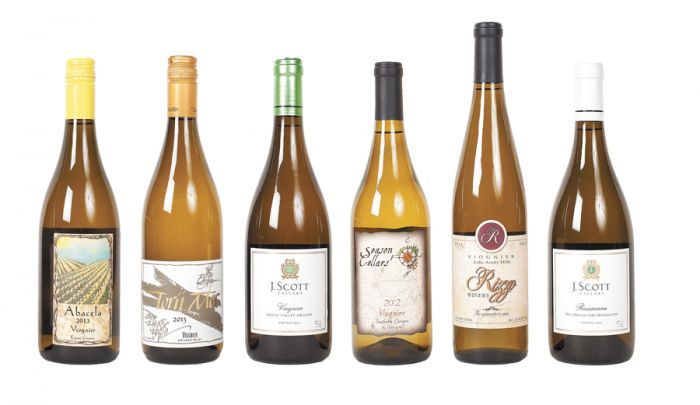 Viognier and Roussanne
Can you name the Rhône Valley's most well-known red wine? Châteauneuf-du-Pape, or "New Chateau of the Pope," is familiar to many. But what about the Rhone's most widely known white? That is quite another matter.
If you are reading this piece, it's likely you are one of those who have heard of, and likely even sampled, white wines made from the Viognier (vee-own-yay) varietal. However, that wine may not have been from the Rhône but rather from Oregon or California. Viognier has found a welcome home in the both western states.
Viognier has an interesting history. Although it's a low-production winegrape in the Northern Rhône Valley, it was once sought after, and it is the grape exclusively used to produce wines carrying the coveted Condrieu appellation.
But by the 1960s, Rhone wines in general had reached a low point in export popularity, and plantings of Viognier dwindled to only 30 acres before being slowly revitalized due to the growing global wine interest beginning in the 1970s.
This resurgence has seen Viognier vineyards in the Northern Rhône increase to more than 400 acres. Additionally, Australia, New Zealand and South Africa have joined Oregon and California in adopting the variety.
Today, California leads the way worldwide with upwards of 3,000 acres devoted to Viognier. Oregon, whose wine industry is less than two percent the size of California's, boasts more than 300. Sections of Southern Oregon are proving particularly hospitable for a grape that likes lots of warmth and sun during the growing season.
When attaining full ripeness, it rewards with fruity, spicy aromatics and a rich, full-bodied mouthfeel featuring melon and stone fruit. Although typically fermented to full dryness, Viognier delivers a fruity counterpoint with supply texture and weighty viscosity. A judicious touch of new oak can be complementary but, with acidity tending toward the low side, too much barrel time will overwhelm the fruit.
Roussanne and Marsanne white grape varieties are also native to the Northern Rhône. They are often blended together, with Roussanne providing acidity to complement Marsanne's soft, round flavor components.
The following six Value Picks, five Viogniers and one Roussanne, are excellent examples of both the quality and cost criteria sought by Oregon Wine Press.
2013 Abacela Estate Grown Umpqua Valley Viognier
This estate wine combines whole cluster pressing with sur lie barrel treatment to attain a near classic Condrieu-style wine. A perfurmed aroma leads to rich, full-bodied flavors featuring stone fruit and honeyed orange blossom. $25; 249 cases
2013 Torii Mor Applegate Valley Viognier
The Dundee Hills winery reached out to Southern Oregon's Applegate Valley west of Medford for the fruit. It delivers a light and lively wine whose grassy elements give way to grapefruit while hints of orange overlay the citrus. $20; xxx cases
2012 J.Scott Cellars Rogue Valley Viognier
Deriving depth from ripe Rogue grapes, this wine opens with perfumed briar and proceeds to bright acidity complementing a weighty presence surrounded by soft, round stone fruit. $20; 300 cases
2012 Season Cellars Southern Oregon Viognier
Leaving no Rhône stone unturned, almost all Viognier, 92 percent, sees a touch of both Marsanne, 6 percent, and Roussanne, 2 percent. Barely a blend, fascinating flavor attributes include tart apple, enticing honeysuckle and sour cherry. $22; 186 cases
2012 Rizzo Winery Eola-Amity Hills Viognier
Not much Viognier is grown this far north, but what is seems to have gotten pretty darn good. Fresh baked bread up front, sweet white chocolate in the middle and zesty tartness at the end. $19; 102 cases
2012 J. Scott Roussanne-Viognier
It took two states, 56 percent Oregon Roussanne and 44 percent Washington Viognier, to complete this big boy whose toasty butter aroma complements hints of dry hay and a mid-mouth full of ripe peaches. Balanced components bring it all together. $19; 250 cases
The Oregon Wine Press tasting panel has selected the following wines based on overall quality and value within their respective categories. To the best of our knowledge, they are currently available in the marketplace. Wine must be: 1) produced by an Oregon winery; 2) priced (retail) $30 or less for reds, $30 or less for Chardonnay, $30 or less for dessert and sparkling wines, and $25 or less for remaining varietals; and 3) currently available to consumers. Recommended wines were selected using a double-blind method and a 20-point ranking system for appearance, aroma, taste, balance and finish.