Lasting Legacy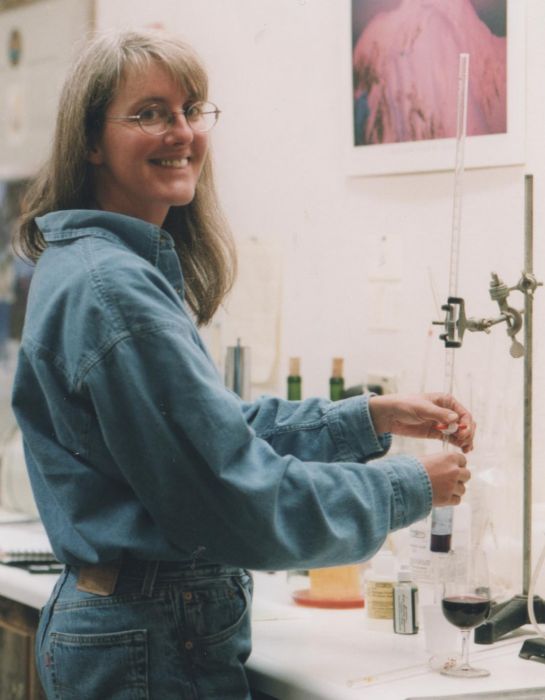 UCC scholarship named in honor of winemaker Sarah Powell
By Roberta Kent
Sometimes seeing a wine label brings back memories of past wines tasted. There it was on the shelf — a 2008 Pinot Noir under the Sarah Powell Wines label.
Sarah Powell is a legend among local wine-grape growers and winemakers. She was a pioneer in bringing wines from this region to a new level of excellence.
She became the winemaker at Ted Gerber's Foris Winery in the Illinois Valley in 1991. She had studied viticulture and enology at the Lycée Agricole de Mâcon-Davayé in Burgundy, France, received a degree in Fermentation Science at University of California, Davis, and had made wine in South Africa, Australia and at Hogue Cellars in Washington.
As Foris' winemaker, Powell transformed the way grapes were grown and wine was made in Southern Oregon. She brought with her the concept that truly great wines are made in the vineyard, not at the winery.
She was the first to promote low yields per acre (3 tons per acre or less), focusing on the quality of the fruit over the quantity. She visited her grape growers' vineyards throughout the growing season, rather than just at harvest, to check on the fruit's progress. Urging minimal manipulation during the winemaking process, she produced wines that always featured the quality of the fruit, rich and intense.
She was so successful that a bottle of Foris 1994 Maple Ranch Pinot Noir was served at a White House dinner in 1997. Her 1991, '92, '94, '96, '98 and '99 Pinot Noir vintages were featured at the International Pinot Noir Celebration in McMinnville. She received a James Beard Award for her winemaking in 1994.
Powell left Foris in 2001 to become a vineyard and winery consultant. She was the founding winemaker at RoxyAnn Winery in 2002. She also established her own label, Sarah Powell Wines, in 2003 while at RoxyAnn.
Powell died of cancer in January 2004 at the age of 42. Her philosophy behind grape growing and winemaking lives on in Southern Oregon.
After her death, Powell's family continued her label, using grapes sourced from Southern Oregon vineyards and partnering with Powell's good friend, Willamette Valley winemaker Laurent Montalieu.
To keep Powell's legacy alive, her family established the Sarah Powell Memorial Viticulture and Enology Scholarship Endowment to fund a wine-industry internship in conjunction with Umpqua Community College's Southern Oregon Wine Institute. With the cooperation of distributor Summit Beverage of Medford, $1 from every bottle sold of Sarah Powell Wines 2008 Pinot Noir will go toward the endowment.
The 2008 Pinot Noir is made from grapes from Windridge Vineyard, close to Foris, in Cave Junction. The wine received a silver medal at the 2013 World of Wine Competition. It has a pleasant acidity, but it really needs to be opened — to "breathe" — a half-hour to an hour before drinking to maximize its lovely blackberry and raspberry scent and to fully taste its subtle fruit. It has a 13.7-percent alcohol content.
Retail price is $16.99, and it is available in Southern Oregon at Harry & David Country Village, The Jacksonville Inn, Market of Choice, Ashland Wine Cellar, Rogue Creamery, Medford Food Co-op, Gary West Artisan Smoked Meats and SOS Pear Station.
Roberta Kent is a freelance writer living in Ashland. Reach her at rbkent@mind.net.