Turning It Around
Respected tasting bar manager strikes out on his own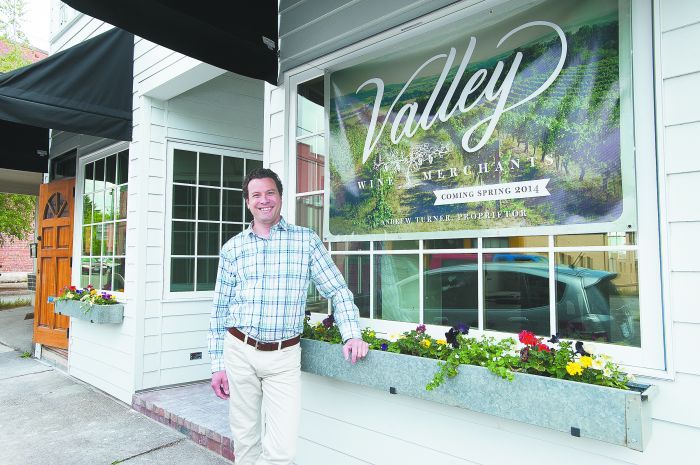 In December 2013, when Ponzi Wine Bar moved its focus from Ponzi wines plus labels representing neighboring valley to just promoting the family's brand, Andrew Turner lost his job. But, what he found was an opportunity.
Having managed the wine bar for a decade, Turner witnessed the success of a highly curated wine shop in the middle of wine country. "I just thought if [the Ponzis] don't want to do it, I should grab the baton and run with it."
Inspired, Turner sprinted into action, landing just down the street — Highway 99W — in Newberg. There, he started setting up shop.
Named Valley Wine Merchants, the retail store will articulate his passion for wine, which was already engrained before joining Ponzi. It began in his teens when he started working in kitchens in Southern California and continued to grow after graduating from the California Culinary Academy.
"For 18 years, I worked in kitchens around the world," Turner said. "Early on, my interest in wine really followed my career. I loved to explore wine in my off-time. I've lived in both Napa and Sonoma, and the south of France. I lived in Alsace for a few months. My cooking career always took me through great wine regions."
A chef position was not the impetus for Turner's move to Oregon; instead, it was a lofty checklist he created with his wife, Michelle Lipka, which included wine — specifically Pinot Noir — fresh ingredients and affordable housing — the couple had yet to buy their first home.
"When we visited Oregon from New York, not only did it fulfill everything on our checklist, but it also went beyond that," Turner said. "It truly is the first place, out of all the other places that I've lived, that feels like home."
During one of their trips, the couple ate at the Dundee Bistro. After lunch, Turner checked out the adjacent Ponzi Wine Bar, where his predecessor, Tom Sitka, helped him ship some wines back to New York.
"We just had an amazing experience," he said. "I thought to myself, wow, if I can afford it, I would love to work with these guys and learn about the local wines. I was joking with my wife that if money were no object, I would do it for free.
"And then, about six months after moving here, there was a help wanted ad out for a tasting room manager for the Ponzi Wine Bar."
A decade later, Turner is striking out on his own. Inside Valley Wine Merchants, you'll find local wines, but you'll also discover smaller selections from his old stomping grounds: Napa, Sonoma, Burgundy and others.
The store's tagline, "The best of this valley and beyond," validates the variety present on the shelves, but the major focus is, no doubt, Oregon Pinot, including an exciting collection of half bottles and older vintages, some uncorked for tasting.
"We will have a cellar selection open on any given day under preservation," Turner explained. "So you will get to come in and taste wines like 1995 Domaine Drouhin Oregon. We will be able to tell you the story of the vintage, how the wine was made, etc., giving you a unique experience."
Adding to the customer's experience is the space itself, which was built in the early 1940s featuring beautiful hardwood flooring refinished to its former glory. Not original to the building is the larger portion of the L-shape bar, a 9-foot-long slab of redwood that Turner's grandfather gave him about a decade ago.
From his past, Turner's culinary know-how is also on display in the new shop. Guests can purchase items from his small but impressive menu featuring local charcuterie, world-class cheeses and accompaniments like house-cured pickles and more.
Although food is not part of the shop's online presence (www.valleywinemerchants.com), Turner is asking for some nuggets of advice from fellow wine workers, offering them the chance to suggest international selections.
"I am asking colleagues around the valley to help me pick a wine that they are excited about," Turner said. "Whether it's a Spanish Tempranillo or a great little white from Burgundy, these wines will push us outside our comfort zone."
The zone meaning Oregon, the place Turner happily calls home.
Expected to open June 1, Valley Wine Merchants, 112 S. College Street, will be open 11 a.m. to 7 p.m., seven days a week.