Union Buys Amity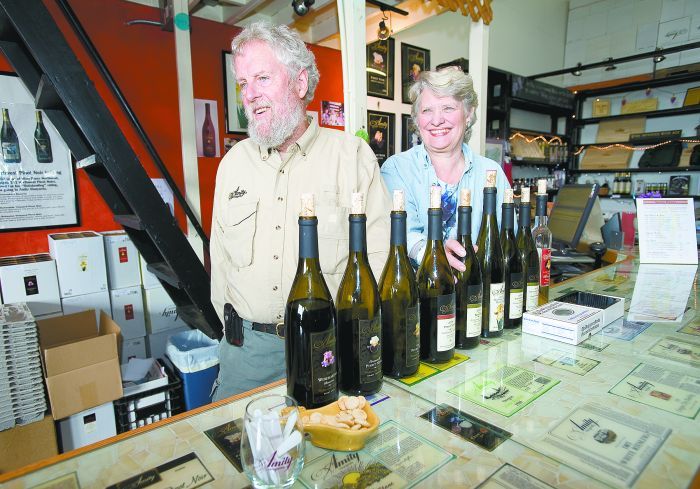 Founder sells Amity Vineyards to Union Wine Co.
By Karl Klooster
Oregon wine pioneer Myron Redford has sold Amity Vineyards, the winery he founded 40 years ago, to Ryan Harms, owner of Union Wine Company in Tualatin.
Although purchase price and other financial details were not disclosed, Harms now owns the name, winery, wine inventory and 13.5 acres of estate vineyards adjacent to the winery.
Established in 1974, Amity was among the pioneering wineries in Oregon and has remained under original ownership by Myron Redford, his wife, Vikki Wetle, and partner, Janis Checchia. Their first wine was released in 1976, the same year new owner Harms was born.
The winner of numerous awards over the years, Amity specializes in Pinot Noir, including an organic, sulfite-free bottling, as well as Pinot Blanc, Gamay Noir and Riesling. Annual production in recent years averaged 10,000 cases.
Harms built Union Wine Company and Christopher Michael Wines from a modest base in 2005 to 60,000 cases in 2012, and 99,000 cases in 2013.
Continued expansion nationwide is underway with its Alchemist, King's Ridge and Underwood brands, including the introduction of wine in cans under the Underwood label.
Harms related how he and Redford first met at an Oregon Pinot Camp in 2004 and immediately struck up a friendship.
"I asked him what he thought about all these young guys nipping at his heels," Harms said. Redford jokingly replied, "They're not nipping at my heels, they've got me by the leg and are dragging me to the ground."
"Little did we know at the time it would lead to this," Redford said. "I'm very happy. It's so good to know that I'm selling to a local group, not a big corporation.
"Ryan is interested in the brand and its history and wants to build on it. He has the energy and desire to carry it forward, and I'm grateful for that."
Harms said he is dedicated to maintaining the heritage of Amity Vineyards. Amity will continue to be run as a free-standing brand, he said.
"I can't imagine what it was like for that first generation doing everything from the ground up. But it's great to have the opportunity to build on that, and I'm looking forward to being a part of it," Harms said.
Discussions about the purchase began last summer and continued through the fall until a letter of intent was signed on Nov. 14, 2013. The deal was finalized Friday, April 25.
"Acquiring Amity is an opportunity to fulfill my larger commitment to the Oregon wine industry," Harms said. "My hope is to raise the profile of the varietals that Myron introduced to Oregon more than three decades ago."
Speculating about Amity's future, Harms said he is especially interested in focusing on Gamay Noir, the Beaujolais varietal championed by Redford when others were reluctant to take the risk.
"For me, this acquisition represents the melding of old and the new," Redford said. "Ryan brings the spirit of the younger generation and partners this with a passion and respect for the traditions of Oregon. It's a good arrangement for both of us."