Must-See in Salem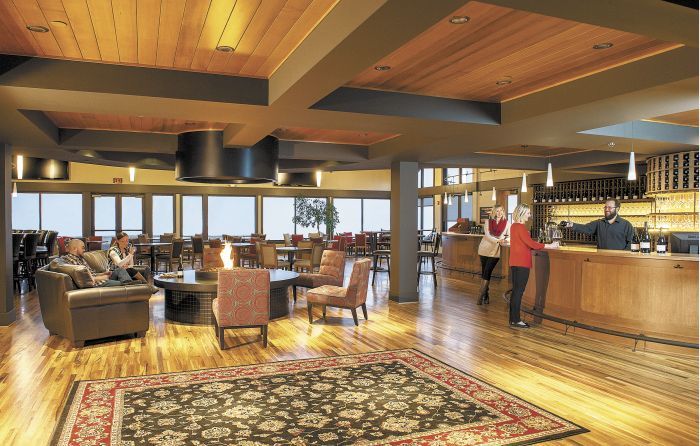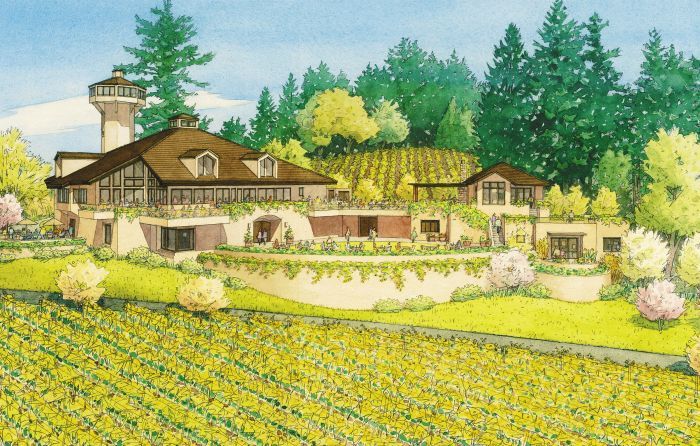 By Hilary Berg
While Oregon's wine country continues to grow, long-established wineries are evolving with the times. Both Ponzi Vineyards and Sokol Blosser modernized by creating new, ultra-sleek tasting rooms in 2013; and now, after two years in the planning process and breaking ground last April, Willamette Valley Vineyards (WVV) joins the growing list of destination-worthy wineries.
Established in 1989 by founder Jim Bernau, WVV boasts more than just a transformation to its brick and mortar; the changes have focused on enriching the guest experience. In order to achieve this goal, the Salem-area winery expanded its tasting room by combining the existing space with the former Estate Room — used primarily for weddings and events. The floor plan now presents a large, open area, flowing around not one but three tasting bars.
The chef's pairing bar — the most impressive of the three — showcases the talents of Chef Eric Nelson, a former exclusive private chef in Colorado. Behind the bar, he executes inspiring dishes in front of guests; all food items are designed with specific wines in mind. Fifteen seats offer an up-close experience, including observing the vine- and wood-fired oven used for flat bread offerings and other items. An adjacent dining area allows even more visitors to enjoy lunch or early dinner (11 a.m. to 6 p.m.), and the menu includes about eight rotating seasonal options, again, all meant to be paired with the wines.
"Everything we are doing is with a wine-focus, so we are trying to limit the use of the word 'restaurant,' because it is not a traditional full-service restaurant," said Christine Collier, WVV direct sales manager. "There isn't profitability in the food; it is just to create a world-class, destination-worthy atmosphere.
"When people enter, they are greeted by a tasting room concierge to determine the best experience, because the last thing we want to do is to take a wine customer and turn him into a lunch customer," Collier added.
When interviewing candidates for the chef position, WVV was impressed with Nelson's ability to create personalized fare, a huge bonus for a winery so dedicated to its individual club members.
The largest in the state, WVV's wine club is approaching 5,000 members, not including shareholders, who also receive perks. "Our wine club members are our most loyal customers, so treating them special was the most important part to us," Collier said. "The new tasting room was designed with members in mind."
Exclusively for its members (and shareholders), WVV created a private room where special food offerings will be offered and events hosted. With the addition of the pairings bar, members can now attend after-hours events like cooking classes or "Pinot and Pie Under the Sky," during which the winery will offer flatbreads and Pinot until 8 p.m., allowing members to enjoy the sunset at the estate.
Members or not, all guests can view the surrounding scenery from the winery's three new tiered decks, allowing them a closer look at the vineyard; new glass railings and comfortable furniture add to the view-friendly atmosphere. The additional patio space triples WVV's outside entertaining area, which during the summer months undoubtedly will be a popular place to sip and soak up some sun.
Below the decks, WVV's courtyard offers yet another outdoor space for visitors. From this grassy level, one can enter the underground barrel cellars, but, they are only accessible by tour — another member-only benefit. Doubled in size, the additional space gives winemaker Don Crank and his crew more area to age the winery's internationally distributed Pinot Noirs.
Accessible through an inside spiral staircase, Bernau's new office is nearby, as well as a wine vault, storing and displaying older vintages and large formats — again, only WVV's best customers can view this exclusive gem of the new remodel.
WVV also added two on-site suites reserved solely for special guests — trade, media, wine club members. Because the winery is not in the lodging business, each suite has a wine-purchase commitment ranging from $300 to $500.
Whether you already are or want to become a WVV club member, an Oregon wine fan or simply want to try a new lunch spot, a trip to the new WVV is now in order.
To those lamenting the previous version from a nostalgic perspective, I remind you "change is inevitable."
For WVV, change is also a very good thing.