All in the Wine Family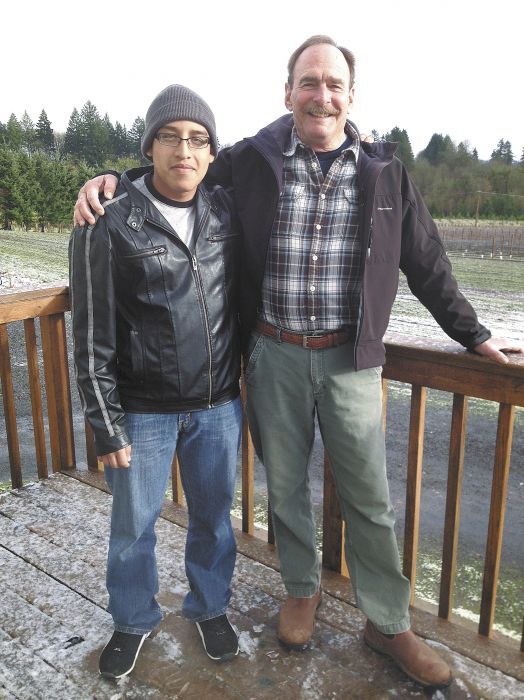 By Karl Klooster
After Oregon wine pioneer Dick Erath sold his winery to Ste. Michelle Estates in 2006, his mind began pondering what to do with the rewards of his successful efforts over a period of almost 40 years.
He continued to manage his prized Prince Hill Vineyard on Worden Hill Road in the heart of the Dundee Hills. And he began concentrating greater efforts on a 40-acre vineyard he first planted in 2004 just outside the small town of Willcox in southeastern Arizona.
Naysayers have derided this as a foolhardy venture. "You can't grow winegrapes in Arizona," they say. But Erath has heard it all before. "They said exactly the same thing when I came to Oregon in 1968," he scoffed.
At his Cimarron Vineyard in the tiny farming community of Kansas Settlement, Erath is experimenting with Italian varieties: Sangiovese, Nebbiolo and Montepulciano, as well as Zinfandel, which has Italian ancestry.
"You select grape varieties most suitable to the growing season you have," Erath said. He feels that Sangiovese, the Chianti grape, could make an elegant wine on this sloping, high desert terrain. Spain's Tempranillo is also high on his list of promising varieties.
Erath is seeing evidence of his initial expectations that several southern European winegrapes will thrive in the hills of southeastern Arizona as they have in the hills of Tuscany and northern Spain.
These endeavors aren't, however, the culmination of Erath's already considerable contribution to the wine world. In 2008, he laid the groundwork to establish a foundation whose mission is to help advance young people's knowledge of winegrowing and winemaking.
To achieve this objective, he proposed to provide 50/50 matching funds for winery owners willing to assist in paying to further the formal education of a selected employee or employees. The plan came to fruition in 2012, when the Erath Family Foundation began partnering with Chemeketa Community College. Now called the Willamette Valley Viticultural Scholarship, it is coordinated by Nancy Duncan, director of development for the Chemeketa Community College Foundation.
Particular encouragement is given to students whose first language is not English. This is where Chemeketa's English for Speakers of Other Languages (ESOL) enters the picture. Gaining greater proficiency in English is an important element of the Erath scholarships, but it is only part of a mission rooted in the school's highly acclaimed course of study in viticulture and enology.
Developed and refined over the past 15 years, Chemeketa's wine studies program began in 1999. It took a quantum leap in 2002 with completion of the Northwest Viticulture Center — now the Chemeketa Wine Studies Center — just west of Salem, at the southern end of the Eola Hills.
Working in a state-of-the-art winery and tending a seven-acre, test vineyard immediately adjacent to the facility, teaches students skills learned only in a hands-on environment. As the school summarizes it, "Estate bottled wines are produced by winemaking students from grapes grown and managed by vineyard management students."
The scholarship will match up to $2,000 for any winery employee who would like to attend, or is currently attending, Chemeketa's Wine Studies Program and/or any Chemeketa ESOL or ENL classes. Students may work toward earning a vineyard operations certificate, a vineyard management degree, a winemaking degree and a wine sales and marketing degree
Duncan said since the scholarship program began in the fall of 2012, eight employees and eight students have already participated, with six more signed up for the coming year.
She emphasized connecting with vineyard and winery owners to discuss the value of the program to themselves and their employees. It's both a near and a long-term investment.
"Our goal is to support vineyards' and wineries' investment in educational opportunities for their employees," Erath said. "By training the next generation of vineyard managers and winemakers, we're ensuring the success of this booming Oregon industry for years to come."