Equinox = Excellence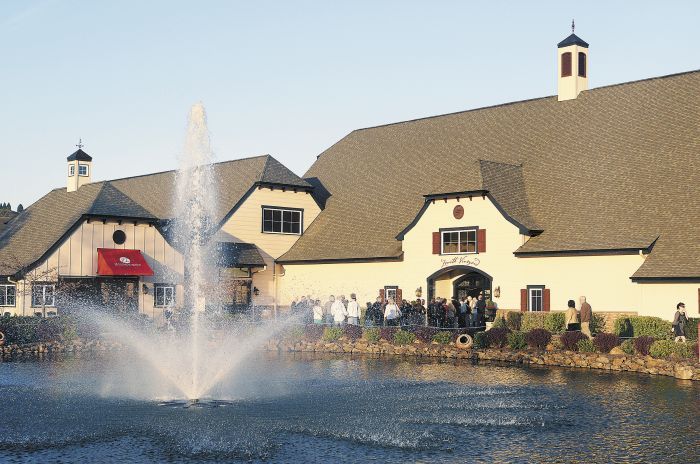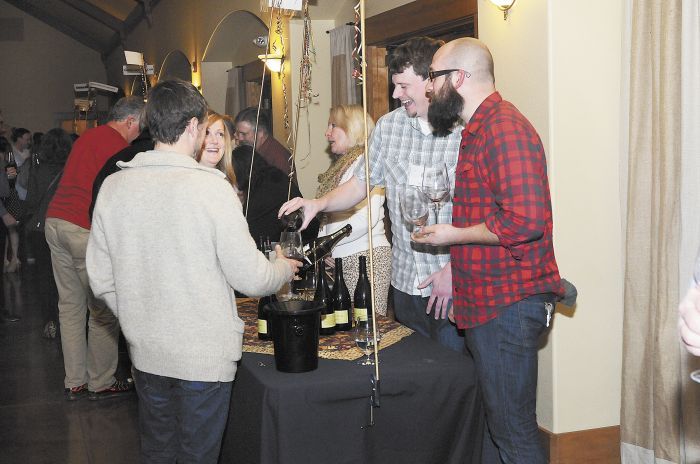 By Jade Helm
Quality wines and stunning vistas combined with a warm, welcoming winemaking community to celebrate the sixth annual Equinox in the Eola-Amity Hills, hosted on March 22 in the grand ballroom of Zenith Vineyard.
"For those seeking to understand the terroir of Eola-Amity Hills, Equinox is a unique opportunity to get a complete and varied view of the wines of the AVA," said Zenith owner Tim Ramey.
All wines poured were either from Eola-Amity Hills wineries or contained fruit grown in the AVA, with more than 80 vineyards and approximately 2,400 acres planted to vines. Representatives from 29 wineries offered tastes to approximately 300 attendees, who sipped and mingled with winemakers, growers and winery staffers eager to discuss wine.
Throughout the evening, guests learned about the wines first hand from the proprietors and winemakers. Pattie Bjornson of Bjornson Vineyard shared the story of her grandfather, Edward, after whom their Edward Barrel Select Pinot Noir was named. Rachel Rose, vineyard manager/winemaker at Bryn Mawr Vineyards, led tasters through the differences in the Jeffrey's Block and Krista's Block Pinot Noirs. John Zelko, proprietor/winemaker at Z'IVO Wines, shared the history of his special Pinot Blanc, while guests savored the complex flavors — this particular Pinot Blanc clone is used to make wine in only two places in the world: Burgundy and Eola-Amity Hills.
Attendees also tasted vintage variation. Several wineries sampled their 2012 Pinot Noirs; among them were Bethel Heights, Keeler Estate, Red Hawk, St. Innocent, Stangeland, Toluca Lane and Zenith. This vintage, while capable of aging, has been a crowd pleaser upon release, an interesting juxtaposition with 2011 Pinot Noir from Evesham Wood and Lewman Vineyard, among others; the "miracle" vintage will definitely gain in popularity as it ages. A handful of additional wineries, such as Mystic and Calamity Hill, poured 2009 Pinot Noirs, also a stellar vintage.
The beginning of spring is the perfect time to sample white blends and rosés, all well represented at the event. Styles ranged from Zenith's White Veil to Antica Terra's Erratica Rosé — so deeply colored, it was more of a light red than pink. Cubanísimo Vineyards poured its popular Rosado de Pinot Noir; Duke's, its Blushing Kate Rosé; and Cherry Hill, its Vanda — named for the rosy orchid. Guests were treated to Mark Vlossak's story behind Oeil de Perdrix (Eye of the Partridge). What started as a "happy accident" has become a happier success. St. Innocent sells out of this delightful barely blush Pinot Noir ever year.
Other varieties included Chardonnay — a growing movement in the Oregon wine scene — as represented by Bethel Heights, Cristom, Methven and Witness Tree; Riesling from Brooks and Argyle; and Pinot Gris from Calamity Hill, Chemeketa Community College, Keeler Estate and Redhawk. Orchard Heights' fruity, spicy Gewürztraminer was a standout along with a Grüner Veltliner from Willamette Valley Vineyards. On the red side, Holloran showcased two Eola-Amity Hills Tempranillos. Co-owner Eve Holloran attributes the surprising success of this varietal to her vineyard's microclimate and the clones selected.
As tasters moved from table to table, so many interesting connections were made among the wineries. For example, Evening Land Vineyards' Seven Springs Estate shares a deer fence with Bjornson, and John Grochau of Grochau Cellars showcased two Pinot Noirs with fruit from Zenith and Bjornson. Undoubtedly, guests left with a better understanding of how the wineries and growers work together.
Wine without food is considered a sin in some circles, so delicious delicacies were offered throughout the evening. The Crooked House Bistro, Joel Palmer House, Willabys Catering, Vibrant Table, Loustic Catering and Willamette Valley Cheese Co. enticed guests with fancy fare to complement the wines. Subterra Restaurant circulated with impossible-to-ignore appetizer trays — they could wrap bacon around cardboard and make it tasty. Tamami Chocolates made the perfect sweet ending.
"Our goal is to provide a great night of food and wine in a beautiful setting," said Ramey.
Mission accomplished.