Good Beer = Great Wine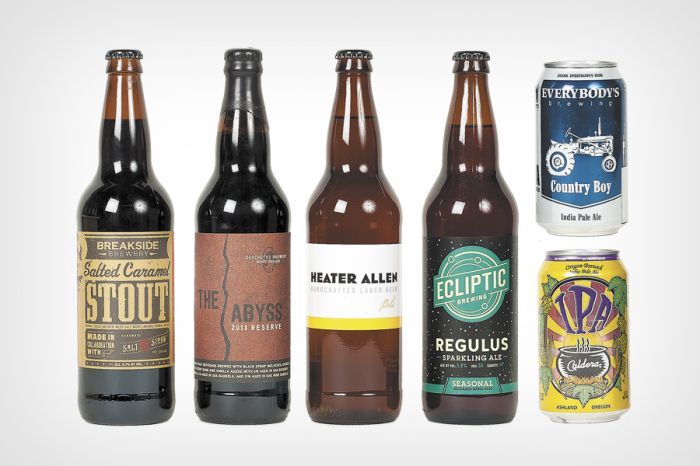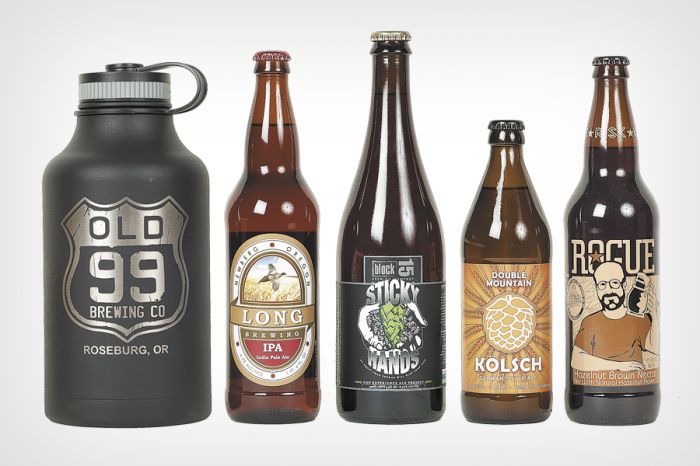 The saying, "It takes a lot of good beer to make great wine," is true. Most winery people appreciate a pint after a long day of pump-overs, punch-downs, blending, bottling, etc. Another adage, "Beer after wine and you'll feel fine" reinforces the aforementioned sentiment, establishing the premise for this month's Empourium: beer. Specifically, Oregon microbrew.
Across the state, the brewery scene is so vast and growing fast, it's hard to keep up with the latest and greatest, especially when you are surrounded by vineyards, so OWP asked wineries to share their most recent foamy favorites.


Paul Beck, Winter's Hill, Dayton
Breakside Brewery (Portland)
"It's hard to find well-made stouts in Oregon, which is big on IPAs. Breakside does a great job with their many IPAs, and also make some of the best stouts I've found."
Beer Rec: Salted Caramel Stout
"They add both sea salt and a specially made caramel to this full-bodied stout. The finished beer is rich and balanced with a luscious caramel flavor in the aroma and mid-palate, a hint of salt in the finish, and a smooth roastiness. I like it because it's a twist on stout. The salt really adds something special to the finish of this one."
---
Tim Thielen, Argyle, Dundee
Deschutes Brewery (Bend)
"Deschutes is a pioneer in Oregon and a staple of the future for more unique beers to come. Not to forget to mention, they helped pave the way for the Oregon beer industry as it is today. Fantastic!"
Beer Rec: The Abyss
"Its limited availability puts it into the cult status of elite beers. The Abyss is a dark Imperial Stout that pours similar to the viscosity of warm honey. With chocolate, coffee, malt, licorice and cedar notes, this beer screams "Drink me slowly," as to not miss its intense flavors. Cellaring, like a fine wine, will reward the drinker with more notes of dark cherry, fruitcake, cashew and truffle."
---
Marcus Goodfellow, Matello Wines, McMinnville
Heater Allen (McMinnville)
"The beer is great and it's local."
Beer Rec: Pilsner
"Perfectly balanced, fresh, grainy notes and bright — not bitter — hop impact. I love the weightless, clean, fresh and refreshing way this beer tastes."
---
John Olson, TeSoAria, Roseburg/PDX
Ecliptic Brewery (Portland)
"The owner/brewer is John Harris, a legend in the Oregon Craft Beer movement. Lucky for us, the brewery is only blocks from our Portland tasting room."
Beer Rec: Regulus Sparkling Ale
"The beer is made with 1 percent fresh Riesling juice — right out of my press — from my estate vineyard. It is crisp and refreshing with the tiniest hint of the wine's aromatics."
---
Ryan Marshall, Marshall Davis, Carlton
Everybody's Brewing (White Salmon, WA)
"This place has it all: great food, beer, cool T-shirts and hats, and an awesome patio with a view of the Columbia Gorge. Oh, and they can their beer!"
Beer Rec: Country Boy IPA
"Hop city. But balanced. Truly, a great Northwest IPA."
---
Carole Stevens, Folin Cellars, Gold Hill/Carlton
Caldera Brewing Co. (Ashland)
"Besides having really great beer, their brewmaster is a really cool guy. They are innovative and progressive but still remain loyal to their local fans."
Beer Rec: IPA
"The beer has a floral/citrusy note to it and does not shy away from the hops. Both in the nose and on the palate you get great grapefruit components, a bit of the bitter hops, but overall a fruity, fresh brew. Plus, I love that it comes in a 12-ounce can!"
---
Paula Caudill, Abacela, Roseburg
Old 99 Brewing Co. (Roseburg)
"Not only do they have great beer and great owners (three couples), but they have great marketing to back them up and help them succeed. They also now have barbecue delivery — via text — from local restaurant Smokin' Friday BBQ."
Beer Rec: Infrared NW Red Ale
"This is my favorite. Deep red, hoppy, rich, textured, balanced with good length and finish. Yum!"
---
Cliff Anderson, Anderson Family Vineyard, Newberg
Long Brewing (Newberg)
"Before he went commercial, Paul Long repeatedly won the National Amateur Brewing Contest and most of the categories from light lager to porter. He is a past winner of the Ninkasi Award (2005). He's also an accredited beer judge. Most importantly, what makes Long beer unique is the painstaking care he puts into each batch, creating multiple layers of flavor, from aromatics to finish."
Beer Rec: IPA
"Why is his IPA so good? Because he makes it the way a skilled winemaker makes wine. To my palate, none does it better than the IPA. Like fine wine, it isn't cheap. But, life's also too short to drink cheap beer."
---
Joe Wright, Left Coast, Rickreall
Block 15 (Corvallis)
"B15 always has something novel, exciting and fresh any time you walk in. All brews are dependably unique, innovative and well made."
Beer Rec: Sticky Hands IPA
"Pine, citrus, fresh hoppy IPA aroma. Fragrant, bright and perfectly balanced with the malt that leaves almost zero bitterness after the initial hop explosion! I'm pretty much over IPAs, but this one keeps me coming back for more."
---
Michael Merriman, Merriman, Carlton
Double Mountain (Hood River)
"I think I can speak on behalf of Erik Brasher, winemaker at Merriman Wines, as well as myself when I say our favorite Oregon brewery is Double Mountain Brewery."
Beer Rec: Kölsch
"This ale/lager hybrid style from Cologne, Germany (Köln in German, hence the name) is not easy to make. The tricky part is keeping it a lager style, but showing an ale-like body. This beer nails it. The crispness from the lager yeast is followed on the mid-palate to finish by the maltiness of the ale. The kicker though, is perfect hoppiness. It's got the aromatic hoppiness that is lacking in almost all beers of this style. Prost!"
---
James Falvey, Stoller Estate, Dayton
Rogue Brewery (Newport)
"I love Rogue Brewery for many reasons. The variety of beer is great, so many to choose from, and local as local can be! Such a great theme with the names of all their beers and the brewery culture is amazing. The food is great, too!"
Beer Rec: Hazelnut Brown Nectar Ale
"Dark brown ale with an amazing hazelnut aroma and nutty flavor. Very smooth and great finish. I also found this beer in a pub in Dublin, Ireland; the locals were enthralled!"