Dundee's Draw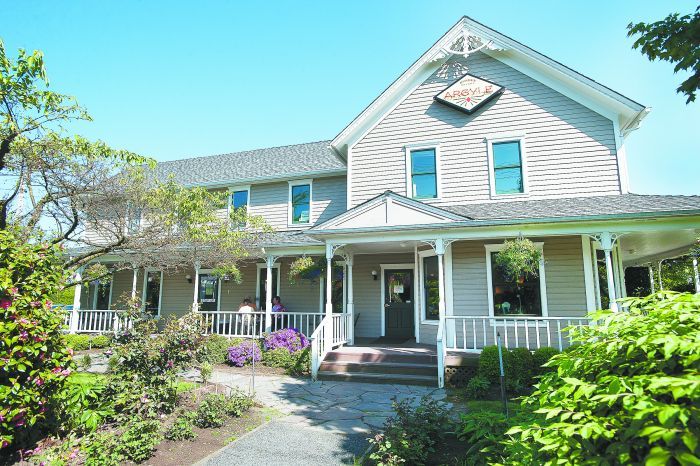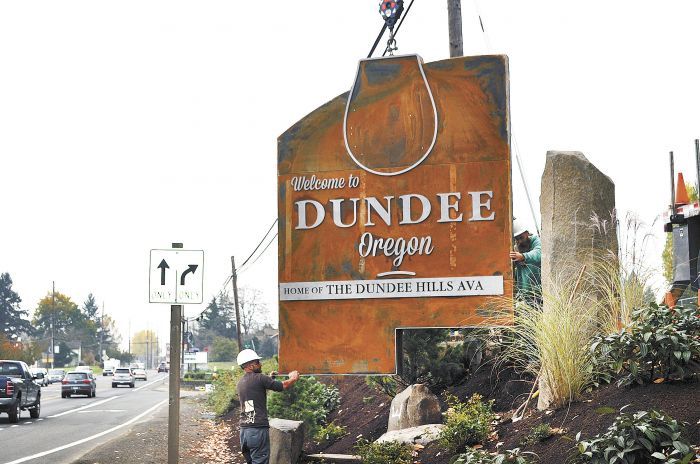 By Karl Klooster
In case you haven't noticed, Dundee, which occupies a long, narrow strip of commercial Highway 99W frontage two miles west of Newberg, has been slowly but surely transforming itself into a truly wine-centric community.
With the addition of NW Wine Company in 2011, Dundee is now home to four of Oregon's largest wineries. The state's 20 biggest wineries account for an outsized share of Oregon's total production, and these four account for almost 40 percent of the top 20's production.
And talk about tasting activity. The town can now claim a dozen tasting rooms, representing wineries from as far away as the Walla Walla Valley, Columbia Gorge and Southern Oregon.
Originally developed around a rail junction, Dundee has taken a whole different track than what was originally intended by Scottish railroad entrepreneur William Reid, who named it in honor of his Scottish hometown in 1887.
For decades after the demise of Reid's Oregonian Railway, an ever-increasing number of horse- and horsepower-conveyed travelers passed through, only occasionally stopping to patronize a business on its sparse commercial strip. Then, in 1987, Argyle Winery, which got its start as the Dundee Wine Company, took over an old nut-processing plant adjacent to the highway.
Argyle's tasting room pours award-winning wines, led by its internationally acclaimed Méthode Champenoise sparklers. It has become one of the busiest, if not the busiest, tasting room in the state, welcoming visitors from around the world.
The Yamhill Valley's evolution into the heart of Oregon wine country was rapidly gaining momentum, and with it the realization that Dundee occupied a unique position. Tourists streaming into the valley were funneled into a narrow corridor when they reached Dundee, forcing them to pokily parade past a mile and a half of easily accessible roadside real estate. Daily traffic backups eventually earned chokepoint notoriety as the Dundee bottleneck. But the slower pace proved a boon to at least some local businesses.
Two restaurants took advantage of the situation early on and have gone on to attain near iconic status. In the spring of 1991, Richard and Nancy Gehrts launched Red Hills Provincial Dining in a charming Craftsman house at the east end of town. In the fall of the same year, David and Tina Bergen opened Tina's, a French bistro so tiny it quickly undertook an expansion.
The Ponzi family, of pioneering wine fame, contributed to delectable dining by opening The Dundee Bistro and Ponzi Wine Bar in 1999. They built a striking structure, featuring a Neo-Tuscan style, the first addition to central Dundee in years.
In 2005, the 12th & Maple Winery and the Dundee Wine Station — the latter now home to Dobbes Estate and Wine by Joe — began operation. Both were designed to serve custom-crush clients. Sprawling former crop-processing facilities allowed them plenty of room to expand. The 75,000-square-foot 12th & Maple plant once housed a hazelnut-processing operation.
By 2013, the custom-crush operator had become Oregon's third largest winery, with a production capacity of 217,000 cases. NW Wine Company ranked fourth at 165,000 cases and Dobbes sixth at 126,400.
Founded in 1993, Duck Pond Cellars, at the eastern entrance to Dundee, produced 62,000 cases in 2013. That made it the state's 10th largest winery.
Argyle and Duck Pond operated the only tasting rooms in town until A to Z Wineworks arrived, first opening an office on the strip, then a tasting room.
A to Z eventually moved its tasting room to REX HILL Winery, which it acquired in late 2006. But other tasting rooms emerged, showcasing the wines of Hood River's Cathedral Ridge, Roseburg's Spangler, Milton-Freewater's Zerba and locals Hawkins Cellars, Lange Estate's Domaine Trouvére and Le Cadeau/Aubichon Cellars. And that doesn't even count NW Wine Company's Hyland Estates, or all the wineries with tasting rooms in the Red Hills rather than at the foot of them.
The Four Graces is perhaps the lone 'tweener' in this group. It offers tasting just east of Dundee, grows grapes just up the hill and produces wine at the NW Wine Company plant just down the road. Sokol Blosser and Archery Summit have accesses from Highway 99W at points just west of town. Most of the others are reached by ascending into the Dundee Hills AVA from either Worden Hill or Breyman Orchards roads. Visiting all of them would be a several-day undertaking.
On or just off Worden Hill lie Cameron, Barrel Fence, Winderlea, Crumbled Rock/Deux Vert, Torii Mor, Lange Estate, Maresh Red Barn, Erath and Bella Vida. On or just off Breyman Orchard, you have Durant/Red Ridge Farms, Domaine Drouhin, Domaine Serene, De Ponte, Vista Hills, Winter's Hill, White Rose and Wine Country Farm/Armonéa.
Yes, the Breyman Orchard bunch has Dayton addresses, a mere technicality. They are all located in the Dundee Hills, as is Stoller Family Estate.
Dundee's most prominent commercial building was completed at the western end of town in June 2009. It has been home to the Inn at Red Hills ever since, now augmented by a four-winery tasting room called Dundee's West End, including Evening Land, Le Cadeau, Tertulia and Angela Estate.
The building's restaurant has undergone a change in ownership. Restaurant Paulée, launched in 2012, closed at the end of 2013. The owners of Gubanc's Pub in Lake Oswego, a successful eatery since 1976, opened their second Babica Hen breakfast in late February.
Red Hills Market, a purveyor of gourmet foods and beverages, opened in March 2011. The owners refurbished and repurposed an old building just off Highway 99W, and quickly attracted an appreciative clientele, thanks to their imaginative approach.
Garnering rave reviews for just about everything it does, from deli to catering, oven-fired pizza to roasted potato and celery root soup, this classy market, deli and café appears to be a success story in the making.
Owing in large measure to the wine industry, the revitalization of Dundee seems to be on the right track as well. And here's hoping it stays that way with the scheduled 2016 opening of the long-awaited Newberg-Dundee Bypass.