Forty Miles to Portland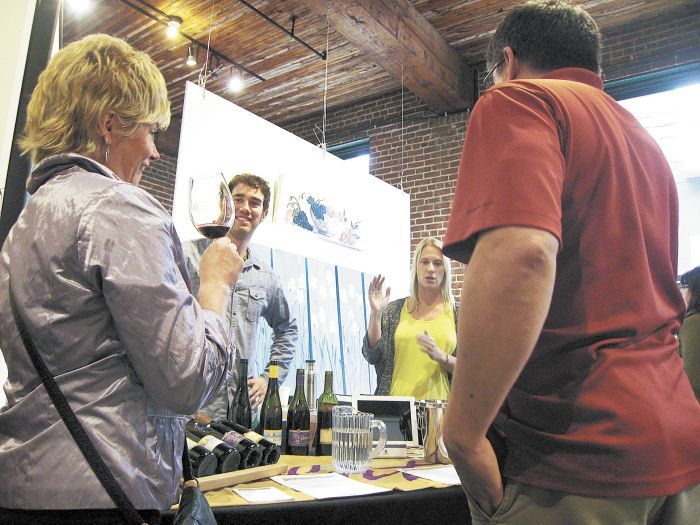 By Mark Stock
Cerulean Skies' new satellite tasting room in Northwest Portland hosted its fellow Columbia Gorge producers on April 4 as part of the region's sixth annual Passport Month. Organized by the Columbia Gorge Winegrowers, the Grand Tasting began four consecutive weeks of wine-themed gatherings offered by more than 20 labels, spanning two AVAs (American Viticultural Areas) and numerous varietals.
The scenic territory, starting some 20 miles east of Portland, has long been celebrated for its countless waterfalls, rugged trails and whitecap-adoring windsurfers. More recently — thanks to experimental vineyards planted in areas formerly ruled by orchards — the area has been prized for its wines.
"A world of wine in 40 miles," is the appropriate slogan for this diverse stretch of vineyard land from the green and wet foothills of Hood River to the vast, arid slopes beyond The Dalles. The spectrum of Gorge varietals was on vivid display at the recent Portland gathering, with two dozen representatives from both Oregon and Washington.
Most of the fruit in the Gorge is grown on the Washington side of the Columbia River at elevations exceeding 1,000 feet. A quick glance at the topography says why; the Oregon side features dramatic rock faces more suitable for a colossal fortress than agriculture. Many of the Oregon producers utilize estate fruit, but the majority is grown across the river on gentler land in loamy, volcanic soils. Approximately 30 varietals are grown within the aforementioned 40-mile stretch, from the alpine and mountainous western edge, to the dry and desert-like rain shadow cast by the Cascades.
The one-two punch of wine set in the real-life equivalent of a Thomas Moran painting is a difficult secret to keep. Deservedly, the Columbia Gorge has been garnering wine-minded press for decades, including a recent travel piece in The New York Times. Area winemakers have sharpened their skills and newcomers aren't just relying on charming old architecture and jaw-dropping views to sell their wares. Part of the attraction, of course, will always be the versatility of the place, especially when compared to the Willamette Valley and its endless rows of Pinot Noir.
And while there's plenty of history in this region, a pioneering spirit appears to live within many of its grapegrowers. Patrik and Tess Barr of Hood Crest Winery in Hood River are a fitting example. The northwest natives continue to test various varietals on their estate, trying to find the right fit for a valley known for its micro-climates and fast-changing weather patterns. Presently, the duo works with Chardonnay, Gewürztraminer, Merlot, Cab, Zin, Sangiovese and Pinot Noir. Adhering to the farming tradition of the area, the Barrs offer wine jelly made from estate Barbera grapes in their tasting room.
The Pines 1852 participated in the Grand Tasting as well, with founder and owner Lonnie Wright manning the table. He said he still harvests a ton-and-a-half of fruit from his old-vine Zinfandel, planted roughly when Benjamin Harrison was President and Portland's Union Station was built. Wright was the recipient of the Oregon Wine Board's Lifetime Achievement Award in 2011 and has decades of viticulture experience to his name. His Cabs, Zins and Merlots, while robust, did not overwhelm.
Waving Tree, the current incarnation of a multi-generation agricultural family from Goldendale, Wash., poured as well. The winery has estate wines dating back to 1910 and produces about 5,000 cases per year. While stand-alone Nebbiolo, Grenache and Sangiovese are produced, Waving Tree specializes in blends like the Rivergazer, a red-fruit-driven combination of Syrah, Grenache, Petite Syrah and Cab. Their Chardonnay, while treated with some wood, still showed plenty of fruit notes, a pleasant theme for the Gorge's take on this often wood-soaked varietal.
The Cerulean Skies label started in 2008. The Hood River winery sources fruit predominately near Underwood, on the Washington side of the river. They source some Chardonnay from the historic Celilo Vineyard planted in 1972 and Syrah from nearby Mosier. Production stands at approximately 2,000 cases per year, some of which has been featured on wine lists of notable Portland restaurants like Le Pigeon.
At the Grand Tasting, Cerulean Skies featured most of their wines. Of note was their barrel-fermented 2011 Chardonnay, clean and fruity, and their rather refined 2010 Nebbiolo, aged for 28 months. In the company of big, bold reds, this wine stood out as being a little more nimbler and not just a steak wine.
The Pearl District tasting room opened last June, set amid the northwest "pub triangle" of Bridgeport, Deschutes and Rogue. Once a warehouse, the building features old-growth beams, raised ceilings, a sleek bar and White Space, a lengthy gallery featuring local artists. The bar offers tapas as well and is preparing to serve cocktails by summer.
Several other weekend themes filled out the remainder of passport month, including barrel tastings and a food and wine pairings at participating Gorge tasting rooms.
Mark Stock, a Gonzaga grad, is a Portland-based freelance writer and photographer with a knack for all things Oregon. He currently works at Vista Hills Winery.