SETTING THE BAR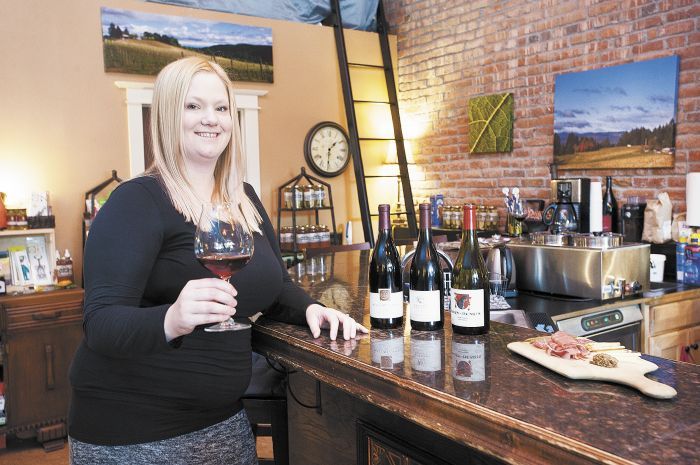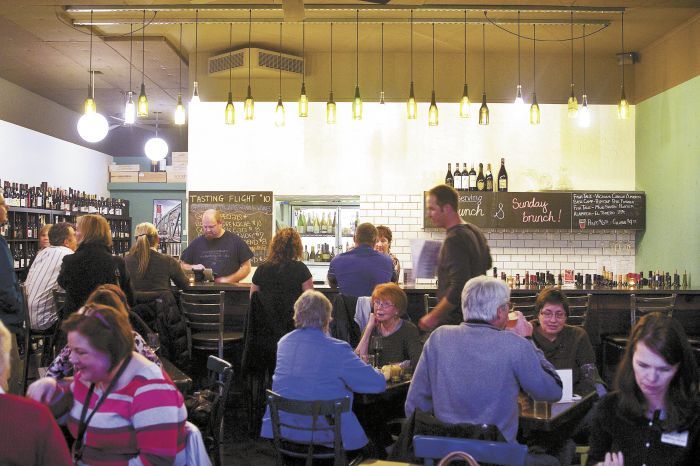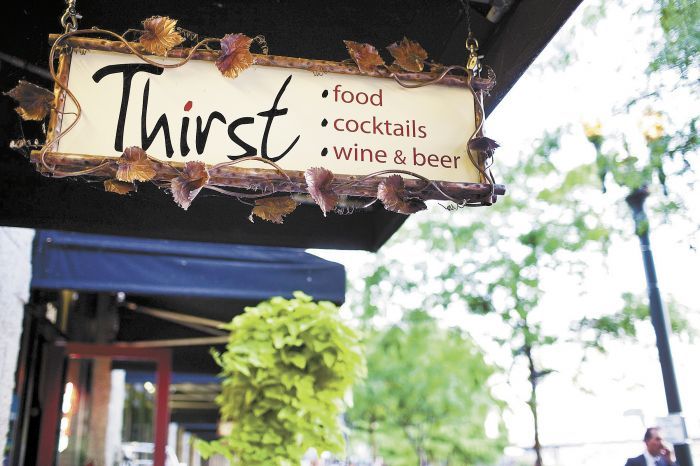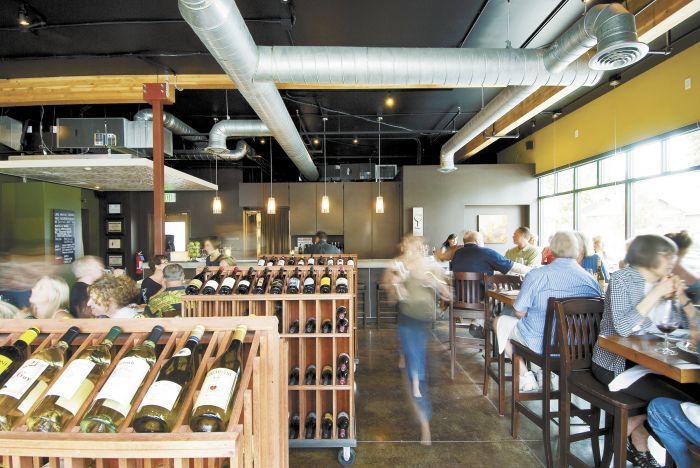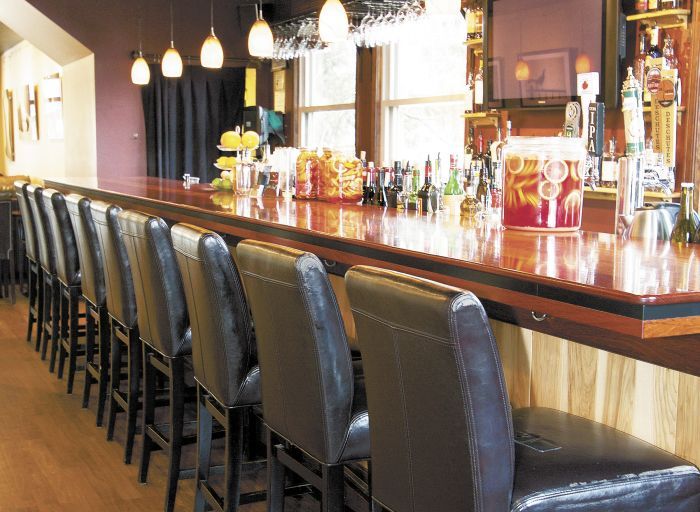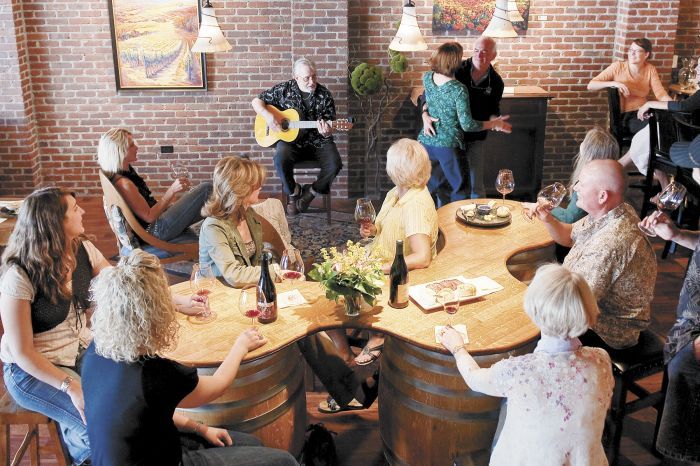 By Mark Stock
As snow pummeled a city traditionally jabbed at for having roughly one plow, Korkage opted to ride it out. One of few flickering "open" signs in the steep Southwest Portland neighborhood of Hillsdale, the wine bar ought to have been quiet. This is the same city that delays school and closes roads at even the threat of frozen liquid falling from the sky. And this is the same neighborhood that transforms cars into toboggans when the roads turn white.
But Korkage was up to its waist in customers. Owners Earl Johnson and Tam Boleyn struggled to keep pace, covering the shifts of those who couldn't brave the storm. Inside, there was the steady rumble of chatter, broken up by occasional laughter or the clank of a toast. The bar-goers were probably too distracted by good food and drink in the context of rare heavy snowfall to realize they were part of a much bigger tradition, one that's fed our social appetite for centuries.
In many ways, the wine bar of today mimics the street corner pub of centuries ago. It is a place to exchange tales, ideas, the day's news. Fanning the flames of conversation is alcohol itself, long the preferred social grease. Wine's extensive history is mostly anchored to the company of good food and friends, practically predestined for the bar format. Sure, there are still wine lists as dense as cannon balls and purposefully esoteric labels but, largely, today's wine bar follows the basis of the original bar itself: a true gathering place.
Tasting rooms have vineyard views and wineries have sleeping wines in symmetrical barrel stacks, but wine bars function on so many levels the urge to frequent one is almost instinctive. There are many in Oregon, but here are some of our favorites, social estuaries where the social animal and his thirst for wine are right at home.
Korkage
6320 S.W. Capitol Highway, Portland
www.korkagewine.com
Chances are good Chef Earl Johnson or business partner Tam Boleyn will recognize you when you enter Korkage; if not, they will once they're done treating you to some of the most neighborly service in all of Portland.
"I don't know how he does it," Boleyn says of Johnson's ability to recall a wine. "He doesn't forget a thing." The two can speak to every bottle in the building, having tasted them all. Previously a stone's thrown down the street, Korkage has resided in what used to be Three Square Grill since last July. Johnson, with more than 20 years of culinary experience, stemming from work in his native New York, is especially fond of the new venue.
With a full kitchen, Korkage serves standout dishes, like the ever-comforting black truffle mac n' cheese and sweet potato gnocchi. They even started creating flatbreads, putting a newfound pizza oven to good use. Lunch and dinner menus join an extensive glass pour list of roughly 30 wines and weekly flights — with food pairings and without. While the focus is on Northwest wines, Korkage's shelves are stocked with a healthy supply of international bottles, too.
"We want to offer something the groceries stores aren't," said Boleyn.
Supermarket winestaff gain a few wine IQ points every year, it seems, chasing the growing popularity of wine. But there's something to be said for a place that makes you feel like a regular the moment you enter.
Thirst
0315 S.W. Montgomery Street, Portland
www.thirstbistro.com
Summertime imbibers are drawn to Thirst like a hungry starling to a ripe vineyard. The waterfront establishment enjoys panoramic views of the Willamette River and its colorful cast of bridges. With a full bar and craft beers, Thirst shines the spotlight beyond just wine. Both spirits and wines are available by the flight on a Pacific Northwest-dominated beverage menu.
While hosting special tastings, wine-themed dinners and classes, Thirst feels more like a restaurant and lounge than a wine bar. The adjacent River Room is a popular private party hideaway, attracting birthday and wedding crowds. There is no bottle shop here, but a healthy list of go-to producers like Sineann, Beaux Frères and Abacela. You can purchase a to-go bottle from Thirst's frequently changing glass pour list.
Dragon boat rowers and business types alike flock to Thirst for happy hour specials and upscale pub grub. Leslie Palmer and Gary Kneski have slowly expanded the business since its inception in 2006. The duo also runs Bistro Marquee, a French-oriented sister restaurant a touch further inland and also downtown.
Oregon Wines on Broadway
515 S.W. Broadway, Portland
www.oregonwinesonbroadway.com
Arguably the most centrally set wine bar in all of Portland, Oregon Wines on Broadway is an ideal escape for the five o' clock downtown crowd. Pinot Noir and sparkling steal the show at this shop, available by the taste, glass and bottle. The absence of printed wine lists is countered by the staff's eagerness to chat up and let you sample just about all that's offered.
The food menu is lean, but outfitted with enough snacks and small plates to settle the wine. Pâtés and salamis are available, as well as a handful of cheeses served with Peal Bakery bread. Riedel glassware belies the populist nature of the bar itself. Oregon Wines on Broadway is nothing if not down to earth, cutting often intimidating wines like Champagne down to size.
Owned by Kate Bolling, this Morgan Alley shop caterers as much to Portlanders as it does tourists. In a city in the midst of a wine bar renaissance, it deviates from the crowd with its belly of the beast location and cheeky service.
Urban Decanter
2030 Main Street, Suite B, Forest Grove
www.urbandecanter.com
It's mid-February outside Forest Grove on Highway 47 and there are still Christmas lights up. They have a warming effect on these short days of winter and speak to the simple fact that things move at a more leisurely pace in wine country. Urban Decanter exemplifies this, a historic Main Street hideaway so relaxed it exerts its own strange gravitational pull.
At the core of a charming city block, Urban Decanter offers 20-plus glass pours and a smattering of dessert wines. A wraparound bar rests under macro photos of grape clusters and neat stacks of bottles from the Northwest and beyond. Part of that gravitational pull is likely the work of the overhead light fixtures, oversized tomato-colored lamps that look a bit like bodies of jellyfish. The light is warm, the bar cozy, and the handful of tables nudge people to sit back and try some food.
Bottled beer, cider and wines — many from Oregon and Washington and some from abroad — are available alongside standard nibble fare and panini. The soups are made from scratch, and there are a few desserts to pair with sippers like Madeira and Port. The number of labels available is hard to track, as the overall list changes often.
In addition to a small-scale restaurant and wine bar, Urban Decanter is a bottle shop and frequently hosts tastings and the vintners behind the bottles. Owner Becky Kramer — daughter of Kramer Vineyards' Keith and Trudy Kramer — took over the business two years ago, with the original bar moving into the space five years earlier.
Primrose & Tumbleweeds
248 E. Main Street, Hillsboro
www.primroseandtumbleweeds.com
Hillsboro is growing fast and so, too, has the wine list at Primrose & Tumbleweeds. In addition to having one of the most poetic names in the wine bar directory, this bar is home to the largest selection of Oregon wines. Some 6,000 bottles are for sale here, some imported from well beyond Oregon, as well as 250 craft beers, 75 ciders and spirits.
The shop also houses a boutique fit with picnic supplies, jewelry and Moonstruck chocolate. Lunch and dinner are offered, as well as entertainment in the form of live music and comedians. Not even four years of age, Primrose & Tumbleweeds is over-achieving in terms of selection.
Nebbiolo
800 Main Street, Oregon City
www.nebbiolowinebar.biz
At Nebbiolo, the scene is pretty self-evident. The Oregon City joint leans toward Italy, featuring wines and grub like Chianti, Montepulciano, cannoli and gelato. The Weinhard Building in which it is set dates back to the late 1800s, a brick and stone structure rooted in a small but well-preserved downtown block.
Named after the northern Italian grape featured prominently in legendary wines like Barolo and Barbaresco, Nebbiolo feels a bit like a more extravagant New York bodega. Its sophisticated corner store in look and Italian market and restaurant in function, is something owner Joe Kirwin has described as "farmhouse industrial." There's espresso, cocktails and a few long shelves devoted to imported wines.
Some 20 wines are available by the glass, with happy hour deals and live music to boot. Formerly a furniture showroom, Nebbiolo celebrates its one year anniversary this June.
Portello
2754 N.W. Crossing Drive, Bend
www.portellowinecafe.com
You'd be hard-pressed to find someone who ventured to Central Oregon for wine, but therein lies one of the beauties of the wine bar: It can crop up and thrive just about anywhere. Of course, it helps when you're located in a gorgeous high desert setting. In fact, there is a growing contingent of resident grapegrowers, known formally as the Winegrowers Association Central Oregon.
With about two dozen wines available by the glass, including Port and often a dessert wine, Portello Winecafé opts for variety over extent. Many varietals are on hand as well as a selection of beers. The food menu is split into starters, bruschetta, salads and panino options. It's relatively light fare that begs for a glass of wine.
Much of Bend has developed over the last decade or so; Portello is no different. The cafe is part of Northwest Crossing, a newer suburban creation that weaves new homes with shops, schools and parks. While the place could use some years under its belt, if only to break it in, Portello is Bend's increasingly trusty outlet for sturdy wines and accompanying snacks.
White Buffalo
4040 Westcliff Drive, Hood River
www.whitebuffalowines.com
The gas station turned wine bar otherwise known as White Buffalo draws heavily from its Columbia River Gorge place hold. In addition to area wines, cider and beer, the shop pulls from its own Mt. Hood farm. Meat, cheese and organic produce from the farm make for a highly localized menu that would please the health nut and hungry pubgoer.
Based on its peripheral location and plain-looking exterior, it would be easy to write off White Buffalo. There is, after all, a gleaming white bison statue out front, a potential tourist trap. Yet, the inviting setup and helpful staff here reflects the established and ever-growing Gorge wine scene. Hood River is the gateway to expanding vineyards and wine styles very different from what the Willamette Valley and most of Oregon is accustomed to.
In that sense, White Buffalo is the convenient informational kiosk just off the Interstate, full of intriguing area labels encouraging further exploration in the nearby AVAs. This kiosk also happens to serve dishes from a homegrown menu and offer deals with associated Hood River hotels.
Liquid Assets
96 N. Main Street, Ashland
www.liquidassetswinebar.com
With more than 250 labels and 20-plus glass pours to its name, Liquid Assets is Ashland's wine-minded watering hole. A full bar includes tequila and Scotch flights, in addition to those for wine. Southern Oregon wines share the glass pour list with Italian, French and Spanish offerings.
The food menu is decidedly French, with special attention awarded to cheese. This is probably a wise move in a town like Ashland, with its unusually large culinary footprint, per capita. An emphasis on classic bistro dishes and wine-loving sides like cheese lends the bottle shop component a certain gravitas.
Like many wine bars, Liquid Assets offers happy hour specials and discounts for club members. Unlike many, this bar is open every day, until midnight every weekend and just as late daily during the busy stretch, April and October. Husband and wife duo Jim Piotter and Denise Daehler-Piotter worked together in the field for many years before settling in Southern Oregon and starting Liquid Assets.
The Horse Radish
211 W. Main Street, Carlton
www.thehorseradish.com
Why visit a wine bar in the heart of wine country? There are several worthy answers. Carlton's beloved Horse Radish boasts more than 50 Northwest wines, a cheese bar, sandwiches and small plates, served well past the standard tasting room window of 11 a.m. to 5 p.m. It's an ideal cap to a day spent roaming around the nearby Dundee Hills, Eola-Amity Hills and Yamhill-Carlton AVAs. Wineries so often lack any food of substance and that's the void this place precisely fills.
The cheese bar boasts a number of West Coast creameries, from Tumalo Farms in Oregon to Cypress Grove in California. At least a dozen wines by the glass are available on any given day with those selections changing weekly. While the establishment goes back to 2007, the current ownership of Sean and Julie Davis began in 2009.
Carlton continues to be a precedent-setting dot on the wine country map, embracing the countless wines grown in close proximity and enhancing them with the right food, and live music, too.
By all means, galavant through Oregon's many scenic vineyard settings; there's nothing quite like visiting the horse's mouth. But there's a certain draw to the contemporary wine bar, one that blends age-old elbow rubbing with a homegrown and ever-expanding winegrowing psyche. Availability — in terms of proximity, business hours and sheer numbers — only aids their cause.
Mark Stock, a Gonzaga grad, is a Portland-based freelance writer and photographer with a knack for all things Oregon. He currently works at Vista Hills Winery.