Spot on Noble Rot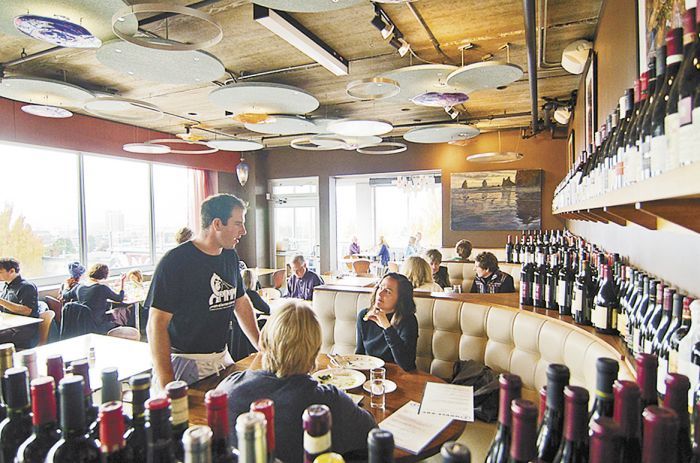 Recipes by Leather Storrs
Noble Rot was an immediate success when it opened in 2002 on S.E. Ankeny in Portland. Founding chef/owner Leather Storrs' imaginative, seasonal menu, exceeded standard wine bar fare of cheeses and olives. Courtney Storrs and Kimberly Bernosky curated an expert wine list, featuring interesting glass pours and bottles, plus themed flights of wines. Noble Rot was hot, receiving Willamette Week's Restaurant of the Year award in 2004. Even The New York Times visited Noble Rot, calling Storrs "extremely cool."
Eager to create his own vision, Storrs left Noble Rot in 2006 to open Rocket, an ambitious project centered on molecular gastronomy in the much-talked-about LEED-certified platinum building. In the middle of the economic recession, Leather Storrs blended physics and chemistry to transform the tastes and textures of food, while customer demand waned. The restaurant closed in 2008.
Courtney Storrs — now his wife — suggested moving Noble Rot to the Rocket location, and making Bernosky and the Storrses equal partners. On the fourth floor of the Rocket Building, located on East Burnside, Noble Rot boasts one of the best views in the city. The rooftop features a 3,000-square-foot garden irrigated by an aquifer beneath the building. The menu has evolved to feature this produce, greater entrée options, a full bar and an even better wine list.
Farro, Favas and Green Garlic Goat Cheese
"Farro is a terrific grain: pleasantly chewy, nutty and versatile. Here it is part of a warm salad featuring springy vegetables. To make this wine-friendly, I cook the vinegar briefly to knock down some of the competing sharpness from the acetic acid." —Leather Storrs
Wine Pairing
J.K Carriere Chardonnay: "I'm pairing this [dish] with Jim Prosser's Chard for three reasons: We worked together at Brick House; my mother has a huge crush on him; AND his Chardonnay is remarkable — lean, balanced and subtly oaked." —LS
Ingredients
2 cups farro, soaked in water overnight
1½ cups, blanched and shelled fava beans
6 stalks green garlic
8 ounces fresh goat cheese
2 teaspoons Dijon mustard
2 cloves garlic
½ cup rice wine vinegar
1 teaspoon honey
1 cup olive oil
2 tablespoons roughly chopped parsley
* salt and freshly ground pepper
Method
1. Drain farro; place it in a heavy-bottomed, narrow pot. Cover with water, add a teaspoon salt and bring to a simmer. Farro should take about 20 minutes. Meanwhile, slice green garlic stalks into thin coins and sweat gently in a little olive oil, salt and pepper. When tender, stalks are done. Fold green garlic into goat cheese; adjust seasoning with salt and pepper.
2. Bring vinegar, honey and garlic to a boil; simmer one minute. Pour hot mixture into blender; add Dijon and buzz it. Pour mixture into a bowl and whisk in olive oil. Adjust seasoning with salt and pepper.
3. To assemble: Drop about two ounces of goat cheese mixture in center of wide, warm bowl. Toss warm farro with favas and parsley. (There may be too much farro to start; figure 1 cooked cup per person). Add dressing incrementally. Don't overwhelm farro and favas. Arrange grains around goat cheese and finish with grind of pepper.
Black Rice, Black Kale, Braised Bacon and Rhubarb
"In this recipe, bacon is braised in a mixture of red wine, bay and rhubarb. The resulting bacon is meltingly soft and infused with wine and red fruit. The kale gets blanched rather than stewed, preserving its color; and the rice gets finished with the braising liquid. It's a fond farewell to winter." —LS
Wine Pairing
Love and Squalor Willamette Valley Pinot Noir: "Not all Pinot Noir brings the double threat of "horse shit and cherries," and that's O.K. Sometimes cherry is what you're after, and Matt Berson's wine is a great example of this. Forward fruit, soft tannins and light acidity are followed by a little smoke and a long finish." —LS
Ingredients
1 6- by 6-inch piece of slab bacon
2 bunches black kale
2 cups black rice
2 shallots
2 cups Pinot Noir
4 stalks of rhubarb, roughly chopped
2 bay leaves
* salt and freshly ground pepper
Method
1. Score top of bacon in a crosshatch pattern; place in an oven-safe dish just big enough to hold the meat. Add wine, rhubarb and bay leaves to pot and bring to a boil on stove. Transfer pot to 300°F oven and cook, uncovered, for 1 to 2 hours. A knife should encounter no resistance when it's finished. Chill bacon in pot — it's best to do this step the night before you plan to serve.
2. Cook rice on stove in 5 cups water (lightly salted), about 25 minutes. Check it frequently; it should still have some tooth when you take it off and pour it into a flat dish.
3. Bring another pot of water to boil; make this one salty. (Also prepare a bowl of ice water to arrest the cooking.) Stem kale and drop into boiling water for 1 minute; scoop out and drop in ice water. When cooled, squeeze water out of kale, chop it roughly and squeeze it again. Chop shallot into small dice and place on stove with some olive oil, salt and pepper. Cook until it begins to color; then add to kale. Note: All this can be done the day before you plan to serve it.
4. Assembly: Cut bacon into 4 equal pieces. Discard bay leaves and solid fat covering rhubarb and wine. Mash up rhubarb in original pot; then divide braising liquid in half. Put 4 bacon pieces back in original pot with half the braising liquid. Put black rice (roughly 1½ cup per person) in a pot with the kale and shallots. About 20 minutes before serving, place pot of bacon into a pre-heated 400°F oven. Add balance of braising liquid to black rice and bring mixture to a simmer. When bacon is hot through and has a crispy brown top, it's ready. Remove it carefully from pot. If rice will accept more red wine braise, great! Spoon rice mixture (think risotto texture) into 4 wide bowls and top with a hunk of bacon.