Staying on the Edge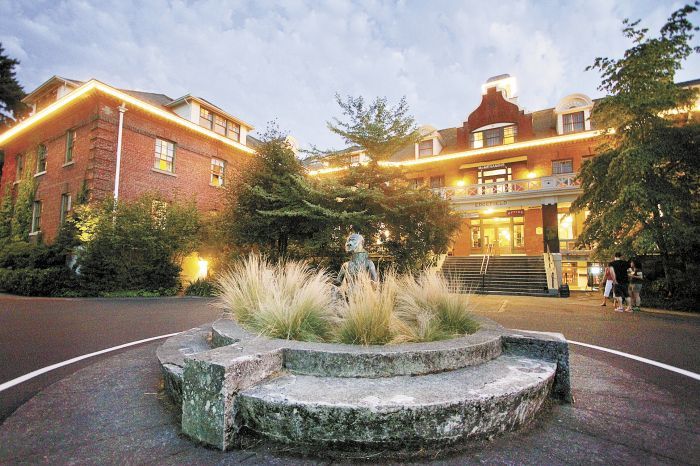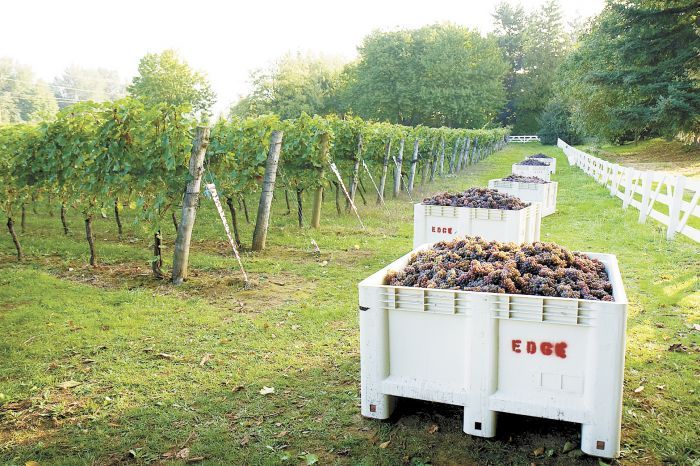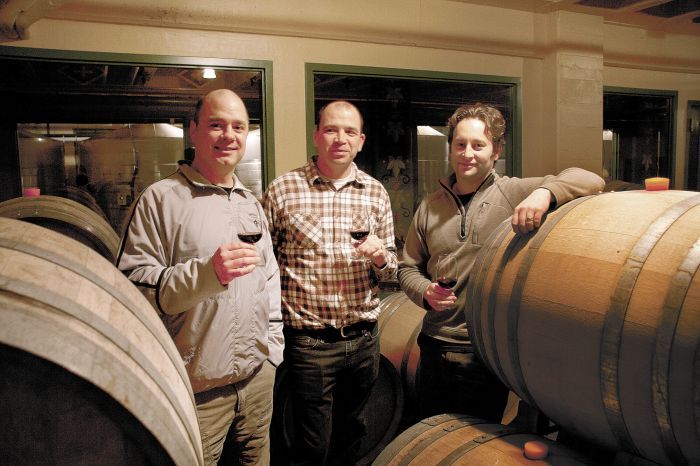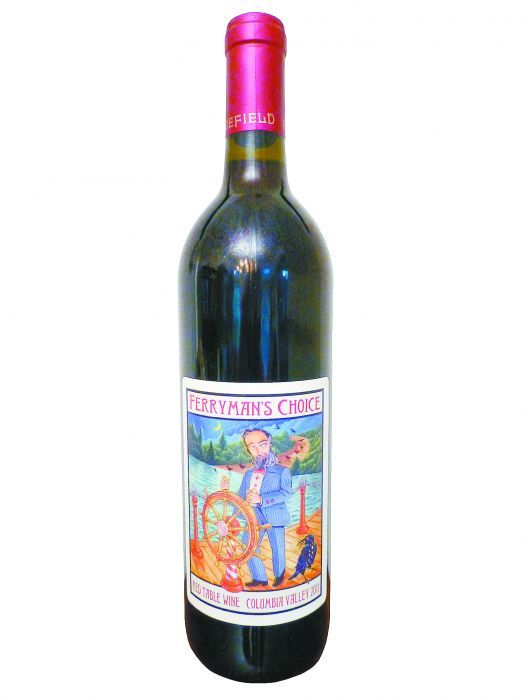 By Peter Szymczak
It's a misty, rainy Thursday evening as I duck into the tasting room at McMenamins Edgefield Winery. A jocular crowd of twoscore or more are assembled around the bar and at tables throughout the barrel room. Most of the carousers are guests staying the night at the adjoining Edgefield Hotel.
As the clock hand creeps up on 7 p.m., a musician carefully carts her guitar and amplifier through the throng and sets up. She's here to provide tonight's musical entertainment, since the tasting room stays open — and lively — until 10 p.m., seven nights a week.
This place is just heating up around the time when most winery tasting rooms have already closed up for the night. But then, McMenamins Edgefield Winery isn't your "normal" winery.
First, consider this: Some of the most consumed wine in Oregon isn't available for purchase at any bottle shop in the state.
"We don't distribute anywhere outside of our company," said Clark McCool, director of winery and distillery operations at McMenamins.
All the wine — last year they crushed about 350 tons of fruit, equal to approximately 25,000 cases — is sold and sipped only at locations owned and operated by the winery's proprietors.
The winery has been on the leading edge of the kegged wine trend, too. Since 1990, the lion's share of Edgefield's white wines — Chardonnay, Riesling, Pinot Gris and Pinot Blanc — has been packaged not in bottles, but rather stainless steel kegs, and served on tap, by the glass, right alongside McMenamins' beers.
Kegging "is the best way to distribute wine that keeps wine quality," said Nate Wall, assistant winemaker and enologist. "It's under inert gas the whole time, so the first glass is just as good as the last."
Over the past 20 vintages, McMenamins has chosen to let their wines and customers — not the media — speak for themselves. Only on exceptionally rare occasions have Edgefield's wines been scored by an eminent wine critic; no matter, since they consistently sell out year after year.
This spring, due to demand, the winery will launch its first-ever wine club for loyal patrons.
"Where a lot of wineries have to worry about where they are going to sell, we don't," McCool said. "We're more concerned about how we're going to keep up with production," winemaker Davis Palmer said. "Did we make enough for all the properties we have out there?"
Founded by brothers Mike and Brian McMenamin, Edgefield Winery follows the brewpub model they helped establish in the '80s. In 1984, the McMenamins and several others lobbied the state legislature to change Oregon's law prohibiting those making alcohol from selling it on the premises, allowing for the establishment of brewpubs. By the early '90s, the McMenamins empire of brewpubs had expanded to 25 locations; and they kept growing.
In 1993, the time and location was right for McMenamins to start its own winery. Renovations of the former Multnomah County Poor Farm were completed and McMenamins' Edgefield Hotel opened its 100 guest rooms. Visitors to the sprawling Troutdale resort can watch wine being made, as well as on-site brewing and distillation. There's also a movie theater, par-3 golf course, spa, several dining and drinking establishments, and a concert venue.
It's probably safe to say there's no other place with a winery like it in the state — or anywhere else for that matter. "I've never seen any other winery in the world operate the way we do here," McCool corroborated.
Edgefield encompasses 74 acres. On the southern side of the property, three acres of Pinot Gris grapes were planted in 1993; another vineyard devoted to Syrah was added in 1995 along the western edge. The winery sources the rest of its fruit from vineyards across Oregon and Washington.
The trio of McCool, Palmer and Wall keep the winery humming.
McCool was the winery's original winemaker. Palmer started as a brewer at Edgefield in 1994. Pursuing an interest in wine, he switched to the winery in 2000 as a harvest worker and assumed winemaking duties in 2004. Wall is a relatively recent addition to the staff; he joined in 2011 following stints at Andrew Rich and Beaux Frères.
The winemaking team makes cider, too, since cider and wine fall under the same beverage license. The company has been making its own cider since 1992, "but the last five years has seen huge growth," said Palmer. "We're running all the time to keep up with that, too."
The cider is in addition to the already extensive portfolio of wines made at Edgefield, including red and white Bordeaux-style table wines, single varietals such as Pinot Gris and Pinot Noir, Syrah and Viognier, plus their own sparkling wine, natural ice wine, late-bottled vintage Port; and the list just keeps growing.
Big volume allows for experimentation. "We're always looking for new varietals grown at interesting sites, and we have the ability to absorb them into our overall mix. That allows us to experiment and learn," Palmer said. "Maybe every experiment doesn't go out in a bottle every time, but maybe after a couple tries, when we figure it out…"
That's when it will be deemed worthy of release under the brand new Ferryman's Choice wine label, which will denote special, small-lot releases. "The ferryman gets to decide who gets on the ferry, or not," McCool explained. "We wanted a way to get some of these small, experimental lots out there to the public."
The inaugural release is a wine that was made two years ago, a Rioja-style blend of 66 percent Tempranillo and 34 percent Grenache.
"We wanted to be able to show off some of the grapes that would normally just be thrown into a blend," said Wall. "With a wine club coming online, it gives us another opportunity to show off the diversity of what we bring in."
What's next for this counter-culture winery?
Waiting in the wings are some 18-year-old brandies made from Pinot Noir and Chardonnay. "They're just beautiful," McCool said.
"And the alembic still will be in operation soon, which will open up even more what kinds of brandies we can make," Palmer said.
"Knowing this company, you never know," McCool said.
Peter Szymczak has written about food, beverages and culinary travel for Northwest Palate, The Oregonian, Sip Northwest and other publications. He lives in Portland.