Aging Elegantly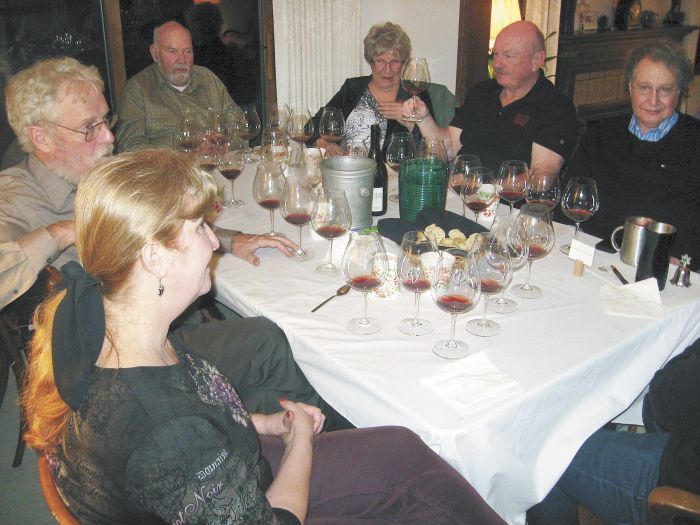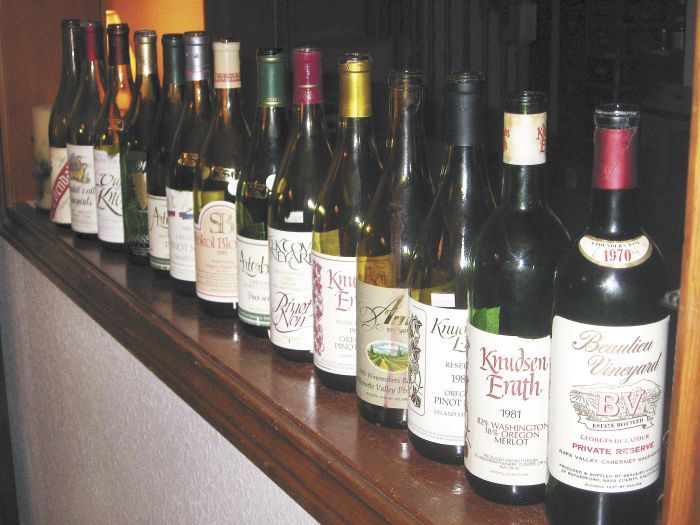 By Karl Klooster
A recent wine tasting and dinner my wife and I attended at a private residence in Southwest Portland reminded me of a quintessential scene from Woody Allen's 1977 Oscar-winning film "Annie Hall."
Woody's character Alvy Singer is standing in a long line with Annie, played by Diane Keaton, to buy tickets to a movie. He's whining and complaining as usual, and he gets into a discussion with a guy standing next to him. For reasons I can't recall, the subject turns to renowned Canadian philosopher and intellectual Marshall McLuhan. The guy says something about McLuhan's work and how he obviously meant such and such by what he said. Allen vehemently disagrees with the guy, and they get into a no-win argument. Suddenly, Allen looks up, points and says. "Hey, there's Marshall McLuhan right over there. Let's go ask him."
This memorable piece of filmmaking makes us recall all the times we knew we were right but someone else stubbornly disagreed, and we were exasperated because there was no way to definitively prove the point. Wouldn't it have been so vindicating if a question came up that we couldn't answer but just a few feet away was the one person most qualified to verify or clarify that desired information?
And so it was that such an opportunity arose during the recent gathering of wine buffs enthusiastically engaged in a blind tasting of 1985 Oregon Pinot Noirs. Our hosts were Portland attorney Dick Stinson, who has been an avid appreciator, collector and promoter of the industry for a quarter of a century, along with his wife, Judy Erdman, who got caught up in the whole wine thing because of Dick and is now as into it as he is.
The reality is that the only way anyone can get their hands on such well-aged Oregon Pinot Noir is directly from the winery or through the owner of a private cellar collection. Furthermore, to know the bottle or bottles you obtain have been well-stored over those 28-plus years under the care of the producer since it was vinified is about the best assurance you can get. The next best alternative is to know the owner and how he or she has stored the wines. A serious wine collector will ensure they are always kept in a cool, consistent temperature cellar, or other appropriate area.
The 12 Pinots tasted that evening were supplied by three people — Stinson, Erath winery founder Dick Erath and Amity Vineyards founder Myron Redford.
When not at his home on the Prince Hill Vineyards property in the midst of the Dundee Hills, Erath spends time in western Arizona, where he has planted a wide range of vinifera varieties to test what does best there. After 40 years of operating Amity Vineyards, Redford announced his retirement at their annual harvest party in November and put the winery up for sale. He is entertaining offers but nothing suitable has as yet arisen.
The Annie Hall moment arrived after the 1985 Pinots had been tasted and a few other wines were opened for our interest, evaluation and enjoyment. One of them was a 1981 Erath Vineyards Merlot, which very assiduously stated on the label that it was a blend of 82 percent Washington Merlot and 18 percent Oregon Merlot.
Another of the inveterate tasters in attendance, James "Doc" Wilson, and I were discussing the wine, which turned out to be in terrific shape with still apparent fruit, varietal character and good balance. Not incidentally, Doc buys the wines for Jake's Famous Crawfish, the iconic flagship of the nationwide McCormick & Schmick restaurant empire founded by Portlander Bill McCormick in 1979.
However, the label didn't say where the grapes came from, just Washington and Oregon. You can probably guess what happened next. Our heads simultaneously turned to the adjacent table and before you knew it we were hovering expectantly over our own Marshall McLuhan of the wine world.
"Let's see," Erath said, hesitating only momentarily. "The Washington Merlot was from Sagemoor Vineyard in the Columbia Valley and the Oregon Merlot came from my Chehalem Mountains vineyard planted in 1968. Come to think of it, I'm pretty sure Sagemoor started up that year, too."
Subsequent investigation proved him correct. Two Pacific Northwest pioneers, Erath and Sagemoor's Alec Bayless, collaborated in those early days when growers and winemakers were far fewer and shared a camaraderie that totally ignored something as inconsequential as a state boundary.
As for the Pinots of primary focus at the tasting, predictions about aging potential always pique the curiosity of wine buffs. And the two pioneers in attendance concurred that 1985 was an outstanding vintage.
Redford said the 1985 vintage yielded Oregon's most age-worthy Pinots to that point and held the honor for 14 years before being equaled if not exceeded by the 1999 vintage. Yet another pioneer, Susan Sokol Blosser, has been quoted as declaring without reservation that 1985 was, "My all-time favorite vintage in Oregon."
The 12 Pinot Noirs, tasted blind in four flights, were Amity Winemakers Reserve, Arterberry Reserve and Arterberry Cellar Reserve, Peter Adams, Elk Cove Reserve and Ellendale, Sokol Blosser, Oak Knoll and Knudsen-Erath, both the Erath/Leland 1987 and 1985 vintages and Yamhill Valley Vineyards.
It was to be expected that fruit would be replaced by more mature attributes in a variety whose time of optimum drinkability is generally considered to be at least a decade earlier. A couple wines showed some oxidation, imparting a sherry or madeira-like character, and a couple others exhibited reduction, i.e. sulfur-like characteristics such as rotten eggs, rubber and lighted matches.
Flaws were evident only to a limited extent and none to the point that the wines were objectionable. In fact, tasters pronounced all 12 wines quite drinkable, if not exceptional. Notably, the Amity Winemakers Reserve displayed elegant complexity and flavor with just a hint of Maderia-zation, and the Ellendale retained deep color, youthful fruit and spicy accents while being slightly reductive. The evening's universal favorite was the 1985 Erath/Leland, whose multi-faceted aroma, lush fruit flavor and still lively acidity made for a beautifully balanced wine.
This writer didn't have a 1985 Pinot Noir to contribute to the cause. In fact, my modest stash of Oregon Pinot doesn't stretch back any farther than the late 1990s. But I did have something I'd wanted to share with just such a group of experienced and appreciative tasters.
In California, Cabernet Sauvignon is king, and in the 1970s, the number of wineries producing outstanding examples of the Bordelaise variety comprised a rather short list. Among them was Beaulieu Vineyards, founded in 1900 by French nobleman Georges de Latour and overseen for 35 years by the iconic Russian-born winemaker André Tchelistcheff.
Tchelistcheff created and crafted the founder's classic Georges de Latour Private Reserve Cabernet Sauvignon, which quickly became the benchmark for California Cab. After his retirement from BV in 1973, the "Dean of American Winemakers," continued consulting. Erath, whose winery benefited from that advice, said he played an important role in advancing the Oregon industry.
A wine that survives in good shape past its fourth decade of existence is a rather rare commodity. But the '70 BV Private Reserve did not disappoint. Though delicate on the palate, its soft, silky mouthfeel was accompanied by all the components that have defined the best examples of this wine over the decades. A compelling lushness of black currant mingled with hints of tea leaf underlain by an earthiness signifying terroir or sense of place. A fitting finale to a memorable evening.
Karl Klooster is the associate editor of the Oregon Wine Press and writes a wine column for the News-Register in McMinnville. He became professionally involved in wine in 1972.