March Calendar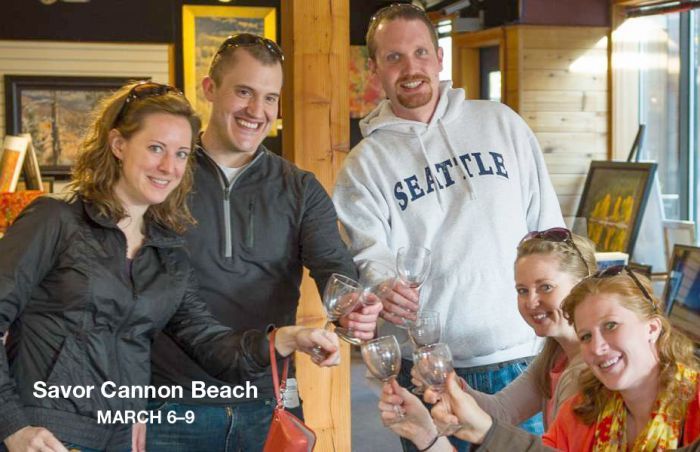 Fridays
Wine Tasting
Roth's Fresh Markets | Join us every Friday for a wine tasting.
Time: 3 to 6 p.m.
www.roths.com
Wine Tasting
The Portland Wine Bar | Join us for some fun tastings.
March 7: Reserve Honey Wine Flight;
March 14: Wine, Chips, Crackers & Dip Pairing;
March 21: Wine & Berry Pairing.
March 28: Wine and Movie Snacks Pairing.
Time: 7 to 9 p.m.
RSVP: info@bestportlandwinebar.com or 971-229-1040.
526 S.W. Yamhill St., Portland
971-229-1040 | www.bestportlandwinebar.com
Wine Tasting
Urban Decanter | Join us every Friday for a special tasting and live music.
Time: 6 to 10 p.m.
2030 Main Street, Forest Grove
503-359-7678 | www.urbandecanter.com
Saturdays
Wine Tastings
The Cellar on 10th | Join us for our scheduled wine tastings.
March 1: Wines from Greece Tasting;
March 8: Orin Swift Tasting;
March 15: Wines for St. Patrick's Day;
March 22: Woodward Canyon Tasting and Dinner;
March 29: Dobbes Family Estate Tasting;
April 5: Oregon Pinot Noir #1;
April 12: Wines for Easter Tasting;
April 19: Wines from Italy Tasting;
April 26: Crab Festival Surprise Tasting and J. Scott Cellars Wine Dinner;
May 3: Bergström Wine Tasting and Dinner;
May 10: L'Ecole No. 41 Wine Tasting;
May 17: NW Cabernets Wine Tasting;
May 24: 11th Anniversary Surprise Wine Tasting;
May 31: Oregon Pinot Noir #2 Wine Tasting;
June 7: Sauvignon Blancs Tasting;
June 14: Summertime Rosé;
June 21: Turley Tasting and Dinner;
June 28: Oregon Pinot Gris #1 Tasting. Tasting fee: $5. Tastings: 1 to 4 p.m. Dinners: 6 p.m.
1004 Marine Drive | Astoria | www.thecellaron10th.com
March 2014
March 1
Greatest of the Grape
Seven Feathers Resort & Casino | Enjoy the best of the Umpqua Valley at Oregon's longest running wine event. Taste through the bounty of the Valley with appetizers and wine pairings from Southern Oregon wineries and the area's gourmet food artisans. Dance to live music, mingle with winery owners or place a bid to win glamorous prizes during our silent auction. VIP ticket holders earn first access and early entry into the event. Purchase tickets online.
Fee: $75. Time: 7 to 11 p.m.
146 Chief Miwaleta Lane, Canyonville
www.umpquavalleywineries.org
Flavors of Carlton
Ken Wright Cellars | Sample many of our best local wines paired with delicious Northwest cuisine from the area's finest chefs. Live and silent auctions offer original art, world-class wines and more. Benefits Carlton Together Cares. Time: 6 to 10 p.m. Call 503-852-4405 or see charity website for more event details.
236 N. Kutch St., Carlton | www.carltontogethercares.com
First Saturday Live Music Series
Samuel Robert Winery Tasting Room & Art Gallery | Featuring Steady Riot and Wetmore Quality Dogs. Wines by the glass, imported and domestic beer service. Enjoy cuisine from area food carts. Time: 7 to 10 p.m. Fee: $5 cover at the door.
510 S. Trade Street, Amity
503-835-0678 | www.samuelrobertwinery.com
Westside Beer and Wine Loop
Westside Warehouse District | J. Scott Cellars, Noble Estate Winery, Claim 52 Brewing and Viking Braggot Company are coming together to host the inaugural Westside Beer and Wine Loop. Live music, food carts, beer and wine specials, and a VW van photo booth will make for a fun-filled night. My Party Bus will be providing party bus limo service. Fee: $10 (shuttle service). Time: 5 to 9 p.m.
500 Block Commercial Street, Eugene
541-338-3007 | www.nobleestatewinery.com
March 1–4
Mardi Gras
Gem Creole Saloon | Join us for a Mardi Gras celebration. Laissez les bons temps rouler. Let the good times roll!
236 N.E. Third Street | McMinnville
www.mcminnvillegem.com
March 1–29
Perfect Pairings
Steamboat Inn | Great Food, Wine & the River. 2014 Steamboat Inn Guest Chef & Winemaker Dinner Series. Check website for a complete calendar listing of our guest chefs and dinners.
42705 N. Umpqua Hwy., Idleyld Park
541-498-2230 | www.thesteamboatinn.com
March 2
Vineyard Pruning Class
Winter's Hill Vineyard | We are providing the opportunity for 10 people to join Russell Gladhart in our vineyards for a hands-on vineyard pruning class. Once the work in the vineyard is done you will be treated to hot soup and delicious Pinot to warm you back up. Contact Paul at 503-864-4538 to reserve your spot. Wear clothes you do not mind getting dirty or wet. Time: 1 to 4 p.m. Fee: $25.
6451 Hilltop Lane, Dayton
503-864-4538 | www.wintershillwine.com
March 6–9
Savor Cannon Beach
Cannon Beach | Taste some of the Northwest's finest wines in one of the world's most beautiful places. Four days of wine tasting events, culinary events and a wine walk. Info and tickets online.
www.savorcannonbeach.com
March 7–9
Sip McMinnville Wine & Food Classic
Evergreen Air & Space Museum | Experience 175 wine, food and art vendors from throughout the Northwest. See Sip website for more details.
500 N.E. Capt. Michael King Smith Way, McMinnville
503-472-4033 | www.sipclassic.org
Oregon Chocolate Festival
Ashland Springs Hotel | This festival is completely dedicated to Oregon chocolatiers and their amazing creations. Vendors present a variety of fine chocolates and chocolate-inspired products that tease taste buds of over 1500 visitors.
212 E. Main Street, Ashland
www.oregonchocolatefestival.com
March 8
Oregon Chardonnay Symposium
Stoller Family Estate | See story on page 8. Time: 2 to 6 p.m. Fee: $60 and $100.
16161 N.E. McDougall Rd., Dayton | 503-864-2000
www.oregonchardonnaysymposium.com
March 8–9
Wine, Pear & Cheese Jubilee
Willamette Valley Vineyards | Learn the art of "pearing" Willamette Valley Vineyards wine with fresh Oregon pears and cheese from some of the most respected local artisans. Be on the first to sip our highly anticipated vintage. Admission: $10 (includes wine tasting flight paired with cheese and pears). Upgrade to a Cellar Pass to taste futures of our 2012 single vineyard-designate Pinot Noirs for $5 (complimentary for club members).
8800 Enchanted Way S.E., Turner
503-588-9463 | www.wvv.com
March 14–16
10th Annual Oregon Cheese Festival
Rogue Creamery | Oregon-inspired culinary events, including a farmer's market-style artisan food and wine festival.
March 14: Meet the Cheesemakers and Winemakers Dinner held for the benefit of the nonprofit Oregon Cheesemaker Guild. Each course will spotlight a cheese made by one of the festival's artisans paired with a local wine or beer. (6:15 to 9 p.m.). Fee: $95.
March 15: Thousands of visitors will sample cow, sheep, and goat cheese from Oregon creameries, including Pholia, La Mariposa, Ochoa, Tumalo, Tillamook, Willamette Valley, Fern's Edge, Oak Leaf, Umpqua Dairy, Rivers Edge, Briar Rose, Face Rock, Full Circle, Portland Creamery, Rogue and others. Local culinary artisans and beverage providers will be there as well. (10 a.m. to 5 p.m.); Fee: $15.
March 16: Double EE: chEEse and bEEr. The Double EE, a friendly cheese and beer competition, challenges cheesemakers and brew masters to create great tastes together along with a story behind the pairing. (10 a.m. to 2 p.m.) Tickets are $50 per audience member and the event is limited to 100 guests.
311 North Front St. (Hwy. 99), Central Point, OR
www.roguecreamery.com
March 15
"You Be the Judge" Blind Wine Tasting
Eola Hills Winery | Tasting Oregon whites and reds. Lodi, California reds. Call 800-291-6730 for details or visit us online. Time: 6 to 8 p.m.
501 S. Pacific Highway 99W, Rickreall
www.eolahillswinery.com
March 17
St. Patrick's Day
Aramenta Cellars | Perfect Pairings for you. Corned beef include our Ribbon Ridge Pinot Noir, Brothers Pinot Noir or Tillie Claret. Cheers! Time: 10 a.m. to 4 p.m.
17979 N.E. Lewis Rodgers Lane, Newberg
503-538-7230 | www.aramentacellars.com
March 29–30
Spring Release Celebration
Maryhill Winery | Join us for our Spring Release weekend featuring wine tasting, new releases, case specials and live music on the terrace (1 to 5 p.m.).
March 29: Portland Groove Collective;
March 30: Sonic Light Brigade. Delicious food available for purchase from the Glass Onion.
9774 Highway 14, Goldendale, WA
877-627-9445 | www.maryhillwinery.com
Wine & Spirits Fair
Spirit Mountain Casino | Featuring more than 40 of Oregon's finest wineries, distilleries and breweries, making it the prime location to eat, drink, and be merry. Enjoy demonstrations and dishes from internationally acclaimed chefs. After you've satisfied your taste buds with cheeses, confections, and other snacks, you can explore the wares showcased by the region's finest artisans and vendors. Spirit Mountain is proud to provide guests with unbeatable free entertainment throughout the year. Time: noon to 8 p.m. (Sat.); noon to 5 p.m. (Sun.) Free entry to the Wine and Spirits Fair for guests aged 21 and older.
Hwy 18, Grand Ronde | www.spiritmountain.com
March 30–31
Winemaker's Dinner Series
Korkage Wine Bar | Featuring Robert Ramsey Cellars. These events are not your typical sit-down dinner affairs. They are designed to make the wine and food approachable, affordable and fun in a casual setting; to share wine and food we love; and to extend great buys to our customers. Special event pricing on wines; up to 20% off.
6320 S.W. Capitol Hwy, Portland
503-293-3146 | www.korkagewine.com
April 2014
April 4–27
Columbia Gorge Passport Month
Columbia Gorge Wineries | Your $25 passport is full of fantastic discounts and offers designed to make the most out of your visit to Gorge wineries and events during the entire month of April! Get all the details and travel info at www.gorgewine.com. Portland Grand Tasting Friday, April 4; Passport Month Kick-off Weekend: April 12–13; Food and Wine Weekend: April 19–20; Barrel & Reserve Tasting Weekend: April 26–27.
www.gorgewine.com
April 11
Smudge Pot Stroll
Downtown Medford | Tour 17 downtown Medford restaurants and taste specially prepared dishes paired with the finest wine in the Rouge Valley. Time: 5 to 9 p.m.
www.travelmedford.org
April 11–12
Celebration of Syrah
McMenamins Edgefield | We'll have a Rhône white reception and gourmet Syrah dinner on Friday evening, followed by a Tour du Rhône lunch the next afternoon and, to cap it all off, our Grand Syrah Tasting and Benefit Silent Auction in the late afternoon. Proceeds from this final event benefit ¡Salud!, a nonprofit organization that aids Oregon's seasonal vineyard workers in securing medical care. For more details go to website below.
2126 S.W. Halsey St., Troutdale
www.celebrationofsyrah.com
April 18–19
Spring Beer & Wine Festival
Oregon Convention Center | Taste a large assortment of beers, wines and spirits from the Northwest's finest makers. Try delicious gourmet foods, chocolates & cheeses. Chef's Seminar Stage offers local and professional know how so you can taste like the pros. Top-notch entertainment of local live music. Watch the BIG screen TV for Blazers and Timbers games. Buy tickets online.
777 N.E. Martin Luther King Jr. Blvd., Portland
www.springbeerfest.com
April 19
Adult Easter Egg Hunt
Hauer of the Dauen | Join us for our annual Adult Easter Egg Hunt. Call 971-237-2058 for reservations and more information.
16425 S.E. Webfoot Road, Dayton
April 25–27
Astoria-Warrenton Crab, Seafood & Wine Festival
Clatsop County Fairgrounds | Sample local cuisine, peruse arts and crafts, and taste a selection of Oregon and Washington wine as well as an assortment of microbrews. The Rotary Club of Astoria will be serving its traditional crab dinner in the exhibit hall, where live music plays all weekend.
92937 Walluski Loop, Astoria
800-875-6807 | www.oldoregon.com
May 2014
May 10–11
Art in Bloom
Downtown Medford | Join us in this springtime celebration of fine arts and flowers. Enjoy fun activities, including a beer and wine tent, children's area, music and performances, and more than 120 artists and horticulturists displaying their best works.
www.travelmedford.org
May 17
2014 Must See Oregon
The Oregon Garden/J.F. Schmidt Jr. Pavilion | Be a tourist in your own backyard. Festival includes: outdoor recreation opportunities, theatre, farm to table events, eco-friendly trips and events, family-friendly destinations, recreational products and information, trip planning, Oregon beer and wine tours. Sponsors: Capitol Subaru, Travel Oregon, The Oregon Garden. Percentage of profits go to S.M.A.R.T.; Start Making a Reader Today and the Salem-Keizer Education Foundation. Time: 10 a.m. to 6 p.m.
879 W. Main Street, Silverton
503-371-8904 | www.mustseeor.com
May 17–18
Columbia Gorge Wine & Pear Festival
Western Antique Aeroplane and Automobile Museum | This two-day event will feature the many award-winning wineries and vineyards in the Columbia Gorge AVA, including two days of wine tasting, artists from around the Pacific Northwest, fruit pairings from the Pear Bureau Northwest, food from the best restaurants in the region and area musicians. Proceeds to benefit Hood River Rotary's scholarship program. Day Pass: $25 (includes four wine tastings, commemorative glass and admission to WAAAM). Time: 11 a.m. to 6 p.m. (Sat.); noon to 5 p.m. (Sun.)
1600 Air Museum Road, Hood River
541-619-4123 | www.wineandpearfest.com