Talking with a Terroirist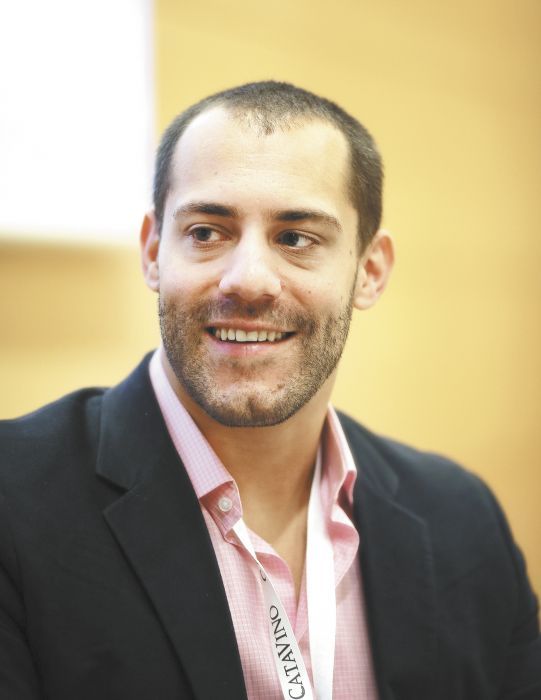 OWP negotiates a Q&A with popular D.C. wine blogger
David White is the founder and editor of the daily wine blog Terroirist, winner of 2013 Wine Blog Awards' "Best Overall Wine Blog," as well as author of a nationally syndicated wine column hosted by online wine magazine Grape Collective.
White's wine writing has also appeared in dozens of publications, including The World of Fine Wine, The New York Times, Los Angeles Times and The Washington Post. He holds an advanced certificate from the Wine & Spirit Education Trust and has been called one of America's nine most important wine bloggers.
The keynote speaker at the 2011 Nederburg Rare South African Wine Auction, White speaks regularly at wine events around the world. He has appeared on a number of TV and radio programs, including Grape Radio.
By day, White is the co-owner and chief operating officer of Keybridge Communications, a DC-based public affairs firm specializing in writing, media placement and design. He also serves as president of the American Wine Consumer Coalition, vice chairman of America's Future Foundation and vice chairman of Heart's Delight, a wine auction benefitting the American Heart Association.
How did you become interested in wine? Was there an "ah-ha" wine?
I was first exposed to wine in a serious way in October 2007, when I visited Napa Valley with a few close friends. Fortunately, one of those friends knew enough about wine to put together an incredible itinerary for us. At one of our stops -- Failla Wines -- something really clicked.
When I returned, I decided that wine would become my new hobby. So I started planning more trips to taste wine, including California, Oregon, Argentina. I started reading books, attending "offline" events with people from the WineBerserkers message board, and taking WSET classes.
Which varietal is the least understood, deserving more recognition?
Riesling. Many consumers recoil at the sight of Riesling, as it's still associated with the sweet, simple German wines of yesteryear, like Blue Nun. Wines like these are still produced and they'll always have fans. But they do a disservice to true Riesling.
For one thing, Riesling is honest. It's remarkably transparent and excels in capturing terroir. It's also wonderfully versatile. Some of the world's best Rieslings are syrupy and lusciously sweet, while others are bone dry. And thanks to its high acidity, Riesling is an extremely adaptable food wine.
In your opinion, what are Oregon wine's strengths and weaknesses?
If you play word association with a wine enthusiast and throw out the word "Oregon," chances are pretty high that the response will be "Pinot Noir." The state's wine industry embraces this, promoting itself with posters and other items that say "Drink Pinot, Think Oregon."
So Pinot Noir is obviously the industry's greatest strength. But it's also the state's greatest weakness. Sure, the state produces some of the finest Pinot Noir in world. But that overshadows all the other beautiful wines in Oregon. Pinot Gris, for instance, continues to fly under the radar, even though it's almost always full of character and offers a tremendous value. And Riesling might be Oregon's best kept secret.
Who has been your favorite interview?
Without question, Jancis Robinson. She was in Washington, DC, to promote the seventh edition of "The World Atlas of Wine" and was kind enough to carve out some time to chat over coffee. It was so cool to meet a living legend. And I loved the fact that even though she has spent the last four decades writing about wine — publishing thousands of reviews — she seemed excited about the prospect of consumers putting less stock in her opinion.
What do you think is the future of wine blogging?
I've always embraced the word "blogger," but it's probably dated – there's no longer a difference between wine writers and wine bloggers. They're one and the same.
And we're living in the golden age of wine writing. Once upon a time, wine consumers were starved for content -- they could turn to Hugh Johnson, Gerald Asher or Jancis Robinson, but that was about it. Today, anyone, anywhere, can write about wine. There are more publications than ever before, and it takes nothing more than an internet connection to be a journalist. More people have more access to more content than ever before.
As for the future? Well, there's always room for more writers, especially if you're willing to do something unique. That might mean specialization, like positioning yourself as an expert on Beaujolais or Michigan wines. But there's still plenty of room for generalists, so long as you're doing something that no one else is doing.
If you were to open your own winery, where would it be, what would you make and what would your winery be called?
I already have a name picked out, but it's a secret! As for what I'd make and where I'd make it, jeesh, I don't know. Maybe Merlot and Cabernet Franc in Sonoma or New York. Or maybe Chardonnay in Virginia. Or maybe Gewürztraminer in Colorado. I suppose I haven't figured that part out yet.