Cheesy Romance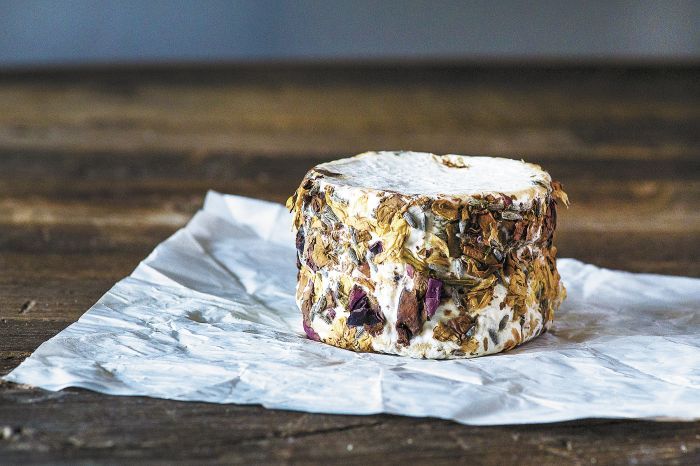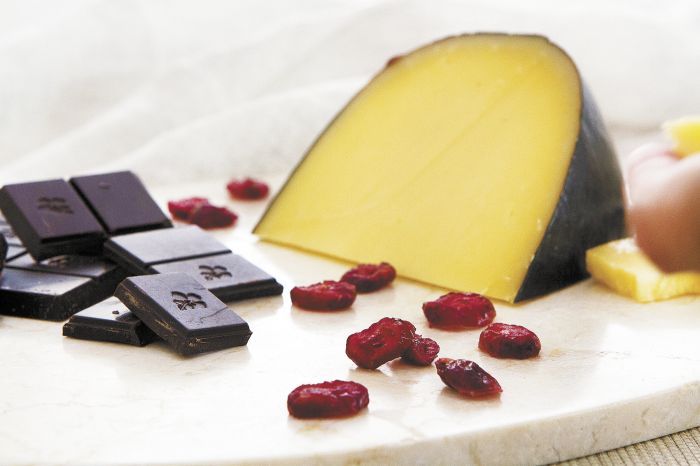 By Christine Hyatt
Cheese has the palatable power to engage your senses with sight, smell, touch and taste. The most beautiful are a feast for the eyes while offering a complex flavor experience: salty, savory, sweet, creamy, nutty, tangy, etc.
Tasting cheese can be a sensual endeavor, especially when shared with someone special. In other words, it's the perfect treat to serve during the love-filled Feast of Saint Valentine.
The following are four cheese and wine pairings sure to woo your cheese-loving sweetheart.
True Love
The name says it all, and it's the complete package. Beautiful, romantic and absolutely delicious, True Love is a ripened goat cheese coated in a fragrant mixture of rose petals, jasmine and lavender.
Pat and Astraea Morford, the mother and daughter team behind Rivers Edge Chèvre, make more than a dozen different cheeses at their farmstead creamery near Newport. The two recently won Best American Cheese at the World Cheese Awards in England. Like the rest of their award-winning cheeses, True Love is a stand-out on the cheese plate as well as the palate.
Enjoy with a sparkling wine or a light white wine with a hint of floral and sweetness like Chenin Blanc or Semillion.
Triple Cream
No list of romantic cheeses would be complete without a buttery, rich, oozing triple cream. When perfectly ripe, it's practically molten, the epitome of silky unctuousness.
To satisfy this particular craving, you can set your sights on a fantastic variety of French imports. The traditional home of this cheese is Normandy, not far from the Champagne region, which produces the quintessential bubbly accompaniment.
If you prefer homegrown triples, there are many delicious options. Some of my favorites: Rouge et Noir Triple Crème from Marin French Cheese in California, Seastack from Mt. Townsend Creamery in Washington and Kunik from Nettle Meadow Farm in upstate New York.
An added bonus: Valentine's Day coincides with the first of the season California strawberries, an ideal accompaniment with their bright, almost heart-shaped forms.
Winter Cheeses
If your sweetheart prefers a more robust walk on the wild side, then run, do not walk, to your favorite cheesemonger seeking the newest "it" cheese on the scene, the Swiss Vacherin Mont d'Or or one of its equally incredible American incarnations: Rush Creek Reserve from Uplands Cheese in Wisconsin or 2013 ACS Best of Show winner Winnemere from Cellars at Jasper Hill in Vermont.
These traditional winter cheeses — produced when the cows are not nourished from grazing in the pasture — get their distinct flavor from the fresh wintertime milk. Add the bark casing and this cheese is an unusual treat for two.
Peel back the reddish-hued rind and dip into the molten center, a flavor-bomb of meaty, smoky notes with a hint of resin from the bark, which surrounds the cheese and contains the flowing interior.
Enjoy these short-season cheeses while you can. After April, they quickly disappear. Serve with a full-bodied white wine like Gewürztraminer.
Extra-Aged Gouda
If your love has a sweet tooth, there's more than one way to satisfy. The Dutch classic, aged Gouda, is an easy-to-adore cheese with confection-like taste — think butterscotch and caramel — and candy-like crunchy bits (crystalized calcium lactate from long and careful aging).
Aged Gouda can entice a novice cheese-lover to venture out into the wider word and charm a converted caseophile with depth and complexity. My favorites, aged 12 to 24
months, continue to be Beemster, Old Amsterdam and Rembrandt. Stateside, seek out extra-aged Marieke Gouda from Holland's Family Cheese in Wisconsin, or keep it local with a wedge from Willamette Valley Cheese in Salem.
Serve alongside a mellow, fruity red like Cabernet Franc. In terms of accompaniments, you can't go wrong with quality dark chocolate and dried apricots or cherries.
Sip, savor and sense your way through the memorable taste experience that is bound to set the mood for a romantic evening.
Christine Hyatt is a writer and photographer, capturing the beauty and story behind handcrafted cheese and the people who make it. Find her on Facebook/CheeseChickProductions.