Devotion to Decadence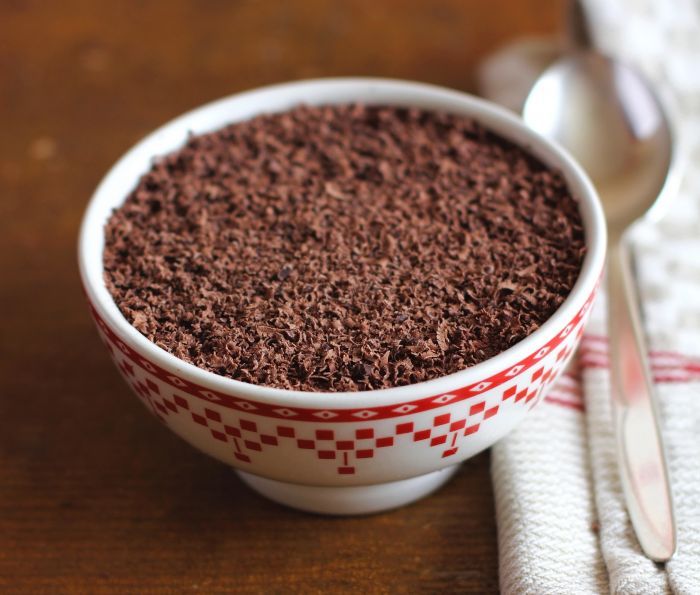 Profess your love for chocolate with a trio of tastiness
Recipes by Wendy Bennett
Dark Chocolate Budino with Olive Oil and Sea Salt
The silky feel of this chocolate budino (Italian for pudding) is unforgettable! With the addition of a pinch of sea salt and a drizzle of olive oil, the chocolate bursts with flavor.
Servings: 6
Wine Pairing: Serve with a Tempranillo for a romantic match made in heaven.
Ingredients:
1½ cups dark chocolate chips
½ cup milk, whole
6 egg yolks
½ cup sugar
2 cups heavy cream
1 teaspoon sea salt
1 tablespoon extra-virgin olive oil
Method:
1. Preheat the oven to 300°F.
2. Place chocolate in microwave-safe bowl. Place bowl in microwave and heat for 30 seconds. Remove from microwave and stir; heat for an additional 30 seconds and stir. Continue microwaving for 30-second intervals until chocolate is completely melted. Set aside.
3. Heat milk over medium heat until steaming and bubbles form around edge (scalded). In a bowl, whisk together egg yolks and sugar until well combined. Slowly whisk in milk. Strain egg mixture into chocolate and stir to combine.
4. Heat 1 cup of cream until very hot but not boiling. Stir hot cream into chocolate mixture; then add additional 1 cup of cream to chocolate mixture, and stir until well combined. Pour the chocolate mixture into 8- by 8-inch baking dish; tightly cover with aluminum foil.
5. Place dish containing chocolate mixture in a larger baking dish and place in the oven. Add warm tap water into baking dish until it is at least ½ way up the sides of the pan containing chocolate mixture.
6. Bake for 55 to 60 minutes, or until edges of chocolate are set. Center will still be loose when pan is jiggled. Remove pan from water bath; refrigerate until completely cooled.
7. To serve: Spoon budino onto dessert plates. Sprinkle each serving with sea salt and drizzle with extra-virgin olive oil. Chocolate biscotti can be added for a bit of crunch, as well.
Flourless Chocolate Cake
Okay, all you gluten-free chocolate lovers, this recipe is an all-time favorite and is truly decadent delight.
Servings: 4
Wine Pairing: Serve with Pinot Noir with notes of cherry and roasted coffee.
Ingredients:
1 stick butter (4 ounces)
4 ounces chocolate, dark or milk
2 eggs
2 egg yolks
½ cup sugar
1 teaspoon vanilla
Method:
1. Preheat oven to 425°F. Butter 4 ramekins (6-ounce) and place on a baking tray.
2. Place butter and chocolate in a microwave-safe bowl. Microwave mixture for 30 seconds and stir. Continue to microwave for 30 seconds and stir until mixture is completely melted and smooth. Do not overheat. Add sugar to chocolate mixture; stir to combine.
3. In a separate bowl, whisk eggs, egg yolks and vanilla until well combined. Slowly add egg mixture to chocolate mixture; stir well to combine.
4. Fill ramekins 2/3 full. Bake for 12 minutes for a liquid center or 16 minutes for a firm center.
5. Allow to cool slightly if serving warm. Serve with homemade whipped cream and fresh berries.
Dark Chocolate Chipotle Mousse
Let's add a touch of smoky spice to a classic chocolate mousse for a rich, romantic ending — or beginning — to any meal.
Servings: 6
Wine Pairing: Serve with a hearty, spicy Zinfandel.
Ingredients:
4½ ounces bittersweet chocolate, finely chopped
2 tablespoons unsalted butter, diced
1 cup heavy cream
3 large eggs, separated
2 tablespoons granulated sugar
1 teaspoon chipotle powder
Method:
1. Whip cream to soft peaks; refrigerate.
2. Combine chocolate, chipotle powder and butter in top of a double boiler over simmering water, stirring frequently until smooth. Remove from heat and let cool until chocolate is just slightly warmer than body temperature. To test, place your hand on the bottom of the bowl and it should feel slightly warm. If it is cold, rewarm slightly and retest.
3. While chocolate is cooling, whip egg whites until foamy and beginning to hold a shape. Sprinkle in the sugar and beat until soft peaks form.
4. When the chocolate has reached the proper temperature, stir in yolks. Gently stir in about one-third of whipped cream. Next, fold in half of whipped egg whites, until just incorporated; then fold in remaining egg whites and, finally, remaining whipped cream.
5. Spoon mousse into wine glasses or small bowls; top with a dollop of whipped cream and chocolate shavings.
Wendy Bennett, a longtime professional chef, owns Wine Country Cooking Studio in Dundee. She lives nearby on a 12-acre farm with her family and a barn full of animals.