Homage to Home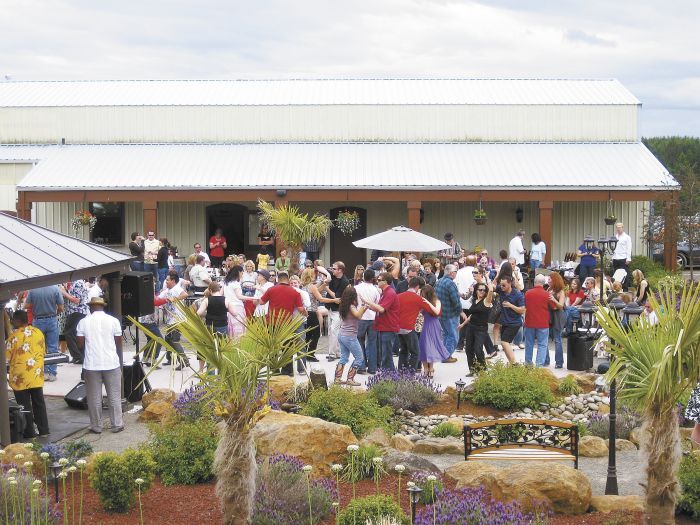 By Karl Klooster
When seeking out interesting Oregon wine experiences, it's always best to expect the unexpected. This is, after all, an industry that thrives on individuality.
There are people who have come here from all around the world and all walks of life to make their mark on the statewide wine scene. Everywhere you turn, appealing distinctions abound. To name a few of the countries that come immediately to mind, winery owners and winemakers hail from France, Italy, Germany, Switzerland, Norway, Japan and Iran.
We have one who — even though he was born here — emphasizes his Portuguese heritage with heartfelt pride and a promotional flair that would have been a source of pride to his ancestors. But to my knowledge, the more southerly climes of this hemisphere have but one representative in Oregon. That is Mauricio Collada Jr., MD, owner of Cubanísimo Vineyards.
The Havana-born neurosurgeon bought 21 acres in the Eola Hills in 1986. Living in Salem put him close to the bucolic rural area. But his interest was much more than merely a nearby country retreat.
"Upon arriving in Oregon in 1983 to start my practice," he said, "I was surprised to find that my favorite wine grape, Pinot Noir, had the perfect climatic conditions for its development in the Willamette Valley. I became entranced by the elegance, the complexity and the vibrancy of Oregon Pinot Noir. I knew that eventually I would be in the wine industry."
From the outset, Collada put considerable thought into his property purchase. The site faces southeast, consists of Jory and Nekia soils, and is situated at an elevation of 650 feet. In 1991, he planted eight acres with the then-predominate Pommard clones. Five-by-7-foot spacing and dryland farming have contributed to a resulting quality Collada calls a combination of "stress and nurture."
He had no problem securing contracts to sell the fruit to King Estate, Erath and Evesham Wood. Ten years later, his interest in the industry reached the point where merely growing grapes was no longer enough. The time had come to introduce his own label.
But why call it Cubanísimo?
"Much soul searching took place in the name selection and label design since we wanted our homage to our Cuban heritage to be a quality product in every way," Collada said. "Cubanísimo means 'very Cuban.' And from the beginning, we have committed to developing our wines into the top quality product meriting its name."
That decisive year, 2001, he planted two more acres of Pinot Noir, this time using the more- recently developed Dijon clones 115 and 777, on phylloxera-resistant rootstock 101-14.
In 2001, the first-ever Cubanísimo wine was produced, 540 cases of an estate Pinot Noir from the decade-old vineyard's best blocks. Owing to the grower relationship with Erath, Collada met its then-winemaker Rob Stuart.
Working together, he and Stuart have made Cubanísimo wines ever since the 2003 vintage. That year, half the vineyard's production was devoted to the label. Two years later, as grower contracts expired, all of the yield went into Cubanísimo wines.
With approval of the Eola-Amity Hills AVA in 2006, their estate wines are entitled to carry that designation. In 2007, 2 1/2 acres of Pinot Gris were added to the estate vineyard. As of the 2011 vintage, approximately 800 cases of Pinot Noir came from the estate vineyard as well as an additional 1,000 cases of Pinot Noir blended from a combination of younger estate grapes and Willamette Valley grapes from a selected source.
The resurgence of Pinot Noir rosé and Pinot Blanc encouraged them to produce 150 cases of Rosado de Pinot Noir. With the Pinot Gris plantings coming to maturity, that variety soon will become part of the Cubanísimo portfolio.
His skill in neurosurgery continues to find Dr. Mauricio in demand. So he juggles his love of healing with his love of wine, while day-to-day duties fall to his operations manager, Jenelle Ford. His wife, Debra Collada, also works part time in the medical profession as a nurse. Having assumed responsibilities in sales, marketing and winery events, promotion fills her week.
One of the events requiring continuing coordination is the winery's monthly salsa dance lessons. Classes fill up swiftly with eager students readily shelling out the $15 fee to have Mr. Jitterbug teach them the steps. Enjoying a glass of wine between dances undoubtedly heightens these Cuban-style evenings for partying participants. An attractive new winetasting facility at the vineyard is the venue.
Collada effusively praises Stuart for the quality of the wines that have thus far carried the Cubanísimo name. He does, however, have a long-term dream: Once production grows to merit it, or maybe once he decides to discontinue medicine and devote full time to vine and wine, he envisions a winery in the Cubanísimo future. Call it a retirement career.
Cubanísimo Vineyards
Address: 1754 Best Rd. N.W., Salem
Phone: 503-588-1763
Hours: Daily, 11 a.m. to 5 p.m.
Web: www.cubanisimovineyards.com