Soaring Spirits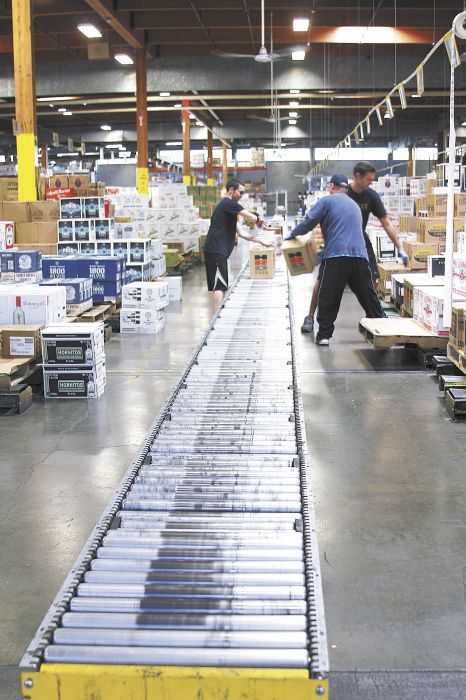 By Karl Klooster
All I can say is the Oregon Liquor Control Commission puts on one peach of a party. Actually, that's not all I've got to say. But hopefully, I now have your attention.
Actually, there weren't any peaches in evidence at the OLCC's Southeast McLoughlin Boulevard headquarters for the Dec. 16 event. But other fruits, berries, grains, herbs, botanicals and condiments were prominently featured.
Behind this interesting array of edibles lay an even more fascinating potpourri of potables. Translation: The OLCC was partnering with the Oregon Distillers Guild to showcase the state's burgeoning distilled spirits industry.
Several members of the media attended, along with numerous top OLCC officials and representatives of 20 Oregon micro-distilleries.
OLCC chairman Rob Patridge of Medford gave a presentation on the history of what is one of Oregon's only two profitmaking state entities of real consequence, the other being the Oregon Lottery.
Admittedly, the lottery rakes in more money annually. But it is a Johnny-come-lately compared to the OLCC, having been around only since 1985.
Year in and year out for eight decades now, the OLCC has contributed to state coffers. It figures it has generated more than $4 billion in overall revenue. New highs were achieved in fiscal 2012–13 with gross revenue of $519.2 million and net revenue of $202.6 million, contributing to the agency's first-ever billion dollar biennium.
In addition to Patridge, OLCC Commissioners Michael Harper and Robert Rice were on hand, giving attendees the opportunity to interact informally with some of the citizens Gov. John Kitzhaber has selected to oversee this important governmental organization.
Speaking of the governor, the OLCC has recently moved beyond its interim leadership with the appointment of his longtime adviser and confidante, Steve Marks, as the agency's new executive director.
A widely acknowledged pro on the inner workings of state government, Marks has served Kitzhaber in several important capacities over the past two decades. He is one of those unassuming guys who gets in and takes care of business while quietly instilling confidence and cooperation.
Marks said it was Commissioner Patridge who persuaded him to take the position. He has been on the job since October, and appears to already have a handle on things.
However, this story is not about the latest operational undertakings of the OLCC, but rather how in recent years the agency has carved out a niche for small, entrepreneurial craft distillers. As a result, almost three-quarters of the state's 55 distilled spirits production licenses have been issued in the last three years.
The phenomenon shares similarities with Oregon's wine industry. It took Oregon nearly 40 years to reach the 150 winery count, following Richard Sommer's 1962 launch of HillCrest Vineyard in Roseburg. Then, the boom hit: Between 2001 and 2011, the number of bonded Oregon wineries shot from 156 to 463. And it has since burst up to 545.
The granddaddy of Oregon distillers, Hood River, fired up its stills in 1934, right after the end of Prohibition. The state finally got around to granting it a license in 1950.
It was another 38 years before Oregon's second distiller, Clear Creek, was licensed in Portland. However, founder Steve McCarthy says he actually began the enterprise three years earlier. McCarthy broke out of the blocks with some sensational pear eau de vie. It quickly became the pride of Oregon, to the chagrin of France's finest, which had held an exclusive in the category for eons.
Now the acknowledged guru of Oregon distilling, McCarthy didn't get his first spirited soulmate until 1994, when Brandy Peak Distillery opened.
R.J. Nowlin and his son, David, of Brookings, began with pear brandy and a marc from Pinot Noir pomace. They could have called their pear product eau de vie had they had clarified it, but they liked the yellow tinge a little age lent.
David and his wife, Georgia, now run the distillery. And they have added a lovely blackberry liqueur to their list.
The two distant distilleries shared their singularity with Hood River Distillers until 1997. That year the McMenamin brothers decided to install a distillery at their sprawling Edgefield complex.
Portland's New Deal and Rogue Distilleries joined the field in 2003. Nine more — House Spirits, Vinn Distillery, Northwest Distillery, Indio Spirits, Rogue Spirits, Cascade Peak Spirits, Ransom Spirits and Stone Barn Brandyworks — followed between 2004 and 2009, raising the count to 15. Then the spigots opened in earnest, with 40 more in the four years since.
As with the state's much heralded microbrew industry, Oregon craft distilling has now attained the position of being the largest industry of its kind anywhere in the country.
Distilling is a highly specialized business populated mainly by independent-minded types who are as dedicated to their craft as any small batch winemaker or brewmaster. They turn out an amazing array of products. Virtually every type of liquor you can imagine, even a version of Scotch whisky, is being crafted in Oregon.
The most recent reports show that Oregon distillers generated $62.3 million in 2013, 12 percent of the state's total distilled spirits revenue. Hood River Distillers remains the 800-pound gorilla at 1.25 million cases a year.
Though not a tiny outfit, Hood River has burnished its craft image by offering limited production items like Pendleton Whiskey, 1910 Rye and Lucid Absinthe.
Many call Oregon's state-regulation model antiquated, primarily grocers hankering for a bigger cut of the action. But surveying the wreckage in neighboring Washington, which deregulated its market about 18 months ago, gives one pause.
It's worth noting that the Evergreen State imposes the highest gallonage tax in the nation. As a result, the range of products has shrunk to maximize profitability, and craft distilling has been discouraged by a high financial entry bar.